AFC East preview: Jets' Sam Darnold and Bills' Josh Allen could be ready to start as rookies
Reporting from SOUTHAMPTON, N.Y. —
Former housemates and newly minted NFL division rivals, quarterbacks Sam Darnold of the New York Jets and Josh Allen of the Buffalo Bills were close to anonymous as they made their way through the crowds at the U.S. Open this summer.
The golf tournament was in Long Island, so there were a few double-takes directed at Darnold, and an occasional high-five or selfie request. Allen, although big and athletic, was another face in the crowd.
Allen, who shared a beach house with Darnold when they trained in Orange County before the draft, conceded he clued in the spectators to his buddy's presence whenever he got a chance.
"Any time he wasn't looking at me," Allen said, "it was like, 'Oh my god, there's Sam Darnold!' I just had to push his buttons a little bit and have some fun."
Going unnoticed is not likely to be the case from this point forward. Whether it's Darnold and the Jets, or Allen and the Bills, each club believes it has selected its franchise quarterback, someone to lock down the position for years to come.
In the nearly two decades Tom Brady has dominated with New England — guiding the Patriots to five Super Bowl victories — starting quarterback has been a revolving door with the other three AFC East teams, although Miami is holding out hope that Ryan Tannehill still can get the job done. He's back after missing last season because of a knee injury.
At least one rookie quarterback has started a Week 1 game in 10 consecutive seasons, the longest streak since 1950.
That said, most NFL teams have gotten over the notion of pressing a rookie quarterback into action immediately, even a top-10 pick. So even though Darnold was selected third overall, and Allen went seventh, that didn't guarantee they would be the Day 1 starters.
AFC West preview: Chiefs finally found a starting quarterback in the draft »
AFC South preview: These quarterbacks are aiming for validation »
AFC North preview: Arrival of Baker Mayfield gives Browns fans hope »
Darnold went through training camp competing for the starting job with experienced veteran Josh McCown, who was the starter last year, and another former first-round pick, Teddy Bridgewater, who has since been traded to the New Orleans. Darnold finally was picked to be the starter.
In Buffalo, Allen was vying with less-experienced Nathan Peterman and AJ McCarron. He joined Buffalo this spring as a free agent but fractured his right collarbone against Cleveland in the Bills' second preseason game and missed the rest of the preseason. McCarron was later shipped to Oakland.
Allen is Buffalo's long-term plan, and has expressed strong interest in taking the reins from the start, but Peterman has been named No. 1 for now.
"I definitely welcome it, whenever my number is called," Allen told reporters recently when asked about the possibility of starting. "I feel like I'll be ready and I think the coaches understand that and they're not going to throw me into a situation where I wouldn't be ready."
Jets coaches have been especially impressed with Darnold's poise, attention to detail and work ethic. He certainly sounded like a player preparing to step in and perform.
"There is always a lot to improve on," Darnold told reporters recently. "One thing that we always talk about is just getting in and out of the huddle, being able to call the play, have a clean huddle and hopefully get out there with 15 or 20 seconds left; that is the key every time. If I can do that ... really be able to see the defense a lot clearer. In terms of playing, just continue to do what I've been doing and going over my reads and evolving as a quarterback."
He and Allen will evolve and develop, and with that their anonymity will disappear. That's a trade both would happily make.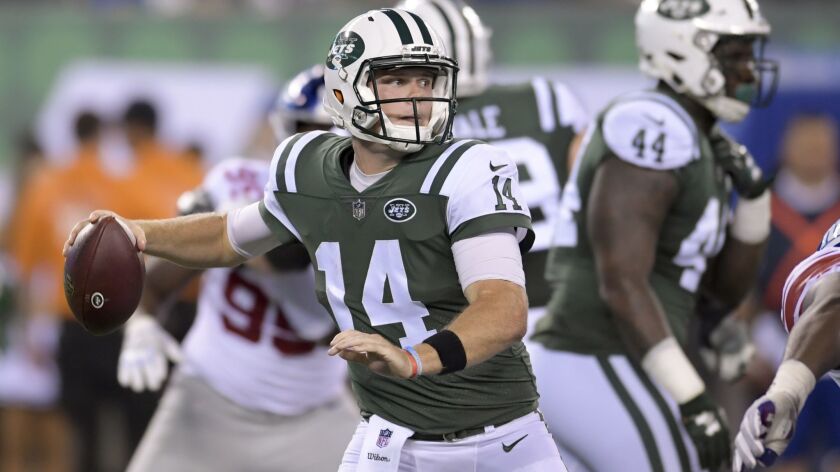 AFC EAST CAPSULES
1 | NEW ENGLAND
2017 | 13-3, 1st in East
THREE PLAYERS WHO MUST COME THROUGH
TE Rob Gronkowski: A first-team All-Pro last year, Gronkowski is recovered from various injuries and looks dominant again. Tom Brady might be the greatest quarterback of all time — at least in the discussion — but the Patriots offense runs through Gronkowski, especially with Julian Edelman suspended for the first four weeks.
CB Stephon Gilmore: In his second season with the Patriots, Gilmore is a big and physical lock-down corner. He started slowly last season but came on strong. He had a good year, and now coaches are expecting a great year.
DB Devin McCourty: He plays all over — free safety, slot corner and even linebacker in some schemes. The captain of the defense is essential to a secondary that was frequently torched last season. A ramped up pass rush would help.
THREE PLAYERS TO WATCH
WR Phillip Dorsett: The former first-round pick by Indianapolis came as part of the Jacoby Brissett trade and has the speed to replace Brandin Cooks, now with the Rams.
RB Rex Burkhead: Durability is an issue with Burkhead, who played only 190 snaps last season but made the most of them, scoring eight touchdowns (five rushing, three receiving). He'll be big in picking up the Edelman slack.
DE Trey Flowers: In his fourth season, Flowers hasn't put up huge sack numbers (13½ in last two years combined) but he likely would have in a different system. The Patriots are ready to take full advantage of his skills.
FANTASY SLEEPER
RB Sony Michel: A first-round pick out of Georgia, he averaged a staggering 7.9 yards per carry for the Bulldogs. Should be a good replacement for the departed Dion Lewis but is already dealing with knee issues.
NFC West preview: Bradford can sling with the best of them — if he's not hurt »
NFC East preview: Redskins hope Smith's postseason experience pays off »
NFC South preview: Fitzpatrick will start while Winston serves suspension »
NFC North preview: Cousins moves to a division that's loaded with QB talent »
2 | BUFFALO
2017 | 9-7, 2nd in East
THREE PLAYERS WHO MUST COME THROUGH
RB LeSean McCoy: No matter who is at quarterback, McCoy is the centerpiece on offense. Even though he's 30, when backs often decline, he's going to get a ton of work. Coach Sean McDermott says McCoy looks stronger and faster.
DE Jerry Hughes: The Bills struggled to pressure passers last season, and he was their best pass rusher. Now that tackle Star Lotulelei was signed to clog the middle, the expectation is the edge rusher will hit home more often.
LB Tremaine Edmunds: The Bills have high hopes for this rookie, placing him in the middle of their defense. He didn't always play the middle in college, so there is a learning curve. But again, with Lotulelei jamming the middle, the spotlight will be on Edmunds to make plays.
THREE PLAYERS TO WATCH
WR Kelvin Benjamin: He is the team's No. 1 receiver by far, and he's playing for a contract extension. Other receivers from his 2014 draft class have gotten paid — Sammy Watkins, Odell Beckham Jr., Jarvis Landry — and Benjamin could use a 1,000-yard-type season to join them.
CB Tre'Davious White: Many remember the late hit on White from Rob Gronkowski, but Buffalo fans (and others) know that White was a legitimate defensive-rookie-of-the-year candidate, and looks to become one of the elite.
T Dion Dawkins: A second-round pick last year, Dawkins looks like a franchise left tackle. The Bills liked him so much, they traded mainstay Cordy Glenn. Dawkins is legit.
FANTASY SLEEPER
TE Charles Clay: Has been average, but now has a big contract, a new coordinator who'll utilize tight ends more and a quarterback who'll likely seek him in the middle.
3 | NEW YORK JETS
2017 | 5-11, 4th in East
THREE PLAYERS WHO MUST COME THROUGH
WR Robby Anderson: Although most of the focus has been on who's going to play quarterback, it's just as important to know who'll be on the receiving end. Anderson had 941 yards receiving last season and is clearly talented, but he had multiple brushes with the law.
CB Trumaine Johnson: The Jets need this former Rams standout to be a shutdown corner. He's looked fine so far but hasn't really been tested. This is not a great pass-rushing team, so if the corners can lock down the receivers longer, coach Todd Bowles can be more aggressive with blitzing.
DL Leonard Williams: A former USC star, Williams had lots of quarterback hits last season but only two sacks. He needs to bump up that number and return to the form that got him to the Pro Bowl three years ago.
THREE PLAYERS TO WATCH
QB Sam Darnold: The Jets have their hopes riding on the shoulders of the young quarterback who played so well for USC. So far, so good, but no one really knows until the regular season starts.
WR Terrelle Pryor: After a terrific season in Cleveland two years ago, Pryor fizzled in Washington. Can the Jets help this converted quarterback take that next step?
S Jamal Adams: Has yet to grab his first interception, yet he's already rounding into a leader. Vowed that he won't miss another Pro Bowl, so he's not lacking in confidence.
FANTASY SLEEPER
RB Isaiah Crowell: He will be splitting carries with Bilal Powell, and the former Cleveland Brown figures to catch a lot of passes out of the backfield. He'll be a go-to back in the red zone.
4 | MIAMI
2017 | 6-10, 3rd in East
Last year in playoffs | 2016
THREE PLAYERS WHO MUST COME THROUGH
LB Raekwon McMillan: The Dolphins are expecting a big year out of McMillan, a standout in the middle of their defense. He missed his rookie season after he suffered a knee injury on the first play of the preseason.
WR Danny Amendola: In his 10th season, Amendola has quickly emerged as one of Ryan Tannehill's favorite targets. The team is about five deep in solid receivers, but Amendola is a vital fixture in the slot.
DE Robert Quinn: The former Rams edge rusher will help the Dolphins turn up the heat on opposing quarterbacks. He's a good fit for Miami's 4-3 defense.
THREE PLAYERS TO WATCH
S Minkah Fitzpatrick: The rookie from Alabama will roam all over this defense, lining up in multiple positions. He's a playmaker and one who should make an immediate impact.
DE Charles Harris: A first-round pick last year, Harris has had a great training camp and is explosive. Although Cameron Wake and Quinn figure to be the starters, Harris should be in the rotation frequently.
CB Xavien Howard: He had two interceptions of Tom Brady in a Monday night game at New England last season. He has the makings of a true No. 1 corner even though he's essentially in his second year, having missed 10 of 16 games as a rookie in 2016.
FANTASY SLEEPER
RB Kenyan Drake: He took over the starting role when Jay Ajayi was shipped to Philadelphia. Has explosive speed and is talented catching passes out of the backfield.
Follow Sam Farmer on Twitter @LATimesfarmer
---
Get the latest on L.A.'s teams in the daily Sports Report newsletter.
You may occasionally receive promotional content from the Los Angeles Times.