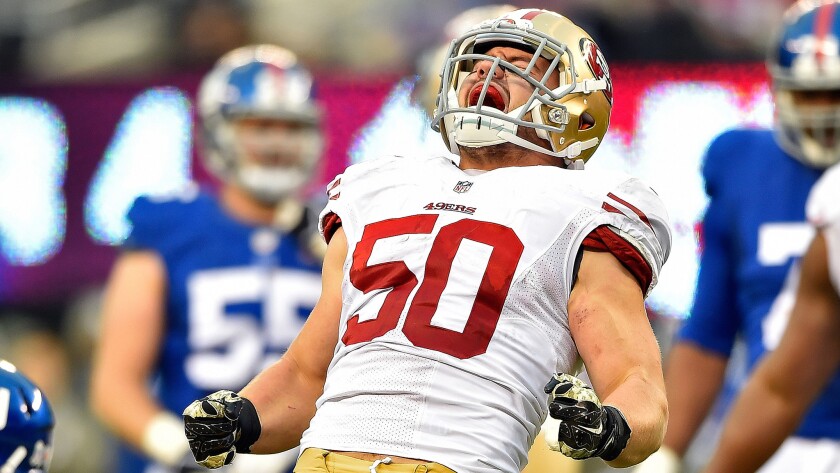 Strange days indeed.
After starting the season 0-10, the Oakland Raiders finally got a win . . . by beating the scorching-hot Kansas City Chiefs, who had won seven of their previous eight games.
The first-place Atlanta Falcons at 4-6 will play host Sunday to the last-place Cleveland Browns at 6-4.
Buffalo defensive coordinator Jim Schwartz will once again be using the home team's locker room in Detroit, which dumped him as head coach . . . but only because the Lions are letting the snowed-out Bills use their stadium.
And one more head-scratcher: the 9-1 Arizona Cardinals keep rolling, even after losing quarterback Carson Palmer. At this pace, they could be the first team to play a Super Bowl in its own stadium, though Coach Bruce Arians would rather bear hug a cactus than think beyond Sunday's game at Seattle.
With six weeks to go before the playoffs are set, this is the stretch run of the NFL season. It's the time when we've seen teams come out of nowhere to make Super Bowl runs (see: New York Giants in 2007 and '11). Others have seen promising starts go poof, as was the case with Tampa Bay in 2008, when the Buccaneers started 9-3 before losing their final four, missing the playoffs and showing Jon Gruden the door.
Four teams that are trending up, and four that are trending down:
Trending up
San Francisco: That Jim Harbaugh mantra — Who's got it better than us? Nooobody! — definitely applies to the 49ers' finishing itinerary. They take one plane trip, to Seattle, in their final six weeks; the only other road game is at Oakland. There are some tough games remaining, including two against the Seahawks and a finale against Arizona, but at least traveling won't be an issue. The team has lost some key defensive players, but has had surprisingly solid play from understudies such as linebacker Chris Borland and defensive backs Perrish Cox and Dontae Johnson.
New England: The Patriots are trending through the roof. They have won six in a row, tying them with Arizona for the longest current winning streak, and have come alive since being blown out by the Chiefs, 41-14, in Week 4. New England averaged 20.0 points in the first four games, and 40.5 in the last six. It's no coincidence that the Patriots have gotten hot since taking havoc-wreaking tight end Rob Gronkowski off a pitch count after the Kansas City game and cutting him loose for all four quarters.
Green Bay: Aaron Rodgers is looking as good now as he did during his most-valuable-player season of 2011. He has 28 touchdown passes and three interceptions, and each of those picks bounced off the hands of his receivers. The Swiss-cheese run defense has improved dramatically the last two games, since the Packers moved Clay Matthews inside on first and second down, and the offense has gotten another boost — the rich get richer — by working Eddie Lacy into the passing game with screens.
St. Louis: Some might call this a throwaway season for the Rams, who at 4-6 are in the NFC West cellar. But just look at whom they have beaten in the past five weeks: Seattle, San Francisco and Denver, three of the four teams in last season's conference title games (they don't play the fourth, New England). Next up are three winnable games: at San Diego, at home against Oakland and at Washington. The Rams are longshots to make the playoffs, but nobody is excited about facing them.
Trending down
Seattle: The Seahawks didn't build their recent brand as a passing team, but they've got to be able to throw the ball to keep defenses honest and open those running lanes. Their passing game has really struggled in recent weeks, and it shows: the team is 3-3 over the last six games. Seattle's stretch run is brutal, too — two games each against Arizona and San Francisco, at Philadelphia and a finale against the suddenly hot Rams.
New Orleans: The Superdome is no longer a house of horrors for visiting teams. The Saints have lost two in a row there after winning 20 consecutive home games with Sean Payton as coach. The defense has been a problem all season, but now the Saints are sputtering on offense, too, scoring just 10 points against Cincinnati, the fewest in a home game since 2006. Worse, rookie Brandin Cooks, their most dynamic receiver, is finished with a thumb injury.
Denver: The big problem with the Broncos is their offensive line, which seems to be in a constant state of reshuffling because of injuries and inefficiencies. And it's not as if Peyton Manning is able to elude pass rushers, so he's a much different quarterback without reliable protection. Denver scored seven points in last Sunday's loss to the Rams, the lowest total of the Manning era, and now the Broncos are further hampered by injuries to Demaryius Thomas, Emmanuel Sanders and Montee Ball.
Buffalo: After a 5-3 start, the Bills have lost back-to-back games to Kansas City and Miami, both of whom are likely to be in the wild-card mix. Buffalo's offensive line has been below average, and the team lost running back C.J. Spiller and now has a banged-up Fred Jackson coming back. The team hasn't scored a red-zone touchdown in nearly nine quarters, and Kyle Orton has cooled considerably. At least the Bills are playing well on the other side of the ball. But in a way, that just makes the recent sideways slippage feel like the waste of an outstanding NFL defense.
Twitter: @LATimesfarmer
---