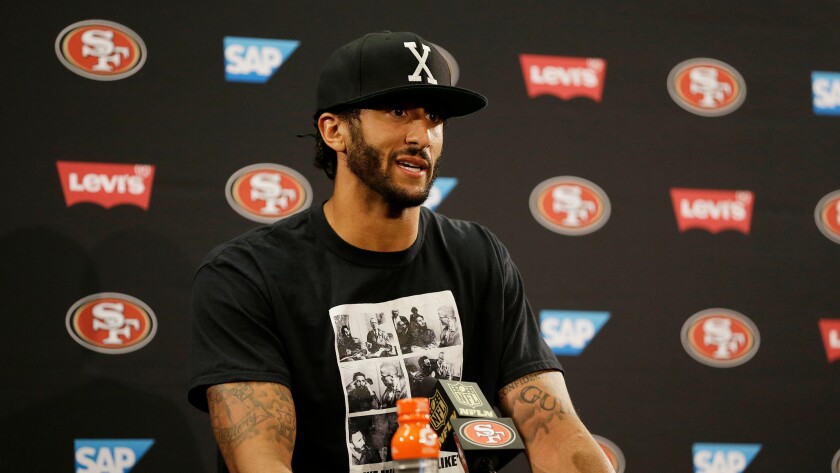 Colin Kaepernick is a free agent after opting out of his San Francisco 49ers contract Friday.
The six-year veteran quarterback who drew particular attention and headlines last season by not standing for the national anthem, met with new General Manager John Lynch and Coach Kyle Shanahan before making the move.
Kaepernick made a meteoric rise with the 49ers under coach Jim Harbaugh, leading them to the 2012 NFC title and a close loss to Baltimore in the Super Bowl. But his career spiraled in recent seasons, and he was benched for journeyman Blaine Gabbert.
His decision leaves the team with no quarterbacks on the roster. Gabbert and Christian Ponder also are free agents.
Kaepernick, 29, has indicated he plans to stand for the anthem next season.
Newspaper apologizes for slavery reference
A Wisconsin newspaper is apologizing for a columnist who connected Minnesota Vikings star Adrian Peterson's child-abuse case to beatings suffered by slaves.
Green Bay-Press Gazette columnist Pete Dougherty's remark came in a column calling for the Packers to consider signing Peterson.
Referencing the charge Peterson faced for disciplining his son with a wooden switch, Dougherty wrote that Peterson "likely is descended from slaves who suffered savage disciplinary beatings generation after generation after generation. It excuses nothing but also can't be ignored."
The Press-Gazette removed the paragraph Thursday night and apologized to readers. In a statement Friday, editor Robert Zizzo called it "a huge mistake in judgment by a reporter and failed oversight by editors."
The column was also carried by USA Today and the affiliated PackersNews.com. Dougherty didn't respond to messages seeking comment.
Etc.
The New York Jets released wide receiver Brandon Marshall, clearing $7.5 million of salary cap space. Marshall is the latest star to be cut by the Jets, who have also parted ways with Darrelle Revis, Nick Mangold, Nick Folk and Breno Giacomini this off-season to help clear $46 million in cap space. … The New York Giants promoted Rob Leonard to assistant defensive line coach, replacing Jeff Zgonina, who left the Giants after one season to become the 49ers' defensive line coach. Bobby Blick has been hired take over Leonard's previous job as the defensive assistant, and Pratik Patel has been hired as director of performance nutrition/assistant strength and conditioning coach.
---