Column: Eric Dickerson reveling in Rams' change of coaches, and fortunes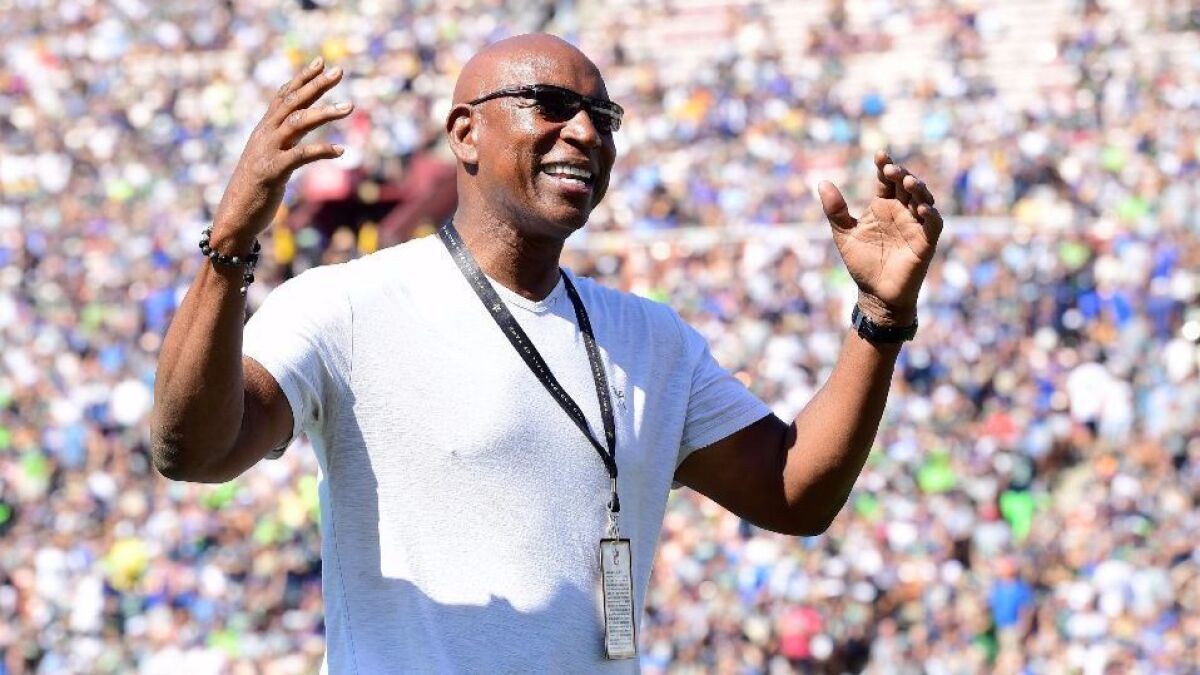 The public-relations nightmare took shape a year ago, the Monday after Thanksgiving. The Rams had just been blown out by New Orleans, 49-21, to drop to 4-7. The team's inaugural season back in Los Angeles was careening off the rails, and coach Jeff Fisher's job was in serious jeopardy.
Then, the spat that marked the beginning of the end.
Rams great Eric Dickerson revealed on his Los Angeles radio show that Fisher had tried to scold him on a phone call a couple weeks earlier, telling the Hall of Fame running back that players and coaches, unhappy with his criticism of the team, were uncomfortable having him on the sideline before games.
The tide already had turned against Fisher, and Dickerson wasn't about to mince words. Not only did he essentially tell the coach to take a hike, but then he told the world about it. Two weeks and two losses later, Fisher was fired.
The world looks much different for the Rams now. They're 8-3, among the NFL's hottest teams, they have a leading coach-of-the-year candidate in Sean McVay, and a smiling sideline fixture in Dickerson, who was beaming Sunday when those same Saints came to town and saw their eight-game winning streak snapped with a 26-20 victory by Los Angeles.
"Oh, man, most definitely I feel good about it," Dickerson said Monday about the team's surprising turnaround. "If you'd have told me this team was going to be 8-3, I would have said, `No way.' I just wouldn't believe it after watching last year.
"What I saw last year was a team that had a really good defense, sometimes a great defense, and it could have been great most of the time, but our offense was just so bad. It was horrible. I called it a high school offense, and I think [running back] Todd Gurley called it grade school. It was so predictable.
"Do you go to games to watch your team lose? No, you go to games to watch your team win. As a former player, that's all I wanted."
The Rams are averaging 29.9 points a game, second to Philadelphia's 31.9, and are fourth in total yardage. They have bounced back from each of their losses by winning the next week, are guaranteed their first season without a losing record since 2006 and are on track to make the playoffs for the first time since 2004.
"When you go to the facility, it's just a whole different vibe," Dickerson said. "Everybody's laughing and talking. It's a good feeling, as opposed to, 'OK, we played hard but we're gonna get 'em next week. I saw some good things out there.' Nobody wants to hear that speech every week.
"Every single week you've got a new excuse for getting your ass whipped, and that's what Jeff Fisher was giving them. Same old drab-ass speeches."
Second-year quarterback Jared Goff is having a Pro Bowl-caliber season, and so is Gurley. The offensive line, once terrible, has improved dramatically with some reshuffling and the addition of seasoned tackle Andrew Whitworth and center John Sullivan. The receivers have been upgraded. But Dickerson is most impressed with McVay.
"I didn't know Sean; I'm not professing to say that he was my choice," Dickerson said. "I didn't have a choice for whoever they hired. … When you talk to the players on that football team, as a 31-year-old coach, they really respect him. I don't care about his age. Is it written in the handbooks that a coach has to be 60 years old, or 55? If he's 15 years old and they're winning, who cares?"
Not surprisingly, Dickerson has backed off his contention this summer that the Rams should start backup Sean Mannion over Goff, the No. 1 overall pick in the 2016 draft.
"I did want to see what Sean Mannion could do because to me, at that time, he was a better football player," Dickerson said. "Because he'd been around longer by two years.
"I kept saying this: 'I don't want to see what happened to Jeff George happen to Jared Goff,'" Dickerson said, invoking his quarterback in Indianapolis who was drafted No. 1 overall but bounced around the NFL, never truly finding a home. "I saw what happened to Jeff with my own eyes, up close. They didn't have anyone to coach this young kid [Goff] — no quarterback coach, no adequate offensive coordinator, no line. That was a catastrophe waiting to happen."
And now?
"I hope Sean McVay is here with Jared Goff until Jared is like Tom Brady, until he's 40 years old," Dickerson said. "What I've seen out of Jared Goff has been leaps and bounds. I didn't expect that out of him this year, not this fast."
Dickerson understands that people might be skeptical about his praise of the Rams, seeing as they retired his number during the offseason and hired him as vice president of business development. He's on the payroll; how could he be critical of the franchise?
"Forget them hiring me; I don't give a damn about that," said Dickerson, who still holds the NFL's single-season rushing record (2,105 yards). "You think that changed my life? No. I am Eric Dickerson, no matter what. I played for the Los Angeles Rams, no matter what. My name's in the record books, no matter what. ...
"When I played for the Rams, we might not have been 13-3 or 14-2, but I'll tell you this: When you came to play us, you knew that it was going to be a tough football game. It was never, 'Oh, that's an easy win.' Wasn't none of that nonsense."
These days, he said, he's constantly approached by fans who thank him for the spat that snowballed, playing a significant role in the change of coaching regimes.
"A lot of fans say, `Eric, you were our voice. You would say what everybody thought. We'd all say it, but nobody would hear us,'" he said. "I'm the voice of the fans."
Follow Sam Farmer on Twitter @LATimesfarmer
Get our high school sports newsletter
Prep Rally is devoted to the SoCal high school sports experience, bringing you scores, stories and a behind-the-scenes look at what makes prep sports so popular.
You may occasionally receive promotional content from the Los Angeles Times.