NFL review and preview: Several coaches calling an audible at the quarterback position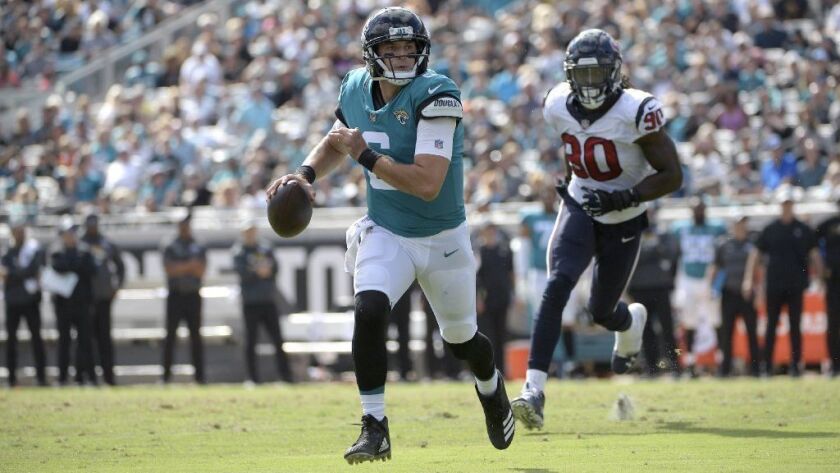 Bring on the backup quarterbacks.
Blake Bortles is benched in Jacksonville, the Jaguars desperate to stop their seven-game slide.
Andy Dalton is finished for the season in Cincinnati, sidelined with an injured thumb.
It's unclear whether Chicago's Mitchell Trubisky or Baltimore's Joe Flacco will be ready to play this week.
Eli Manning is clinging to his starting job with the New York Giants, and Nick Mullens is hoping to do the same in San Francisco.
The spin on Week 13 in the NFL? It's the revolving door at the most important position on the field, with so much backing up going on the league should be beeping.
"I'm making this change to give us the opportunity to win a football game," said Jacksonville coach Doug Marrone, who Monday promoted former USC quarterback Cody Kessler to replace Bortles, along with firing offensive coordinator Nathaniel Hackett, the son of former Trojans coach Paul Hackett. The Jaguars are averaging 17.9 points a game, 28th in the league.
The final straw was Bortles' performance Sunday in a loss to Buffalo, when he completed 12 of 23 passes for 127 yards with a touchdown and two interceptions. He has 13 touchdowns and 10 interceptions this season, hardly the payoff the Jaguars were expecting when they signed him to a $54-million extension in February.
Kessler, who was 1-7 as a rookie starter in Cleveland two years ago, is facing quite a challenge. The Jaguars host the Indianapolis Colts, who have won five in a row, and Jacksonville will be without starting running back Leonard Fournette, suspended by the league Monday for fighting in the Buffalo game.
The Bengals have lost three in a row, including a 35-20 defeat Sunday to Cleveland. Now, they have lost their quarterback, too, as Dalton suffered a thumb injury while attempting to recover a bad snap. Jeff Driskel, a 2016 sixth-round pick out of Louisiana Tech, will take over as the starter, beginning Sunday with a home game against Denver. As an insurance policy, the Bengals claimed journeyman Tom Savage off waivers.
In Chicago, Trubisky has been nursing an injured throwing shoulder that kept him out of a Thanksgiving Day game against Detroit. Chase Daniel started that game, and the first-place Bears won. Chicago is weighing the risk of starting Daniel again Sunday in New York against the three-win Giants.
Flacco is recovering from his hip injury, but isn't a lock to start Sunday at Atlanta. The Ravens have another option in mobile rookie Lamar Jackson, who started the last two games.
Ravens coach John Harbaugh was noncommittal Monday on who will start, acknowledging there's a concern that Flacco could sustain a more severe hip injury.
"It's got to be strong and stable in terms of all of those things," Harbaugh told reporters. "The hip has to be strong and not agitated for Joe to really protect himself. That's the concern, Joe's safety with the injury. That's why it's an opinion. That's why the doctor has to decide. It's not like a hamstring or something where you say, 'Well, it's this degree healed or not.' They have to look at it and say, 'OK, it's good.' "
Heading into their game against the Bears, the Giants are sticking with Manning, even though the team is completely deflated after a 25-22 loss to Philadelphia that effectively ended New York's flickering postseason hopes.
"You go every week with giving your team the best opportunity to win the football game," Giants coach Pat Shurmur said, shaking off the possibility of starting rookie Kyle Lauletta in place of the struggling Manning, a two-time Super Bowl winner. "That's how you do this thing. This isn't a player tryout. This is do everything in your power to win the next game."
Naturally, Manning isn't questioning that logic.
"Hey, I want to play," he told reporters. "Hey, you all can speculate and you all can what-if. It's not my decision."
The 49ers are still in evaluation mode after a 27-9 loss Sunday at Tampa Bay, trying to decide whether it's best to keep Mullens as the starter or put C.J. Beathard back in for the game at Seattle.
Mullens had a rough outing against the Buccaneers, as he was sacked four times and had two interceptions to go with his one touchdown.
"I don't think he played very well, just looking at some of our situations, but that wasn't all on him," said San Francisco's Kyle Shanahan in what qualifies as brutal candor for an NFL coach.
As for the quarterback situation?
"I evaluate it every week, honestly," Shanahan said.
Follow Sam Farmer on Twitter @LATimesfarmer
---
Get the latest on L.A.'s teams in the daily Sports Report newsletter.
You may occasionally receive promotional content from the Los Angeles Times.