Raiders coach Jon Gruden brings fresh start to Oakland, but the end is near ... and maybe sooner than originally forecast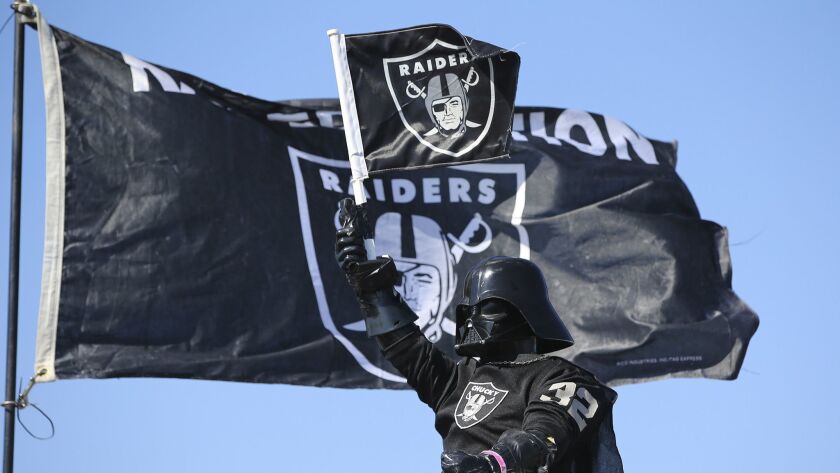 Reporting from oakland —
Like it or not, the end is near.
The Raiders are leaving town, just like Khalil Mack did, and that reality lingered over the Oakland-Alameda County Coliseum on Monday night like the smoke from a thousand tailgating grills.
There's little subtlety or ambiguity from the franchise. The messages from the Silver & Black have black-and-white clarity: This team is gearing up for its move to Las Vegas in 2020 — and maybe a year earlier if the Oakland City Council decides to sue to the team. This team is on a year-to-year lease to stay in its current home.
"The team leaving breaks my heart," said Roy Hoback, 42, who made the two-hour drive north from Modesto to see his beloved Raiders open the season against the Rams. "It's surreal because this might be the last home opener."
For Hoback and so many others, the latest gut punch was especially painful. The Raiders traded Mack, a generational talent at defensive end, to Chicago for a package that included the Bears' first-round picks in 2019 and 2020, just in time for those Las Vegas fans to enjoy.
So what happened next? Mack instantly emerged as a Midway monster and his new team's best player, punishing Green Bay with a strip sack and a pick-six, along with drawing a holding penalty on third down and paving the way for another sack by teammate Roquan Smith.
That was in the first half.
Yes, Mack got a record-setting six-year extension worth $141 million, but that didn't salve the sting for a lot of Raiders fans who felt compelled to change the channel.
"When it's your top guy, pay the man," said Russell Garcia, 55, so passionate about his team he has different versions of the Raiders pirate logo tattooed on his right biceps, left forearm and neck.
Exactly what happened with Mack is unclear. Jon Gruden long said he hadn't talked to the player, but said he finally did after the trade, telling Mack he was a great Raider. But in the ramp-up to the opener, the coach told his old "Monday Night Football" colleagues that Mack "obviously … didn't want to play here."
"That's what's being missed here," Gruden told ESPN's Lisa Salters. "He was under contract, Lisa. He never showed up for an OTA. He never showed up for training camp, and obviously wasn't going to show up for the season. Don't forget that. We have to get ready to play. I want players that want to be here, that want to help us put this thing back in high gear."
That's a challenging task for the colorful coach, taking over a team that has had one winning season since losing the Super Bowl to Gruden's Tampa Bay Buccaneers at the end of the 2002 season.
"The Raiders should have worked harder to stay," said fan Lamar Simpson, 50, of Sacramento. "When they came back here [from Los Angeles in 1995], we thought they were coming back for good. But I don't blame the players. It's not their fault the team is leaving. My anger is with ownership, the city, and the NFL."
Make no mistake, there's plenty of excitement about Gruden, even if it means living in the moment and refusing to gaze down the road. For his part, Gruden doesn't even mention Las Vegas, uttering those words publicly just once, at his introductory news conference.
"I've never seen my wife so excited as when they hired Gruden," said Tim Criswell, 36, of Modesto. "Rich Gannon was a journeyman player when he came to the Raiders and look what happened. [Gruden has] never had a quarterback with the talent of Derek Carr, so I can't wait to see what happens."
Hardcore Raiders fans are clinging to hope, as they do every year. To many, it's about more than football.
Like he has for far longer than a decade, Fernando Lopez manned his grill Monday afternoon in the Coliseum parking lot. Chicken, ribs, carne asada. Beside him, a table of dominoes with the white dots worn off — the result of thousands of games with his brother, Miguel.
"We keep a notebook with the score of every single dominoes game we've played over the last 15 years," Fernando Lopez said. "My brother and I are completely different. He's a Mets fan, I'm a Giants fan. These games bring us together. I don't know what we're going to do when the Raiders leave."
But that's for another day. The end is near, yes, but it's not here yet.
Follow Sam Farmer on Twitter @LATimesfarmer
---
Get the latest on L.A.'s teams in the daily Sports Report newsletter.
You may occasionally receive promotional content from the Los Angeles Times.