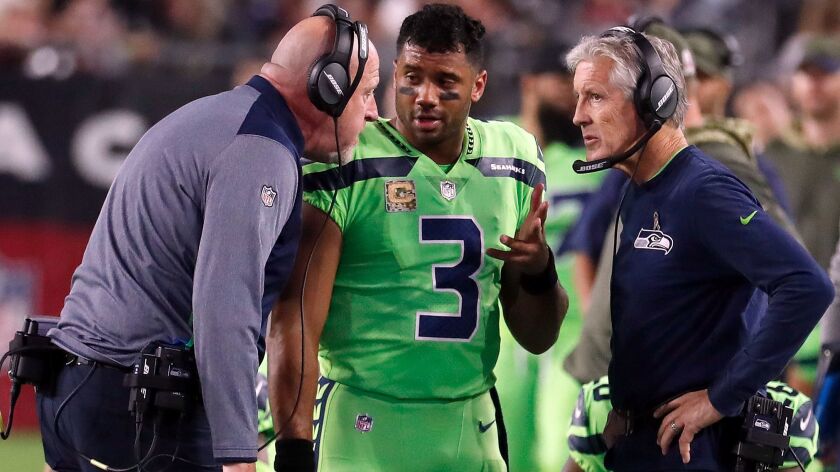 After an extensive review, the NFL has fined the Seattle Seahawks $100,000 for mishandling the concussion protocol for quarterback Russell Wilson during a Nov. 9 game at Arizona.
The review was conducted by both the NFL and NFL Players Assn. and determined there was "a failure in the application of the protocol." The Seattle coaching and medical staffs will be required to attend remedial training regarding the protocol.
During the game, Wilson absorbed a helmet-to-chin shot on a throw and was directed to the sideline by referee Walt Anderson for an examination. TV cameras showed Wilson briefly ducking into the sideline concussion tent, then almost immediately getting up and leaving to reenter the game before being examined.
"Once it is determined that a medical staff examination is warranted, a player may only be cleared to return by the medical staff," the NFL and the players association said Thursday in a joint release. "Mr. Wilson's return to the field without a sideline concussion evaluation was therefore in violation of the Concussion Protocol. Subsequently the team medical staff did examine the player and clear him per protocol."
The league announced an immediate update to the protocol instructing officials, teammates and coaching staff to take players directly to a member to the medical team for a concussion assessment. In this case, Wilson went on his own.
Follow Sam Farmer on Twitter @LATimesfarmer
---