Making the Pro Bowl marks a long journey for Cory Littleton, but if all goes right he'll be playing in a different bowl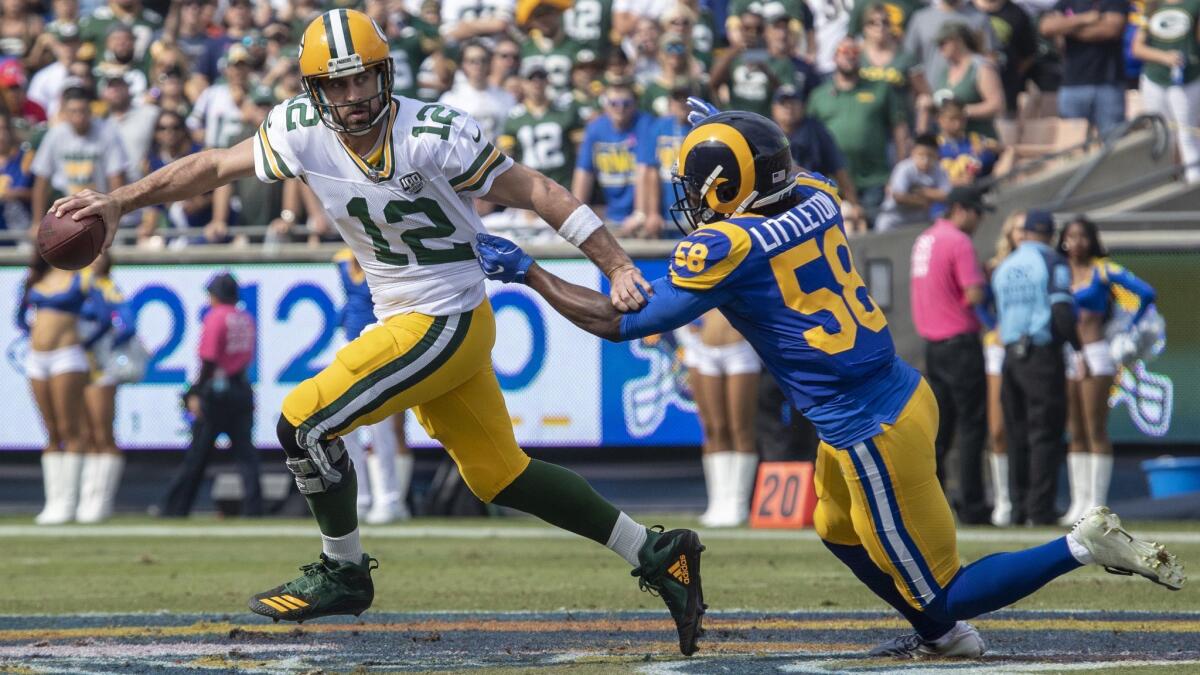 Three years after signing with the Rams as an undrafted free agent, Cory Littleton is headed to the Pro Bowl for the first time.
Or, maybe not.
Players participating in the Feb. 3 Super Bowl in Atlanta bypass the Jan. 27 Pro Bowl exhibition in Orlando, Fla.
So while Littleton was honored to be voted in, he would be fine sending an RSVP with regrets.
"Hopefully," he said Wednesday, "I don't have to play in that game, and we actually get to the Super Bowl."
Littleton, the Rams' starting middle linebacker, was voted to the Pro Bowl as a special-teams starter.
It's a fitting tribute for a player who made his name as a special-teams standout as a rookie in 2016, and continues to lead several units despite having ascended into a starting role as the defense's signal-caller.
Littleton, 25, leads the Rams with 112 tackles and also has blocked two kicks for an NFC West-champion team that plays at Arizona on Sunday.
The Rams are 11-3. If they defeat the 3-11 Cardinals, and the San Francisco 49ers beat the Chicago Bears, the Rams will clinch a bye through the wild-card round of the playoffs.
Littleton was honored to be recognized in voting by fans, players and coaches.
"It means a lot because it's something that doesn't happen every day," he said. "The road I took ... to be able to prove myself into that, is something special."
Cardinals claim Pharoh Cooper
A day after the Rams waived Pharoh Cooper to make room on the roster for running back C.J. Anderson, the Cardinals claimed the 2017 Pro Bowl kick returner.
"It was really more just a numbers thing than anything else," Rams coach Sean McVay said of the decision to release Cooper. "It wasn't anything that he didn't do."
Injuries in the running back corps necessitated the move as coaches decided how to formulate the 46-man active roster for game day, McVay said.
JoJo Natson will continue to return punts. Natson or Blake Countess could return kickoffs.
The Cardinals are expected to have Cooper, who also plays receiver, download coaches on Rams concepts and plays.
Shane Waldron, the Rams' passing game coordinator, is not worried. The kinds of transactions that involved Cooper are not uncommon.
"You don't want to dive too much into that," he said. "They've got a week to prepare just like we do and I think you can start chasing some ghosts in that regard.
"We'll maintain our offensive approach."
Not looking back
Cornerback Marcus Peters said he had put behind the exchange he had with a fan during the third quarter of the Rams' loss to the Philadelphia Eagles at the Coliseum.
Peters left the bench area to confront a fan who was heckling him from the stands. As he did after the game, he downplayed the severity of the exchange, which was captured on video.
"Sometimes it's a thin line between people just being disrespectful, and certain things happen," he said. "I'm just the type of person that reacts to thing like that. I shouldn't have reacted like that."
McVay and Peters met to discuss the incident, and McVay said Monday that Peters understood he needed to control his emotions.
Peters said, "I didn't mean anything by it," and acknowledged that "perception says that it was, you know, Marcus Peters acting up again, but it's, whatever. Talked to coach about it and we move on."
Peters said he was focused on the game against the Cardinals, and did not want the incident to be a distraction.
"You just move on," he said. "It's one of those things that pop up on the internet."
Follow Gary Klein on Twitter @latimesklein
Get the latest on L.A.'s teams in the daily Sports Report newsletter.
You may occasionally receive promotional content from the Los Angeles Times.