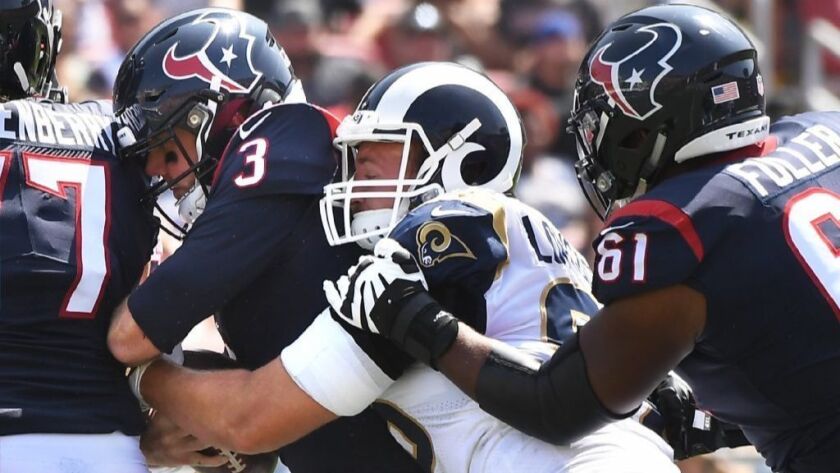 What we learned from the Rams' 21-20 victory over the Houston Texans:
Sean McVay went all in on keeping offensive starters out of preseason games
Quarterback Jared Goff, running back Todd Gurley and receivers including new addition Brandin Cooks will face the Oakland Raiders on Sept. 10 without having taken a snap together in the preseason.
The offensive line, which prides itself on communication and working together, will not have done so this preseason.
McVay's goal was simple: Make sure starters were available for games that count.
He has done that.
If the Rams look sharp and roll over the Raiders — and through the early part of the season — McVay might become the poster boy for a new NFL trend.
But the Rams are regarded as a Super Bowl contender.
The reigning NFL coach of the year will be second-guessed if they struggle and lose to the Raiders, and excoriated if they drop several early-season games that cost them a playoff spot or playoff position.
Ndamukong Suh likes to hit quarterbacks
OK, we already knew that.
Suh has 51 ½ career sacks.
But Suh's first-quarter hit on Deshaun Watson that resulted in an interception showed that when he sets a goal, he achieves it.
In the days leading up to the game, Suh had said that joint practices with the Baltimore Ravens were productive except for the hands-off policy regarding quarterbacks.
He was hoping to hit one before the regular season.
Mission accomplished.
Matt Longacre could be the answer at outside linebacker
Longacre had 5 ½ sacks in 2017 as a rotational defensive lineman before a back issue required season-ending surgery.
He was sidelined most of training camp because of a biceps injury.
He started against the Texans opposite Samson Ebukam.
The starting defense played only seven snaps against the Texans, but Longacre got more time and recorded a second-quarter sack and another tackle for a loss.
Dominique Easley might have found a new position
Easley came back from the third major knee injury of his college and pro careers – and was switched from defensive tackle to outside linebacker.
The move was made for need but also to take some of the wear and tear off the New England Patriots' former No. 1 draft pick.
Easley was active in his first game action since 2016. He was pursuing Watson when Suh hit the quarterback and also disrupted other plays.
Sam Shields can still make plays
Shields sat out nearly two full seasons because of multiple concussions suffered while playing for the Green Bay Packers.
He has taken incremental steps to re-acclimate to game conditions during the preseason, and against the Texans the cornerback showed the playmaking skills that produced 18 interceptions in eight NFL seasons.
Shields intercepted a first-quarter pass that set up a touchdown.
John Kelly is making a run at a roster spot
Malcolm Brown is the No. 2 running back behind Todd Gurley, but Kelly is showing he could possibly provide an alternative with breakaway capability.
Kelly broke off a 40-yard run in the preseason opener at Baltimore. On Saturday he scored two touchdowns, including one on a 15-yard run.
Kelly also embraces playing on special teams.
---