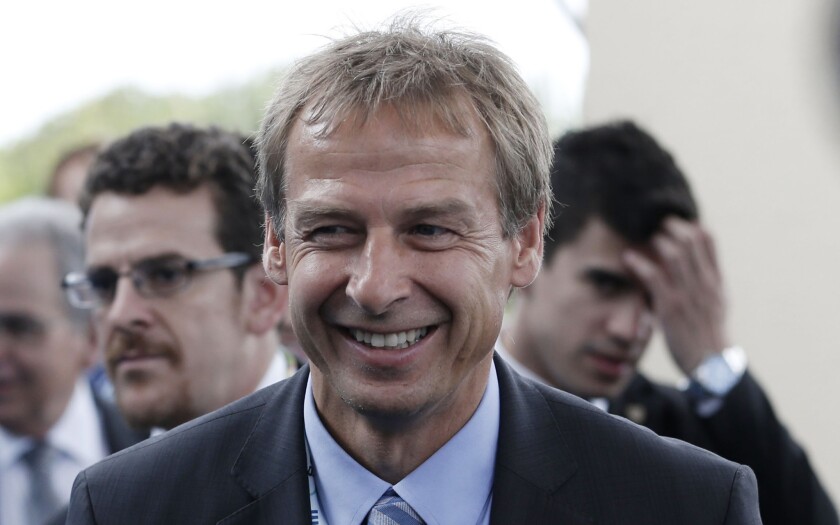 Juergen Klinsmann is still six months away from his first World Cup as coach of the U.S. national team. But he's already looking ahead to the next one after agreeing Thursday to a four-year contract extension that will keep him in place through 2018.
Klinsmann, 49, took over as U.S. coach in the summer of 2011 after Bob Bradley, who had guided the U.S. into the knockout round of the 2010 World Cup, was fired. The U.S. has gone 27-10-7 since, rolling undefeated through July's Gold Cup and winning a national-record 16 games in 2013.
"One of the reasons we hired Juergen as our head coach was to advance the program, and we've seen the initial stages of that happening on the field and also off the field in various areas," said U.S. Soccer President Sunil Gulati. "In the past two years he has built a strong foundation from the senior team down to the youth teams and we want to continue to build up that success."
The announcement of the extension comes a month after published reports said Klinsmann, whose current deal expires in August, was being targeted by at least one European country in need of a coach. Klinsmann, who lives in Orange County, has said he has had several inquiries from other national teams.
Klinsmann led Germany to one World Cup title as a player and coached his homeland to the semifinals in 2006. This year his U.S. team finished first in regional qualifying for next summer's World Cup in Brazil, where it was drawn into a tough opening-round group alongside Ghana, Portugal and Germany.
"I am very fortunate to continue the work we started more than 2 1/2 years ago," Klinsmann said. "It's exciting to see the progress we have made and we continue to make improvements on all fronts."
Terms of Klinsmann's new deal were not disclosed. But the base salary from his current contract is $2.5 million a year, a U.S. Soccer record and a significant increase from what Bradley earned. U.S. Soccer's 2010 tax returns showed Bradley was paid $818,244 in 2010.
Klinsmann can also make up to $10.5 million in bonuses depending on how the U.S. does in Brazil this summer.
Twitter: @kbaxter11
---