New L.A. soccer team officials get entertainment lesson from Seattle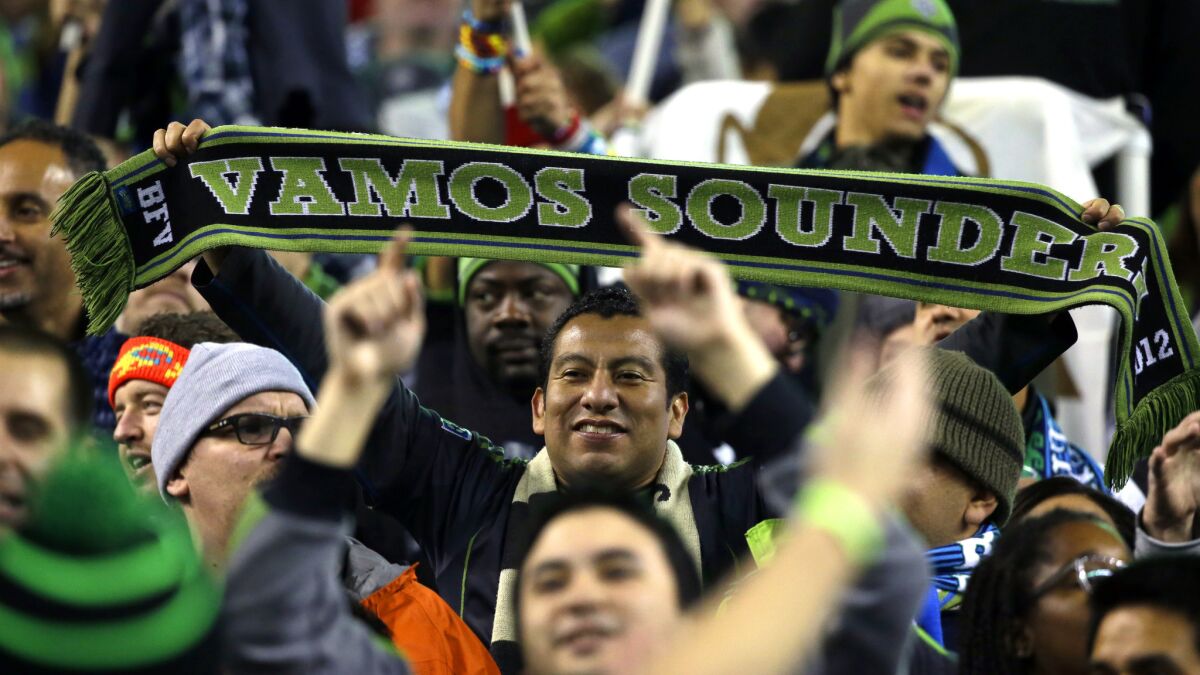 When Clint Dempsey made the decision to leave the English Premier League for the Seattle Sounders and Major League Soccer last year, he said one of the things that drew him to the city was that it reminded him of Europe.
And he wasn't talking about the rain.
"It's an atmosphere that's comparable," he said. "I almost felt like I was in another country. I was … just walking past a bar, the TV was on and everyone was watching soccer. So for me that was awesome."
Seattle may be the closest thing the U.S. has to a soccer city, a place where the passion and knowledge about the game is comparable to St. Louis' embrace of baseball or Green Bay's love of football.
The Sounders averaged 43,734 fans for its 17 home games this season, nearly 8,000 more than the average attendance in the EPL through 15 games. For last month's Western Conference final with the Galaxy, an overflow crowd of 46,758 — many of whom marched to the game bundled in Sounders hats, jackets, scarves and wool hats — showed up despite freezing temperatures and snow on the ground.
"It is organic. We did nothing," boasts movie executive Joe Roth, the team's majority owner. "We let the fans name the team, pick their seats. They have all the democracy in sports."
And that's a model MLS' fledgling Los Angeles Football Club is trying to follow. That's not the official name, by the way. The team says the fans will pick that, just as the fans are being asked to choose the team's colors and logo and even vote on where its new stadium should be situated when the expansion team begins play in 2017.
But the ownership groups in Seattle and L.A. share more than just a soft spot for elections. Both also include principal partners who made their names and their money in Hollywood, where they learned that show business is primarily about the show.
And now they're bringing that philosophy to soccer.
"It is entertainment. All sports is entertainment," says Drew Carey, who, in addition to being a comedian, actor and game-show host, is a Sounders owner and chairman of the team's member association.
"It's like bringing the circus into town," Carey continues. "It's entertainment. It's all a distraction from real life."
So while the Sounders' ownership group also includes the considerable brainpower of Microsoft billionaire Paul Allen and businessman Adrian Hanauer, who is also the team's general manager, the Sounders have a simple business model.
"You do the same thing as making a movie," says Roth, the former chairman at 20th Century Fox and Walt Disney Studios before starting his own company, Revolution Studios. "What we're asking people to do is come out of their homes [and] spend their time and money on our event when they have all kinds of other opportunities."
LAFC's 22 owners has an even deeper Hollywood pedigree, with Mandalay Entertainment Chief Executive Peter Guber, whose producing credits include "Batman"; Allen Shapiro, chief executive of Dick Clark Productions; YouTube co-founder Chad Hurley; and the man who invented "Showtime," former Laker Magic Johnson.
"Over the last decade or so, there's been a real enlightenment about just how much this is entertainment as much as it is sport," says LAFC owner and President Tom Penn, a former NBA analyst for ESPN. "It's all location-based entertainment first."
And in this instance, that location is Southern California. So while it will be difficult to match all aspects of the Sounders' success here, LAFC has a number of factors in its favor.
Because it is replacing the disbanded Chivas USA as the second MLS franchise in L.A., the team was given an unusually long gestation period — 29 months — to prepare. That will allow ownership time to really listen to fans before building its stadium, choosing its soccer personnel and developing a culture.
It also gives ownership time to learn from other teams. Penn said Roth spoke to some of the LAFC owners before they bought into MLS and "he had some wise words of advice. We were all ears."
"A soccer match in Seattle, it's an experience. And it's a culture," says Henry Nguyen, LAFC's executive chairman. "What they have done in Seattle we believe we can replicate in L.A."
So does Roth.
"People want to connect. And we gave them a platform to connect," Roth says of his team. "If they do the same thing, they have a good chance of making it work.
"It has to be fun. Soccer is the entertainment. And it's plenty entertaining."
Twitter: @kbaxter11
All about the beautiful game
Go inside the L.A. pro soccer scene and beyond in Kevin Baxter's weekly newsletter.
You may occasionally receive promotional content from the Los Angeles Times.