Column: Football club's efforts go far beyond the field
Reporting from LIVERPOOL —
After a fire destroyed their home and everything in it, the Draper family faced the prospect of a holiday season with little cheer — not to mention gifts — for their four young children.
So three days before Christmas, Everton Football Club, the soccer team the family has long supported, came to support the Drapers, surprising them with an invitation to a team party during which the players provided each child with a Santa-sized sack of presents.
"It was brilliant," said their mother, Kate Draper. "It's nice to see the kids smile after what they've been through."
That same afternoon, Everton manager Sam Allardyce and assistant coach Sammy Lee dropped off several bags of donated goods at a food bank near the club's Goodison Park home, an area in which 42% of the residents live below the poverty line.
That visit troubled Allardyce more than his team's listless season, one that finds Everton mired in the middle of the EPL table after 23 games. Some things, it seems, are more important than soccer — which is why the team and its charity, Everton in the Community, have combined to raise millions of dollars and devote hundreds of thousands of hours to good works, making it one of the largest and most effective club-supported civic organizations in global sports.
With a paid and volunteer staff of more than 330, Everton in the Community, which celebrates its 30th anniversary next month, funds and administers nearly 50 programs dealing with issues from education, dementia and poverty to health, substance abuse and employability. It even runs its own school and community center, achievements that earned Denise Barrett-Baxendale, the charity's executive chair, an invitation to the Vatican to discuss the group's work with Pope Francis.
"There's lots of things about the club that are a lot more than just what happens on the field every week," said Richard Kenyon, Everton's director of marketing and communication. "The football club is extremely important to the local community. It's a community that has many social needs, and to be able to help local people is very important to us."
Which is why David Unsworth, a former Everton star who served as a caretaker manager for a month earlier this season, had his under-23 players — and 200 club supporters — spend one of the coldest nights of the Liverpool winter sleeping in the Goodison Park grandstands in what has become an annual effort to drive home the plight of homeless youth.
"It really is a project that makes these guys humble," Unsworth said of the club, which issues all new players a book detailing Everton's long history in the community as well as guidelines spelling out their individual charitable requirements.
"There are kids in that age group that are sleeping on the streets a mile away, half a mile away. And we've got to do something," Unsworth said of the sleepouts, which have raised both consciousness and money to fund a homeless shelter for local teenagers.
Down the street from the shelter and little more than a long corner kick from Goodison Park is the Everton Free School, which serves more than 200 teenagers who have struggled in the mainstream educational environment.
"Youngsters that nobody else wanted, really," said Phillip Duffy, the first principal of the school and now the executive director of Everton in the Community.
The school cost more than $5.6 million to open, about half what Everton will pay 32-year-old midfielder Wayne Rooney this season — which says more about the cost of soccer players than it does about the cost of education. Yet it made Everton the first soccer club in England to win government permission to open a free school.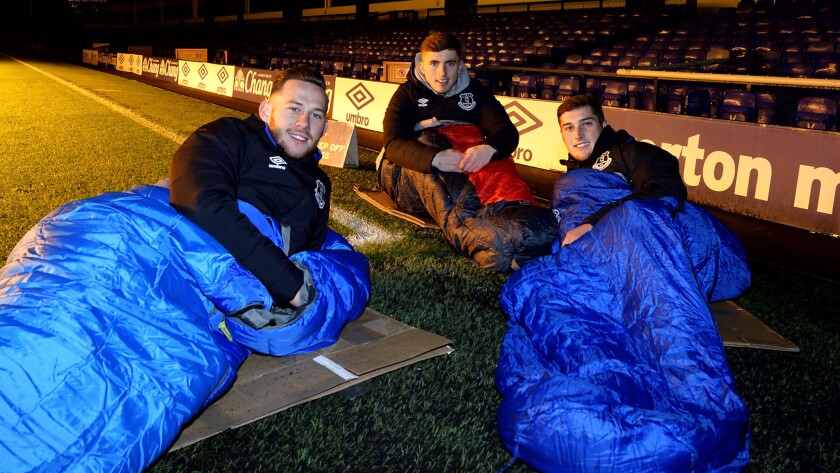 Since then EPL rival West Bromwich Albion as well as Sunderland and Derby County, who both play in the second-tier Championship League, have opened schools of their own. Together the four teams have educated thousands of at-risk teens; Premier League funding for charity now extends to 100 professional clubs through the six tiers of English soccer.
"We work alongside all of these clubs to support and inspire people so that they realize their full potential. And as you can see from Everton in the Community's impact over the past three decades, this work really does change people's lives for the better," said Nick Perchard, the EPL's head of community.
Yet Sunderland's finances took a hit last spring when the club was relegated out of the Premier League, something Deloitte's Sports Business Group estimates could cost the team as much as $88-million in lost income from broadcasting rights, match-day income and commercial revenue — not to mention access to the deep pockets of the EPL, which has been instrumental in funding community projects in both Sunderland and Liverpool.
Everton faced a similar fate 10 games into this season. But after Unsworth replaced Ronald Koeman as coach, he and Allardyce led the team through a seven-game unbeaten streak that allowed the Blues to climb out of relegation danger. Everton, last relegated in 1951, has played a record 114 seasons in the top tier of English football.
"We pray that we never get relegated," said Duffy, who last season oversaw the opening of a two-building complex called the People's Hub in the center of the so-called Blue Mile, where Everton support is deepest. Built with funding help from the Premier League, the $8.2-million project features rooms for yoga, drama, substance-rehab classes as well as job and apprenticeship training.
Now, however, there are fears such support will end when Everton makes its long-planned move into a new stadium on the Liverpool docks. Two months ago the club signed a long-term lease for the property, the first concrete step toward leaving the gritty north Liverpool area that has been its home since 1892. And last week, at its general meeting with shareholders, the club confirmed it is moving its executive offices to the city's waterfront by the end of this year.
But Barrett-Baxendale promised the Blue Mile won't be abandoned. The club is reinvesting there instead. In addition to the school, homeless shelter and community center, there is now talk of building a nursing home and nursery in the neighborhood.
"How does a proper People's Club exit its community after 125 years?" she asked shareholders. "It's simple. We won't. We will never abandon our home. Everton Football Club will never leave."
Follow Kevin Baxter on Twitter @kbaxter11
---
All about the beautiful game
Go inside the L.A. pro soccer scene and beyond in Kevin Baxter's weekly newsletter.
You may occasionally receive promotional content from the Los Angeles Times.