Newsletter: Soccer! Sigi Schmid had a life worth remembering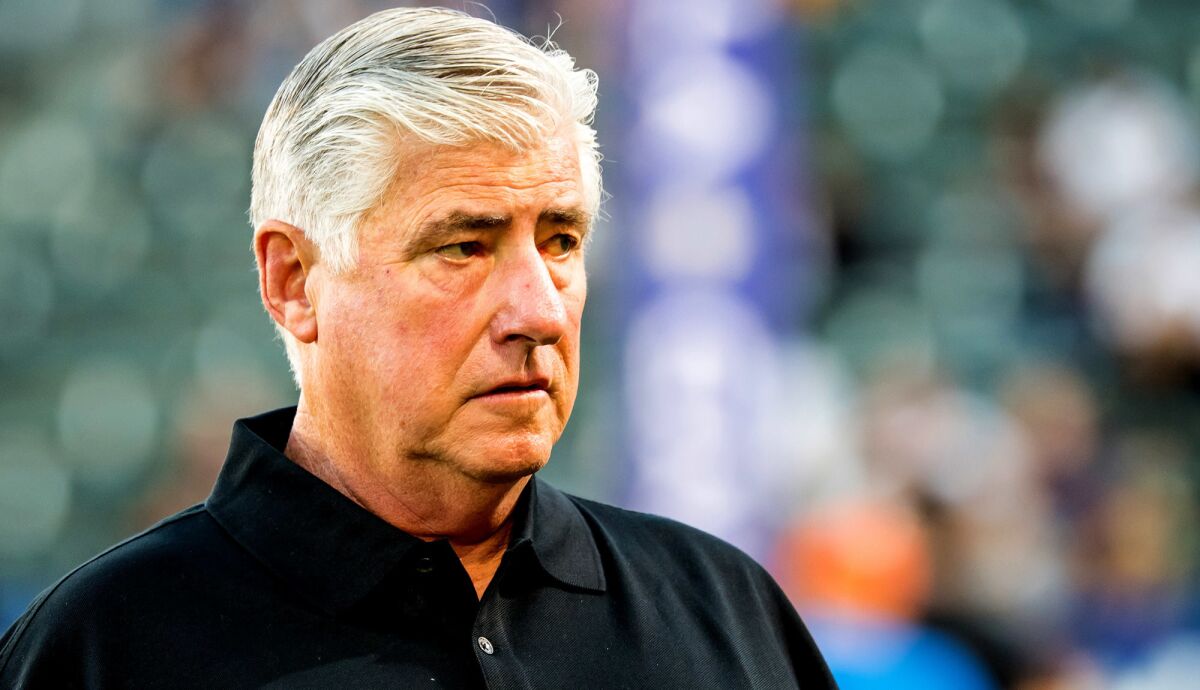 Hello and welcome to this week's edition of the L.A. Times soccer newsletter. I'm Kevin Baxter, The Times' soccer writer, and today we start with an event that was both sad and uplifting at the same time.
Friday's memorial service for Sigi Schmid, the Hall of Fame coach who died on Christmas Day, stirred multiple emotions. It's difficult, after all, to say goodbye to anyone, especially when they leave at just 65. But the long evening of tributes and remembrances at American Martyrs Catholic Church in Manhattan Beach — some of which brought laughs; others, tears — was as much a celebration of Schmid's life as it was a mourning of his death.
The crowd of nearly 1,000 included six U.S. national team coaches, Major League Soccer commissioner Don Garber, U.S. Men's National Team general manager Earnie Stewart and a deep roster of MLS executives and coaches.
Fellow Hall of Famers JP Dellacamera and Cobi Jones were there. So were Robbie Rogers, Alexi Lalas, Alejandro Moreno, Jordan Morris and Kei Kamara, standout players who all said their careers were changed by Schmid. In fact, so many great players were there, you could have staged a full 11-on-11 scrimmage in the parking lot and people would have paid money to see it.
But although the conversation centered on soccer, many of the memories shared were about the man; they were about Schmid's career as a father, brother, husband and friend.
"I don't think there's a person in this church whose life Sigi didn't make a difference in," said Scott Schauer, a longtime friend.
Lalas agreed.
"If Sigi believed in you, then he provided the opportunity for you to succeed," he said. "And in doing so, he helped to change the life of so many. And in doing so, as we all know, he helped to change the game."
Schmid was among the most successful coaches in U.S. soccer history, winning a record 266 MLS games, two league titles and five Open Cups with Seattle, Columbus and the Galaxy. In 19 years at UCLA, he won three NCAA championships, averaging 17 wins a season and making 16 consecutive playoff appearances.
But there was also a Zelig-like quality to Schmid, who was present at virtually every significant moment in U.S. soccer history over the last 5½ decades. As an 11-year-old he played on the one of the four teams that made up the first season of AYSO; that organization now has more than 50,000 teams and 400,000 players. He co-coached the first soccer team at Torrance Bishop Montgomery High, his alma mater; the program went on to become a regional power.
At UCLA, he played for the second Bruins team to reach the NCAA final and returned to coach the first team to win it. His captain that season was Paul Caligiuri, who would go on to score the goal that qualified the U.S. for its first World Cup in 40 years.
When the World Cup came to the U.S. in 1994, Schmid was an assistant coach for the American team. And as head coach of a U-20 national team 11 years later, he beat an Argentine team whose roster included Lionel Messi, Sergio Aguero and Pablo Zabaleta.
But if those are the things that earned Schmid the newspaper headlines, they weren't the things for which he was memorialized last week.
"He's remembered as a Hall of Fame coach," said Gary Wright, another close friend. "But he should be remembered as a Hall of Fame person."
Added his brother Roland: "Think about it. He managed to make a career out of a hobby."
Moreno, who won two MLS titles with Schmid, offered a humorous series of personal anecdotes about the coach, then silenced the laughter with a final remembrance that echoed the thoughts of many in the church:
"I loved that man. I loved Sigi Schmid," he said. "I loved what he did for me and my family. I owe him quite a lot."
A peek behind the Vela
When word got out that Barcelona had LAFC's Carlos Vela on its shortlist of potential replacements for forward Munir El Haddadi, the MLS team declined to address the story, leaving fans who had just seen their season-ticket prices jump uncertain whether the team's captain and best player would be back.
Five days later, the team's only public comment was to say it wouldn't comment publicly. So why the deafening silence?
Well, for starters, if the team addressed every rumor involving its players, it wouldn't have time to do anything else. And if the team denies some stories but remains silent on others, that silence will invariably be taken in some quarters as acknowledgement the rumor is true.
Moreover, in the case of Vela and Barcelona, most of the conversations that have taken place have been between the Spanish club and Eduardo Hernández Appelbaum, Vela's Texas-based agent.
Did Barcelona approach LAFC with an offer? Did the team take it seriously? We don't know. And that uncertainty helps the club.
"Speculation does them a ton of good," said ESPN Deportes analyst Herculez Gomez, a former U.S. national team player. "Think about it. LAFC's brand is being talked about on an international level. Their players are 'good enough' to play at Barca. This rumor is getting them clout without them doing anything.
"In the end, they'll say, 'Interest was real, but Carlos is committed to LAFC and us to our captain.' Win-win for them."
It may all be a moot point anyway. Although neither the club nor Vela would put an end to the rumors Monday, Barcelona may have done so when it signed Kevin-Prince Boateng from Italian club Sassuolo on a $1.13-million loan — just a fraction of what LAFC would have demanded — to take Munir's place.
That may not be end of interest in Vela, however. Even if Barcelona has moved on, the fact that the Spanish superclub has LAFC's captain and leading scorer on its radar is certain to draw the attention of other European clubs looking for help before the transfer window closes at the end of the month.
"It's fantastic for LAFC and for Carlos that he gets connected with a team like Barcelona," LAFC coach Bob Bradley said Monday. "I'd like to think that says something about the kind of football we played in the first year."
Spoken like a true pro
Vela skipped his scheduled appearance before print reporters at Saturday's MLS media day at the Hilton in Universal City rather than have to listen to transfer questions for which he had no answer.
More than two dozen other players did attend, however, and most had interesting things to say.
D.C. United keeper Bill Hamid, who was not among the four goalies Gregg Berhalter called into his first training camp with the U.S. national team, left no doubt he considered the omission a slight and planned to use that as motivation heading into his team's March 2 season opener.
"I believe in my ability," said Hamid, who started last year with Danish club F.C. Midtjylland, then rejoined United in August and won nine of 14 starts. "I saw the four they called. I think I'm better than all four of them. My job is to step on the field March 2 against Atlanta and ball out.
"I want to be on the national team," he said, but "you have to earn it. And you have to earn it every week."
Toronto's Jozy Altidore, limited by injury to just 13 games and seven goals last season, wondered aloud why Christian Pulisic's record-breaking $73-million transfer from Germany's Borussia Dortmund to Chelsea of the English Premier League passed almost unnoticed in the U.S.
"If you watched American TV, you'd think it never happened," he said. "Elsewhere around the world it was a big thing. But I was disappointed in the States; it was kind of business as usual. I guess they have a lot of guys going for $70 million."
Altidore once held the record for highest transfer fee paid for an American when he went from the New York Red Bulls to Spain's Villarreal for nearly $10 million in 2008. Pulisic's transfer, he said, was a chance "to show people here an American kid who's been given the opportunity to go to one of Europe's biggest clubs. It ticks every box if you want to portray it to the youth to get them more into the sport."
"We don't have a lot of those stories," he continued. "This was a great one. And I thought it was a missed opportunity."
The Galaxy's Zlatan Ibrahimovic, who last month signed an MLS-record contract worth $7.2 million, according to the club, promised the team would get its money's worth. Ibrahimovic was second in the league with 22 goals and tied for team lead with 10 assists last season when he made just $1.5 million, pocket change compared with what he earned in Europe.
"From being the worst-paid to best, for me, it's the same situation because I still have to perform," he said. "And I performed being the worst-paid. Imagine now how I will perform being the best-paid."
Ibrahimovic, who joined the team Monday for the start of its first training camp under Argentine Guillermo Barros Schelotto, said a new coach alone wouldn't make the difference for a Galaxy franchise that had missed the playoffs the last two seasons.
"For me the coach is as good as the team he has," he said. "If you don't have a good team, nothing the coach [does] works. So it's a combination of everything."
Forward Ola Kamara had a slightly different take.
"Getting the coach," he said "that was the most important piece."
Kamara said he didn't speak with Schelotto before the start of camp and admitted he knew little about the former Boca Juniors coach and his infamous assistant, trainer Javier Valdecantos. So he took the advice of teammate Jorgen Skjelvik and began watching the documentary "Boca Juniors Confidential" on Netflix.
"I've only watched two episodes, but it seems like [they're] very physically demanding," Kamara said. "I mean they call [Valdecantos] 'The Butcher.' Preseason is probably going to be hard."
Indeed. The Galaxy took the field for the first time Monday and were scheduled for two-a-day workouts for the next two weeks, sessions so demanding the players will be taking buses to a local hotel to rest in between.
Media day quotebook
Wayne Rooney on the change in attitude he brought to D.C. United: "We get paid a lot of money. The least we can do is show up on time."
Costa Rican defender Kendall Waston on what he knows about Cincinnati, home of his new team: "Lots of snow. No beach."
Toronto's Sebastian Giovinco, in the last year of his contract, on negotiations with the club: "I'd love to stay in Toronto. I don't know if it is same for them. I hope to see in a month. ... At least they have to say something."
New York Red Bulls' striker Bradley Wright-Phillips, 33, on the team's announcement that his No. 99 jersey will be retired when he retires: "That's some Michael Jordan stuff. It's not what I'm used to. It was kind of embarrassing. I was taken aback by it. I'm honored, but it's kind of humbling. I feel weird even speaking about it. Still doesn't feel real."
Columbus midfielder Federico Higuain on the fan-led campaign that succeeded in preventing the team's move to Austin. "It was a good moment for the culture of football in the country. People will remember this moment for a long, long time."
And the last word — which is no word at all — goes to Orlando City's character-challenged Dom Dwyer, who grinned and pointedly ignored the tame queries of a Florida-based reporter as a team PR representative repeatedly asked, "Any other questions for Dom?"
Dwyer left after three mostly silent minutes.
Podcast
Don't miss my weekly podcast on the Corner of the Galaxy site as cohost Josh Guesman and I discuss the Galaxy each Monday. You can listen to the most recent podcast here.
Until next time
If you have any suggestions or criticisms of this newsletter, please don't hesitate to share. Subscribe here, and I'll come right to your inbox. Something else you'd like to see? Email me. Or follow me on Twitter: @kbaxter11.
---
All about the beautiful game
Go inside the L.A. pro soccer scene and beyond in Kevin Baxter's weekly newsletter.
You may occasionally receive promotional content from the Los Angeles Times.