Jurgen Klinsmann out, Bruce Arena likely in as U.S. soccer coach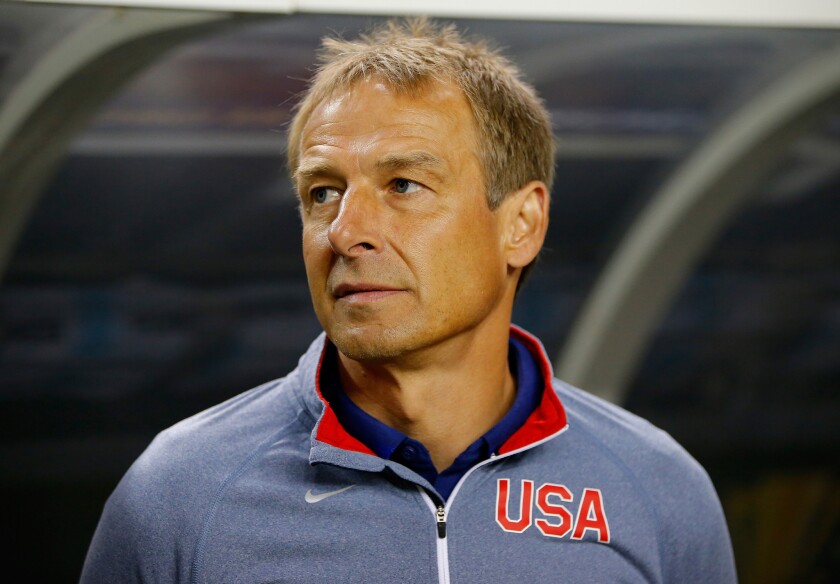 Jurgen Klinsmann was fired as coach of the U.S. national soccer team Monday, a victim of both heightened expectations and poor performances that have the U.S. in danger of missing the World Cup for the first time in more than three decades.
Klinsmann is expected to be replaced by Bruce Arena, the Galaxy's coach and general manager, who guided the U.S. to World Cup appearances in 2002 and 2006. The U.S. Soccer Federation was reportedly in negotiations with the Galaxy on Monday in an effort to free Arena from a contract extension he signed this fall.
A federation spokesman confirmed interest in Arena, while the coach and the Galaxy declined to comment. Klinsmann was silent after a morning meeting with federation President Sunil Gulati and Chief Executive Dan Flynn near the coach's Southern California home.
Gulati, who has scheduled a Tuesday conference call to discuss the coaching change, issued a lengthy statement Monday in which he praised Klinsmann's "considerable achievements." But, he continued, consecutive losses in World Cup qualifying earlier this month "left us convinced that we need to go in a different direction."
When Gulati hired Klinsmann in 2011 after years of pursuit, the coach promised sweeping changes that he said would close the gap between U.S. soccer and the rest of the world. However, many of the changes didn't work and Klinsmann's reign became marked more by inconsistency than innovation.
In 2013, for example, he led the U.S. team on a record 12-game winning streak en route to a Gold Cup title. He was rewarded with a contract extension through 2018, one that paid him a reported $3.2 million annually and expanded his duties by making him U.S. Soccer's technical director as well.
But after a run to the knockout round of the 2014 World Cup in Brazil, Klinsmann's success wore off. A year later the U.S. failed to finish in the top three in the CONCACAF Gold Cup for the first time in 15 years, part of a slump that saw the Americans lose four consecutive games to CONCACAF teams on U.S. soil for the first time in 50 years.
And though Klinsmann never lost his energy, faith or enthusiasm for his planned makeover, his penchant for tinkering with lineups and formations, often forcing players into unfamiliar positions and roles, fueled a slide that bottomed out earlier this month.
Back-to-back losses to Mexico and Costa Rica made Klinsmann the first U.S. coach to start the final round of World Cup qualifying 0-2, leaving the U.S. in danger of missing the quadrennial tournament for the first time in 32 years. Worse yet, the team appeared to quit in the second half of the 4-0 loss in Costa Rica, something that may have sealed Klinsmann's fate.
A World Cup champion as a player with Germany, Klinsmann, 52, also guided his national team to a third-place finish in the 2006 World Cup during a two-year stint in which he went 20-6-8 as Germany's coach. He was 55-27-16 in 5½ years with the U.S.
Once Gulati made the decision to fire Klinsmann — the first time the U.S. has changed coaches in the middle of the final round of Cup qualifying since 1989 — Arena became the logical successor. Not only has he coached more games with the U.S. national team than anyone else — winning a record 71 times between 1999 and 2006 — but he's also the only man who has led the U.S. to two World Cups.
Arena, 65, has four months to prepare for the resumption of Cup qualifying in March, when the U.S. meets Honduras in Salt Lake City and plays Panama in Panama City. And though he needs to win at least one of those games to get the U.S. back on track, the CONCACAF qualifying tournament is extremely forgiving with three of the six teams earning automatic World Cup berths and the fourth-place finisher advancing to an intercontinental playoff where another World Cup invitation will be at stake.
Mexico took that route to Brazil two years ago after winning just one of its first eight qualifiers.
For the Galaxy, meanwhile, Arena's expected departure leaves the team with openings at both coach and general manager three weeks before the busiest week on the MLS calendar. Just hours after the Dec. 10 MLS Cup final, the league's mid-December trade window will open, followed by the expansion draft, free-agent negotiations, and the waiver and re-entry drafts.
Follow Kevin Baxter on Twitter @kbaxter11
MORE SPORTS NEWS
Plaschke | Jared Goff makes his debut, but the Rams don't really let him play
Seattle WR Doug Baldwin flips off his coach before throwing his first career touchdown pass
Former NBA All-Star Steve Francis charged with threatening officer
---
UPDATES:
2:07 p.m.: This article has been updated with reports of Bruce Arena being hired to coach the national team.
1:40 p.m.: This article has been updated with Arena not responding to messages, and the Galaxy replying "no comment" to questions about Arena's future with the team.
1:20 p.m.: This article has been updated with more background on Klinsmann's tenure with the national team.
12:45 p.m.: This article has been updated with a comment from Sunil Gulati, background information and confirmation that Arena is being considered as a replacement.
This article was originally published at 12:40 p.m.
---
All about the beautiful game
Go inside the L.A. pro soccer scene and beyond in Kevin Baxter's weekly newsletter.
You may occasionally receive promotional content from the Los Angeles Times.