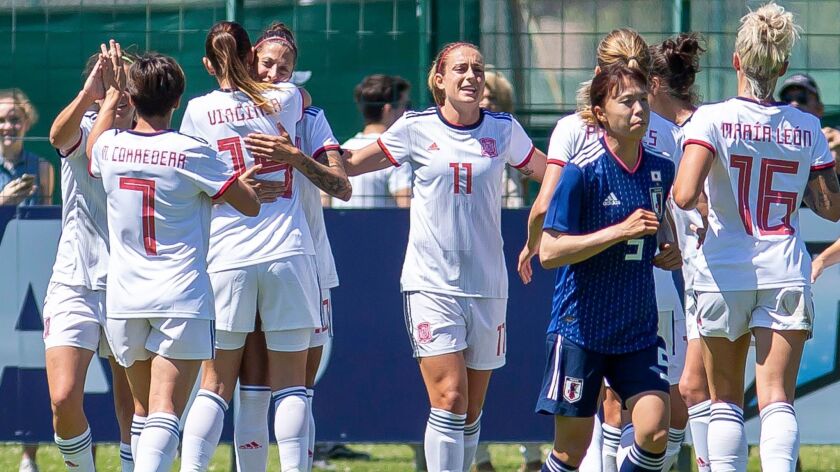 Victoria Losada already has a piece of Spanish soccer history.
Four years ago, 13 minutes into her team's opening game, she scored her country's first Women's World Cup goal.
"I don't think I realize it now. But when I retire and I look back, I'll be so happy and lucky to be the first one for our country," Losada said.
Now she hopes to come back from France with her country's first World Cup win, a quest that begins June 8 in Le Havre when Spain meets South Africa, which is playing in the tournament for the first time.
"In the last three years things have changed massively," Losada said. "And each day is a big new step for us."
Since its winless World Cup debut, Spain has rebounded to reach the quarterfinals of the European Championships in 2017, then won the U-17 World Cup a year later.
"Now people in Spain look at football, women's football, with another perspective," said Losada, 28. "Because of that World Cup, because of the Euros, people now respect this sport and it has changed a lot."
Twenty of the 23 women on the World Cup team play for Spanish clubs, 10 of them with Barcelona. That chemistry will come in handy since Spain has been drawn into a challenging group that includes second-ranked Germany, a two-time world champion, and China, which had made it at least to the quarterfinals in all six Women's World Cup in which it has played.
Getting out of the group would be a big plus for a team ranked 13th in the world and still on the rise. But Alexis Putellas, 25, a two-time World Cup player and Losada's midfield teammate at Barcelona, says no matter what happens in France, it figures to be just the start for Spain.
Sign up for our weekly soccer newsletter »
"Little by little there are more girls playing for women's football clubs," she said in Spanish. "The age-group teams are winning more and more. In the end that's only going to benefit Spanish football.
"We have good material on which to build a good future."
Group B
Germany
World ranking: 2
How qualified: Winner, UEFA qualification group 5
Last World Cup: 2015, Fourth place
Best World Cup finish: Champion, 2 times (last 2007)
Key players: MF Dzsenifer Marozsan, MF Alexandra Popp, MF Sara Dabritz, GK Almuth Schult
Outlook: A two-time world champion and eight-time European champion, Germany is in a slump, with the 2016 Olympics marking the only time it has gotten past the semifinals of a major tournament since 2013. And since its fourth-place finish in the last World Cup, the team has lost eight top players including goalkeeper Nadine Angerer and forward Celia Sasic, the leading scorer in Canada. Goalkeeper Almuth Schult played a big part in that Olympic title, allowing just one goal in three knockout-round games and she'll need to come up big again in France for Germany to have a shot. Martina Voss-Tecklenburg, one of the country's most decorated players, took over the team in November after guiding Switzerland's ultimately unsuccessful World Cup qualifying campaign and has yet to lose as Germany's coach.
China
World ranking: 16
How qualified: Third place, 2018 Asian Cup
Last World Cup: 2015, quarterfinals+
Best World Cup finish: Runner-up, 1999
Key players: F Li Ying, D Wu Haiyan, MF Wang Shanshan, MF Wang Shuang
Outlook: Aside from host nation France, China was the first to lock up a spot in this summer's tournament, winning its group in the Asian Cup 14 months ago. Icelandic coach Sigurdur Ragnar Eyjolfsson left shortly after that, replaced by former national team defender Jia Xiuquan, who had never coached a women's team before taking over the Steel Roses a year ago. China has made it at least as far as the quarterfinals in the six Women's World Cups it has played in, getting as far as the final in 1999 where it lost to the U.S. in an epic penalty-kick shootout at the Rose Bowl. That game inspired a generation of girls in China and many members of this team remember watching that match on TV.
Spain
World ranking: 13
How qualified: Winner, UEFA qualification group 7
Last World Cup: 2015, group stage
Best World Cup finish: Group stage, 2015
Key players: MF Victoria Losada, MF Alexia Putellas, D Marta Torrejon, F Jennifer Hermoso
Outlook: Spain has made significant strides since its first World Cup appearance four years ago, winning last fall's U-17 World Cup and reaching the quarterfinals of the Euros for a second straight tournament the year before that. It is also the only European team to go a perfect 8-0 in World Cup qualifying. The core of the team plays in La Liga and 10 are teammates at Barcelona, which helps from a chemistry standpoint. Atletico Madrid's Jennifer Hermoso, 29, winner of three of the last four La Liga scoring titles, is emerging as Spain's most dangerous player after scoring all three of its goals in this winter's Algarve Cup. Coach Jorge Vilda, 37, has been nominated for FIFA women's coach of the year three times.
South Africa
World ranking: 49
How qualified: Runner-up, 2018 African Cup of Nations
Last World Cup: First tournament
Best World Cup finish: First tournament
Key players: D Janine van Wyk, MF Refiloe Jane, F Thembi Kgatlana, G Kaylin Swart
Outlook: South Africa, which has not won a game this year, bunkered in front of its net and frustrated the U.S. for more than 70 minutes before eventually conceding two late goals in a 3-0 loss last month. The same kind of defensive posture may be its best hope in France, where it will be woefully outclassed against the likes of Germany and Spain. The team could get a boost from young goalkeeper Kaylin Swart, who played at Menlo College. The backup, she was sensational against the U.S. and could unseat starter Andile Dlamini. Defender Janine van Wyk has captained the team since 2013.
Schedule
June 8: Germany vs. China, Spain vs. South Africa
June 12: Germany vs. Spain
June 13: South Africa vs. China
June 17: China vs. Spain, South Africa vs. Germany
kevin.baxter@latimes.com | Twitter: @kbaxter11
---