Neymar's fall leaves World Cup without a superstar
Reporting from ST. PETERSBURG, Russia —
The last Latin American team is out of the World Cup, meaning Europe will extend its hold on soccer's biggest prize to 16 years by the time the next tournament rolls around in 2022.
Brazil's departure means the competition in Russia will finish without a widely recognized international superstar, the kind of player who gets casual fans from Austin to Auckland to turn on their television sets and watch soccer.
Cristiano Ronaldo and Lionel Messi, who have combined to win the last 10 world player of the year awards, both went out one game into knockout stage. Brazil's exit in the quarterfinals in a 2-1 loss to Belgium on Friday takes Neymar, the world's most expensive player, with it.
Neymar, like the other two, is a player of exquisite potential, which is why French club Paris Saint-Germain spent more than $500 million to bring him over from Barcelona. But the 26-year-old's play in Russia was far more mercurial than memorable, with the Brazilian's penchant to dive damaging his reputation on the world stage just as he was set to replace Ronaldo, 33, and Messi, 31, as the global face of the game.
"We need players like Neymar," said former West Germany captain Lothar Matthaeus, a former world player of the year. "But not with this acting what he was doing now in each game."
In last Monday's win over Mexico, Neymar repeatedly overreacted to tackles and embellished fouls. After Mexican defender Miguel Layun stepped lightly on Neymar's ankle on the sideline, the Brazilian writhed in apparent pain for four minutes before jumping up and running back on the field as if nothing had happened.
"He is a player with great talent, and I hope that one day he dedicates himself to play more football," Layun said. "He can give football a lot more if he would play more than doing other things."
Neymar does it because it works — sometimes. The theatrics against Mexico, for example, gave his exhausted teammates a long water break late in the second half, when they were struggling to protect a 1-0 lead. Refreshed, Brazil added a second goal and won going away.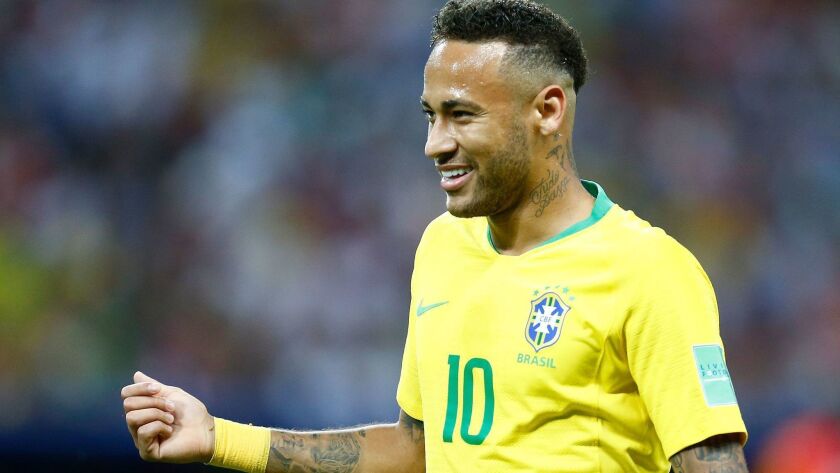 In Friday's quarterfinal loss to Belgium, however, his reputation might have caught up with him. Serbian referee Milorad Mazic was having none of Neymar's antics, ignoring numerous protests that he had been fouled. On one second-half play, Neymar appeared to go down easily in the penalty area. Neymar wanted a penalty, the Belgians claimed he dove and Mazic waved for play to continue.
On another play late in the game, a shove from Belgium's Thomas Meunier again sent Neymar to the turf; again he got no sympathy from the official.
Following the Mexico game, Brazilian coach Tite backed his player.
"There's nothing to say," he said. "The referees will do the refereeing."
This time, Brazil didn't get the benefit of the doubt, and afterward there truly was nothing to say — or at least nothing said — with the entire team filing quietly onto the team bus without speaking to the media.
Neymar broke that silence briefly on social media Saturday.
"I can say this is the saddest moment of my career," he wrote on Instagram. "There is a lot of pain because we knew we could go further and make history. But it wasn't meant to be."
Cups running over
World Cup, meet the Stanley Cup.
Alex Ovechkin, who led the Washington Capitals to hockey's biggest prize last month, brought the NHL trophy to the World Cup Fan Fest in Moscow on Saturday. With Russian National Guard troops providing security, Ovechkin lifted the cup above his head in front of the crowd.
Fans later were allowed to take photos with the trophy.
"The Cup is with us. The Cup is in Moscow," said Ovechkin, a Moscow native whose face is ubiquitous on pizza advertisements all over Russia. "I am very happy for the people that can see it and touch it."
Other Russian NHL players also are interested in the World Cup. Evgeni Malkin of the Pittsburgh Penguins posted a picture showing himself on a luxury jet with Ilya Kovalchuk of the Kings and Alexander Radulov of the Dallas Stars.
"Flying to Sochi" was the caption. Sochi is where the Russian national team's World Cup ended Saturday in a quarterfinal loss to Croatia.
The Associated Press contributed to this story.
kevin.baxter@latimes.com | Twitter: @kbaxter11
---
All about the beautiful game
Go inside the L.A. pro soccer scene and beyond in Kevin Baxter's weekly newsletter.
You may occasionally receive promotional content from the Los Angeles Times.