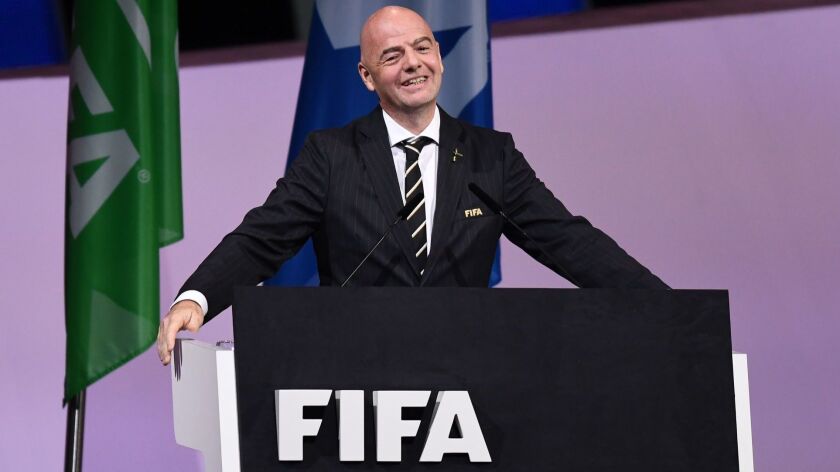 Reporting from paris —
FIFA President Gianni Infantino wrapped up the organization's first Women's Convention on Friday in Paris by pledging $500 million to women's soccer over the next four years. FIFA says that budget will fund the work of the women's soccer division, including development programs, the World Cup and youth competitions.
Infantino also used the occasion to tout the strides FIFA has made in supporting the women's game since he became president in 2016. In the last three years FIFA has appointed its first female secretary general, created a women's division and placed six women on the FIFA Council, although critics say those steps are too little and have taken too long.
"We are moving. We are progressing. We are trying," Infantino said. "We are making a step at each time."
Mia Hamm, a two-time world player of the year and two-time World Cup champion with the U.S., also spoke at the conference, saying that continuing the kind of progress Infantino spoke of is dependent on investment.
"This game has a place. This game is marketable. This game is beautiful. You just need to make the investment," said Hamm, who is a co-owner of LAFC, a second-year MLS club that plays in Exposition Park.
"We need more investment for women's football," she said. "More money, more time, more stories [so] that four years from now you'll be hearing girls saying 'I watched 2019 France and it changed my life.'"
Sign up for our weekly soccer newsletter »
No plain Jain
Jain, a 27-year-old French-born singer-songwriter who headlined Friday's 10-minute opening ceremony, had her own private World Cup experience — she lived in France, Dubai, the Congo and Abu Dhabi by the time she had turned 18. And she said that globe-trotting childhood had a major influence on her music.
"When you walk down the streets or get in a taxi, you just hear local music," she said. "You don't know you're hearing it but it's in you. So when I first sat down to make songs there was just this, reggae Congolese vibe that came out."
Jain, whose real name is Jeanne Louise Galice, played soccer as a girl, often relegated by her friends to play goalkeeper. She interrupted a world tour that included a stop at Coachella to perform an opening ceremony that featured about 300 half-frozen young people dancing on a soccer-field-sized blue tarp beneath a fighter jet flyover. She did it, she said, partly because of her affinity for the French team and partly because of what she believes the tournament represents.
"They're like icons to me," she said of the national team. "Feminism is something that's very important to me. I want to be inspired."
Etc.
Friday's game kicked off at 9:02 p.m. local time, the latest start for an opener in Women's World Cup history. … French coach Corinne Diacre had a history with South Korea before Friday. One of the three World Cup games she appeared in as a player was against the Koreans and she wore the captain's armband in that 2003 match, a 1-0 win at RFK Stadium in Washington. … Chula Vista's Felisha Mariscal, an MLS official, was one of the video assistant referees for Friday's match. VAR, making its debut in a Women's World Cup, didn't take long to become controversial with a long review taking an apparent goal by France's Griedge Mbock Bathy off the board late in the first half. The video showed that Mbock Bathy was just inches offside.
kevin.baxter@latimes.com | Twitter: @kbaxter11
---