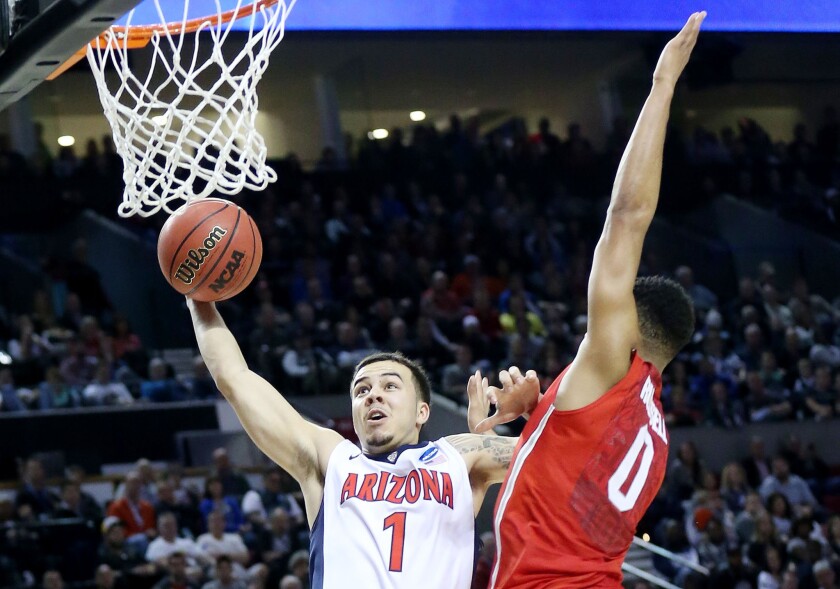 Gabe York is coming home in style.
York, who played at Orange Lutheran High, is a big reason that Arizona will be playing Xavier in the West regional at Staples Center on Thursday. He finished with 19 points in a 73-58 second-round victory over Ohio State on Saturday.
The Buckeyes packed in a zone in an attempt to take away Arizona's inside game. York took advantage, making five of nine three-pointers. It came two days after York went scoreless against Texas Southern in the first-round game.
"When they shrink like that, the only thing that's left for me is to knock down shots," said York, a junior. "I didn't score in the Texas Southern game. Tonight, I wanted to be aggressive, but also know that my teammates were going to find me in transition or throughout the zone with however many seconds were left on the shot clock. I just did a great job of knocking down shots today."
Arizona Coach Sean Miller was not surprised.
"If you followed us over the last six weeks, you look at his points per game, his minutes per game, he's really emerged," Miller said. "[Saturday] was another great example. We needed him and he delivered. He's really a big, big part of what we've done all year long."
York averages 9.1 points for the season, but has scored in double figures in six of the last 10 games.
"Gabe deserves a lot of credit because in today's world, if you don't play a lot as a freshman, you have a lot of people that are pulling you and tugging you to transfer and go to another program," Miller said. "We knew that his best would be when he's older. He does more things now as a player as a junior than he ever has before. Anytime a guy like that has success, you're elated as a coach."
---