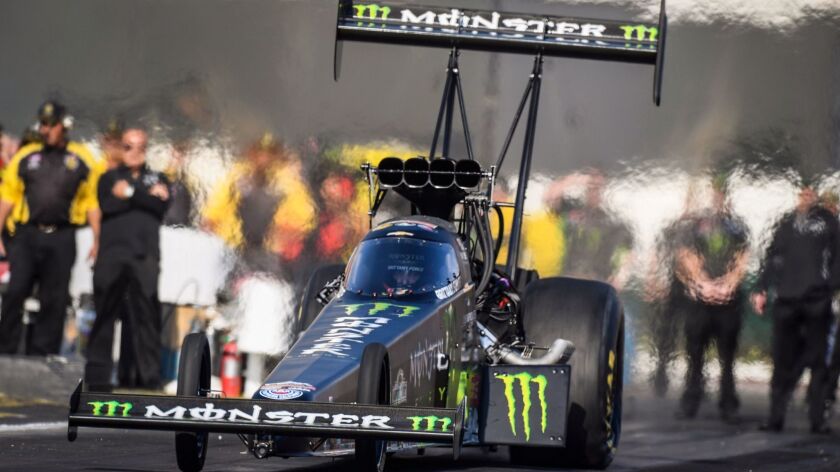 Top fuel title contender Brittany Force ran the quickest pass in the history of Auto Club Raceway at Pomona on Friday during qualifying for the season-ending Auto Club NHRA Finals.
Force, who entered the event only 20 points behind season leader Steve Torrence, had a 3.667-second pass at 330.31 mph in the second qualifying session to take over the top fuel lead.
"Obviously, we're trying to push the car," Force said. "To jump up to the No. 1 spot was huge for us but that's where we need to be. We're chasing down that No. 1 spot and to have killer run like that sets us up good for tomorrow and gets us ready for race day. It's not just a confidence builder for me but for my entire team. It pushes us forward and gives us that momentum."
Jack Beckman took the funny car lead, Greg Anderson topped the pro stock field, and Chip Ellis was the fastest in pro stock motorcycle.
Southern California native Beckman had a 3.835 at 334.98 in a Dodge Charger R/T during the second session. Anderson, the pro stock points leader, powered his Chevrolet Camaro to a 6.561 pass at 210.67 in the first qualifying session. Ellis rode to a 6.805 pass at 196.53.
Blaney takes NASCAR Cup pole at Phoenix
Ryan Blaney won the pole in his final chance to qualify for NASCAR's championship race. Blaney turned a lap at 137.942 mph around Phoenix Raceway in a Ford fielded by The Wood Brothers to take the top starting spot for Sunday's penultimate race of the playoffs.
There is one slot available in the field of four that will race for the championship next week, and Blaney is one of five drivers chasing that spot. Blaney bettered Denny Hamlin in Friday qualifying. Both playoff drivers need to win to grab the final spot in the finale, and Hamlin waited until the third and final round to cut a corner on the track in an attempt to better his time.
Hamlin's lap at 137.936 briefly put his Toyota on top of the leaderboard, but Blaney bumped him moments later.
Kyle Busch, Kevin Harvick and Martin Truex Jr. have already locked up spots in the finale. Busch and Truex are in Toyotas, while Harvick drives a Ford. Seven-time champion Jimmie Johnson and Hendrick Motorsports teammate Chase Elliott are the only two Chevrolet drivers with a shot to make the finale.
Kyle Larson, who has been eliminated from the playoffs, qualified third. He was followed in qualifying by playoff drivers Elliott, Truex and Harvick. Busch was eighth and Johnson qualified 12th. Brad Keselowski was the lowest-qualifying playoff driver at 16th.
Hamilton fastest in Brazilian GP practice
Winning his fourth Formula One title did not slow Lewis Hamilton one bit. The Englishman was quickest in both practice sessions for the Brazilian Grand Prix on Friday, keeping his word not to be distracted in the second-to-last race of the season.
Hamilton won his fourth Formula One title two weeks ago in Mexico City. Since then, he's stayed in the news by being named in the "Paradise Papers," showing he avoided paying more than $4 million in taxes on a private jet registered in the British Isle of Man, a tax haven. Hamilton has declined comment on his legal case. His lawyers deny any wrongdoing.
Hamilton had the fastest lap in the morning session at Interlagos, and was slightly slower in the afternoon. In both sessions he was followed by Mercedes teammate Valtteri Bottas.
There is nothing left to decide in the season apart from who wins here and the season finale in two weeks in Abu Dhabi. Hamilton and Mercedes have won the drivers' and constructors' title. Left to fight over is second and third. Ferrari's Sebastian Vettel has 277 points, 15 clear of Bottas. Daniel Ricciardo of Red Bull is too far behind in fourth place to catch either.
---