Strange story of Adam Muema: Quit NFL combine; advisor concerned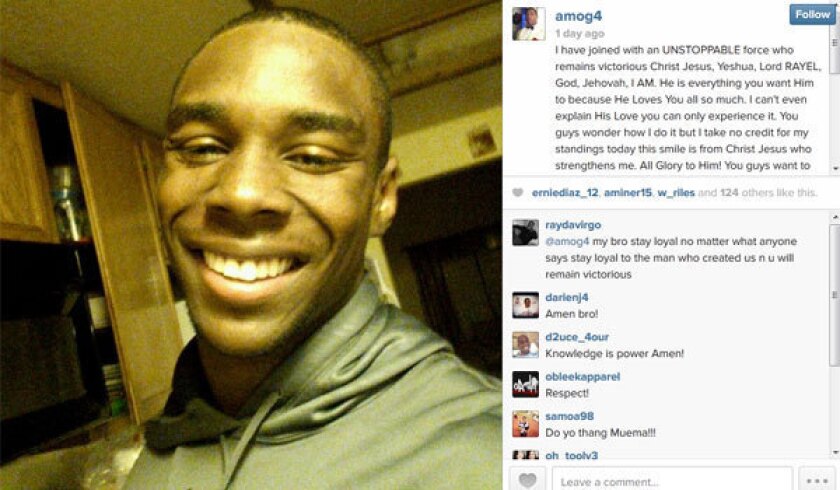 An advisor to Adam Muema said he believes that the former San Diego State running back needs help.
"We need to get him some counseling so NFL teams can get comfortable with him come draft day," Rob London said in a telephone interview.
The Washington-based London handles Muema's marketing and other matters that don't involve contract negotiations, but he declined to reveal the last time he spoke with his client.
"That's one of the issues," London said.
Earlier this week, Muema's agents at KMM Sports in Oklahoma City ended their relationship with him.
Muema morphed from a little-known NFL prospect into a subject of national curiosity after he quit the NFL scouting combine in Indianapolis last month. He said he believed that God said the Seattle Seahawks will select him in May's draft.
The story grows stranger.
Early Wednesday, for instance, Muema tweeted a comparison of his college statistics with those of Tampa Bay Buccaneers running back Doug Martin. This appeared to confirm the belief Muema is said to have expressed privately that he will won't just be drafted by the Seahawks, but will be a high selection.
Doug Martin played 19 more games than me he went 1st round! pic.twitter.com/9DC7lhtz1j— Adam Muema (@So_Lucrative) March 5, 2014
The post references Muema as the "best ever" in high school and college and indicates that the numbers mean he "surpasses" the first round.
Other social media feeds have been littered with references in recent days to a self-described Messiah named Lord RayEl, who Muema apparently believes is the second coming of Jesus Christ.
A Facebook page connected with Lord RayEl describes "chastisements" he is targeting at the U.S. The latest such punishment is the blast of wintry weather on the East Coast. The page also discusses plans for an "exodus" of his followers to Baja California to escape the apocalypse.
"At this point, I don't know what the initiation of that relationship was," London said. "If you find someone who has the same zeal for religion that you have, that drives you together. It may be the case where he's been swayed a little bit."
On Tuesday, Muema posted a rambling statement on Instagram alongside a photo of him smiling broadly. A short video in another post showed a room filled with Seahawks paraphernalia.
"You guys want to give me advice but I have not seen anyone that would drop everything for Him," Muema wrote. "I dreamed NFL since 4 yrs old & I know you watch the combine. I dropped family & trusted it would all fall into place but supposedly no I went missing??? I'm grown Where's my freedom America. I can't communicate with family for 2-3 days without missing. Open your eyes. I WONT stop this because my Father is always victorious no LIMITS!"
London said he is optimistic that Muema will work out for NFL scouts during his pro day on March 19 at San Diego State, as a first step toward reestablishing draft value that's all but vanished.
"My concern is just for his well-being," said London, who added that he expects to be in touch with Muema soon. "I want the best for this young man because I think he can play in this league."
Twitter: @nathanfenno
---
Get our high school sports newsletter
Prep Rally is devoted to the SoCal high school sports experience, bringing you scores, stories and a behind-the-scenes look at what makes prep sports so popular.
You may occasionally receive promotional content from the Los Angeles Times.