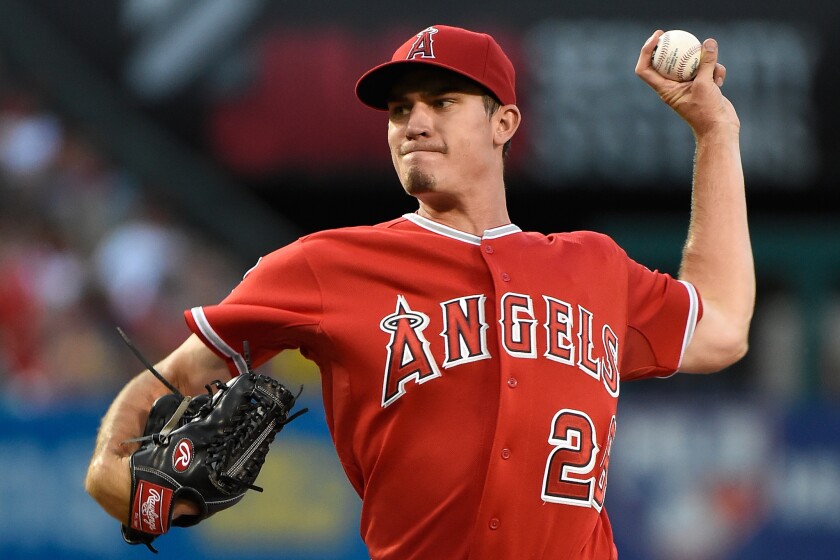 Denver —
Left-hander Andrew Heaney appears to be strong-arming his way into the Angels rotation. His 2-0 record and 1.77 earned-run average in three starts since being called up from triple-A are creating the potential for a very difficult decision when Jered Weaver is ready to return after the All-Star break.
Manager Mike Scioscia called it "a nice problem to have," but that depends on your perspective. It will be nice for the Angels, whose lack of pitching depth forced them to turn two rotation spots into "bullpen games" last September. For the starter who is the odd man out in the rotation? Not so much.
"We're going to take it one day at a time," Scioscia said after Tuesday night's 10-2 victory over the Colorado Rockies, "but when a guy is throwing the ball like Andrew is, there's no doubt he's got the opportunity to win a spot long-term in our rotation."
Heaney, the prized prospect acquired from the Dodgers, via the Miami Marlins, for second baseman Howie Kendrick last December, allowed two runs and eight hits in 7 1/3 innings Tuesday night, striking out five and walking none. He needed only 81 pitches to complete seven innings before stumbling a bit in the eighth.
In three starts, Heaney, 24, has allowed four earned runs and 14 hits in 20 1/3 innings, striking out 17 and walking three.
"I do my thing. I go out there and pitch, and whatever happens, happens," Heaney said. "I'd like to think I've given myself an opportunity, but there's five other pitchers that made the team for a reason, and there's a reason I didn't. I'm just going out there and pitching to the best of my ability."
Heaney entered spring training as the heavy favorite to win the fifth rotation spot but stumbled in Arizona, posting a 7.03 ERA in six starts. But he worked with pitching coach Mike Butcher to correct a mechanical flaw in his across-the-body motion toward the end of March, creating a more direct line to the plate.
That helped Heaney improve his fastball command to both sides of the plate, and it seemed to add a little bite to his slider.
"I'm just comfortable with what I'm doing; I'm confident in what I'm doing and being aggressive with what I've got," Heaney said. "Once you get that muscle memory and the ability to repeat [your delivery], it makes it a lot easier."
Not so easy will be the decision on who is left out of the rotation when Weaver is ready to return from a left-hip injury that sent him to the disabled list on June 21.
Weaver is 4-8 with a 4.75 ERA but has been the team's ace for six years. Left-hander Hector Santiago is 5-4 with a 2.40 ERA, fourth-best in the American League.
Garrett Richards (9-5, 3.35 ERA) has the best pure stuff on the team, and left-hander C.J. Wilson is 7-6 with a 3.82 ERA. Matt Shoemaker finished second in AL rookie-of-the-year voting last season, but his 4-7 record and 4.91 ERA could make the right-hander vulnerable.
Heaney will have one more start before the break, this Sunday in Seattle, to make his case, and how he evolves as a pitcher could determine his short-term and long-term future with the team.
"It's a game of adjustments, it really is," catcher Chris Iannetta said. "He's made some adjustments to pitch well up here. Hitters are going to make adjustments to him, and he's going to have to do some new things. That's the nature of the beast.
"That's why it's so hard to be successful up here. Everyone is constantly evolving. The second you stay stagnant is the second they show you the door. Andrew is doing great right now. His maturity is going to keep going until he takes the uniform off after the last game he pitches."
---