Chris Borland says decision to retire from football 'feels right'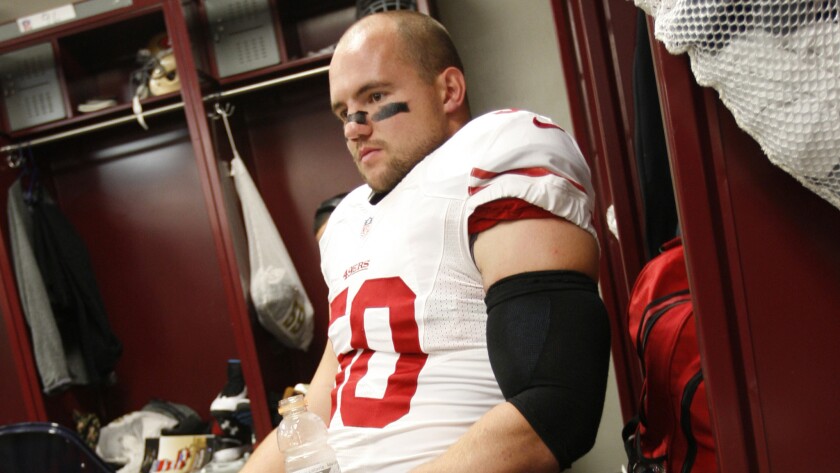 San Francisco 49ers linebacker Chris Borland, who announced Monday he is retiring from football at age 24, said he made his decision after concluding the sport was capable of potentially killing him.
Speaking to ESPN on Tuesday, Borland said that he knows many fans are questioning why he decided to retire just months after his rookie NFL season. He said the risk of sustaining brain injuries that could severely affect the quality of his life was the motivation behind his decision.
"I mean, if it could potentially kill you -- I know that's a drastic way to put it, but it is a possibility -- that really puts it in perspective to me," Borland said. "To me, it just wasn't what I wanted to do."
Borland, who was speaking from Mexico where he is teaching youth football, said he knew his decision would be a painful one, not only for him, but for his teammates and 49ers fans. Coupled with the retirement of 49ers teammate Patrick Willis, Borland said he understood that his move would have a big impact on the team's future.
"It hurt to know that I was going to let the fans and the team down," Borland said. "But I just had to live my life."
Borland said he became concerned about the heightened potential for brain injuries among football players while attending the University of Wisconsin. He was particularly moved by the plight of former Pittsburgh Steelers center Mike Webster, who was diagnosed with chronic traumatic encephalopathy after his death in 2002.
Despite knowing the potential dangers, Borland said he was intent on pursuing a professional football career. His mind-set changed after he took a hit from 6-foot-4, 293-pound fullback Will Tukuafu while trying to make a tackle in a preseason practice. Borland said the hit left him feeling like "you're in a fog, like you're not quite yourself."
"That play was the realization of what could happen if I did this for a long time," he said.
Borland said he wrote a letter to his parents later that week, saying his NFL career could be short.
"I can relate from the outside looking in that it wouldn't make sense to a lot of people," Borland said, "and I've had close friends who have said, 'Well, why don't you just play one more year, it's a lot more money, you probably won't get hurt.'
"I just don't want to get in a situation where I'm negotiating my health for money. Who knows how many hits is too many?"
Borland also is confident he will not change his mind about retirement.
"I feel like I've put a lot into this decision and in my heart and in my head, it feels right," he said. "I don't think there's any going back. I know it seems like a really brief career. But I think 10 years for me, counting high school, college and one year in the pros, is a full football life."
---
Get the latest on L.A.'s teams in the daily Sports Report newsletter.
You may occasionally receive promotional content from the Los Angeles Times.