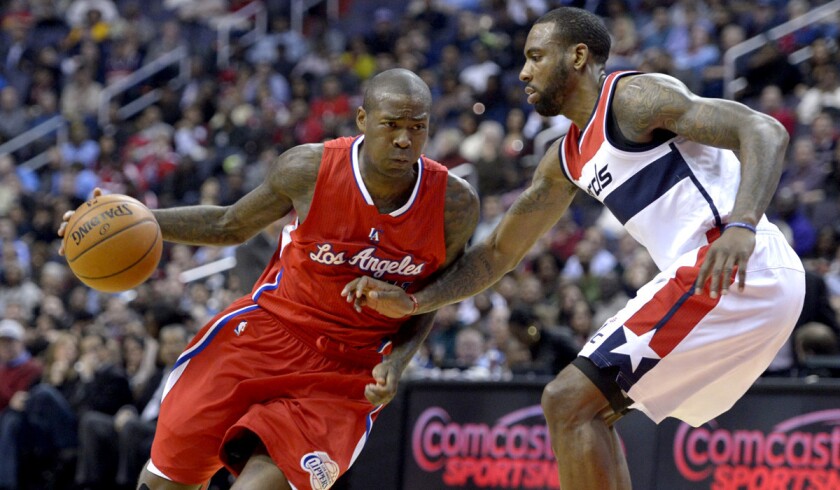 Here are five takeaways from the Clippers' 104-96 loss to the Wizards on Friday night in Washington:
1) Hedo Turkoglu gave the Clippers a lift in the third quarter, making back-to-back three-pointers.
Turkoglu was called on to play 17 minutes 51 seconds because backup center Spencer Hawes went down in the first quarter with a bruised left knee and didn't return.
Turkoglu finished with six points on two-for-four shooting, two-for-three from three-point range.
2) It seemed pretty clear that guard Jamal Crawford was bothered from having suffered a burst bursa sac during Wednesday night's game at Indiana.
Crawford missed 11 of his 13 shots against the Wizards on Friday night.
He had 12 points, making eight of nine free throws.
3) Clippers Coach Doc Rivers didn't like the pace his team played with against Washington.
The Clippers had just three fast-break points. The Wizards had 13 first-break points.
"We didn't run at all," Rivers said. "We walked the ball up the floor."
4) The point guard match-up between Chris Paul and Washington's John Wall was actually fun to watch.
Paul had 19 points on seven-for-14 shooting, seven rebounds and six assists. But he also had six turnovers.
Wall had 10 points on four-for-10 shooting, 11 assists, one steal, two blocked shots and three turnovers.
5) The Clippers didn't play very good defense against the three-pointers.
They allowed the Wizards to make 56.3% (nine-for-16) of their three-pointers.
Bradley Beal led the Wizards, making four of seven of his three-pointers, helping him to finish with a season-high 29 points.
Twitter: @BA_Turner
---