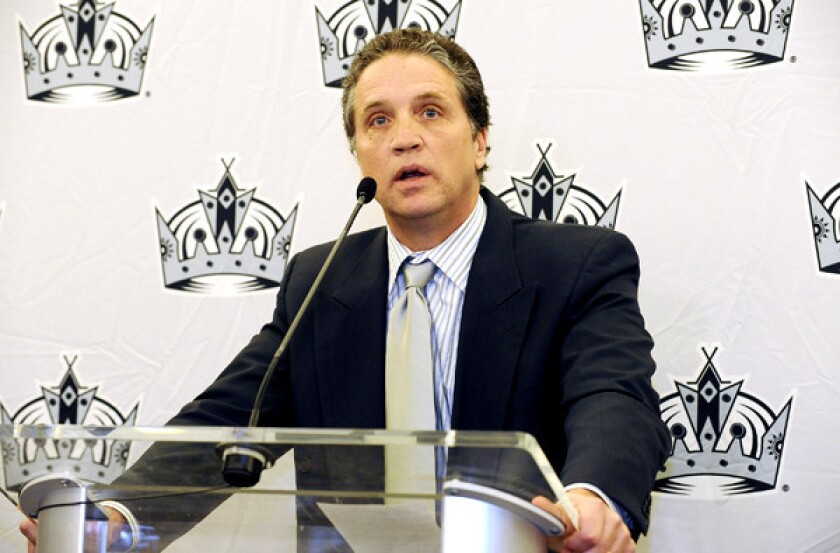 Kings General Manager Dean Lombardi told fans at the team's fan fest event he believes the franchise is "at a critical stage" but has a unique opportunity to "create something special" despite the challenge of operating under a salary cap that dropped to $64.3 million from a pro-rated $70.2 million last season.
Lombardi began his "Town Hall" session at Staples Center by joking that it seemed like it had been a long time since he last spoke to fans—and it was. The fan fest was cancelled last season because of the lockout, making this his first appearance in front of fans since the team's 2012 Stanley Cup triumph.
Lombardi thanked fans for their support and praised staffers he called the "two percenters," such as trainers, scouts, equipment managers, personnel executives and coaches, for their varied contributions. He said the Kings want to maintain the winning culture and identity they have painstakingly built during his tenure, and that they recognize their task has become more complicated by salary-cap constraints.
"That's incredibly difficult thing to do. A culture requires stability. Essentially a cap is designed to create instability and for a general manager at times that can be incredibly frustrating," Lombardi said.
"But on the other hand we've seen that it can be done. When you look at what the Patriots, the San Antonio Spurs and the Lakers have accomplished, it's very clear that their success is clearly a byproduct of their culture.
"But culture doesn't mean just talking about it. It's about doing culture. And doing culture is a bunch of two-percenters. It's attention to detail."
Lombardi and Coach Darryl Sutter were joined by Rob Blake, the Kings' new assistant general manager, and by Jeff Solomon, the club's vice president of legal affairs and resident salary-cap expert, in fielding questions from fans in a crowd of about 3,300.
Sutter said the NHL's halt for the Sochi Olympics next February will make for a schedule that will be "just as tough as last year," a 48-game schedule that was condensed into 100 days after the league's labor dispute with players was resolved. Blake, too, said the Olympics break would be the dominant issue this season because many teams will have several players representing various countries and must figure out how to keep those players fresh for a post-Olympics playoff run.
Asked about the Kings' biggest challengers under the NHL's new alignment, Sutter praised several teams. "I think Edmonton is up-and-coming," he said. "Obviously, San Jose and Anaheim are great opponents for us and the defending Stanley Cup champion Chicago Blackhawks are going to be a challenge for everyone."
The Kings also announced they will continue their Legend Night promotions by honoring Jay Wells on Oct. 27, Larry Murphy on Dec. 7, and Jim Fox on March 13. A bobblehead likeness of each player will be given away on his respective night, though Wells' figurine is being called a Bobble Fist.
Those are the only three games this season in which the Kings are scheduled to wear replicas of their old Forum blue-and-gold jerseys.
ALSO:
Derek Forbort a big presence in Kings camp
Kings defenseman Willie Mitchell ready for return
---