Corey Perry returns to Ducks after recovering from mumps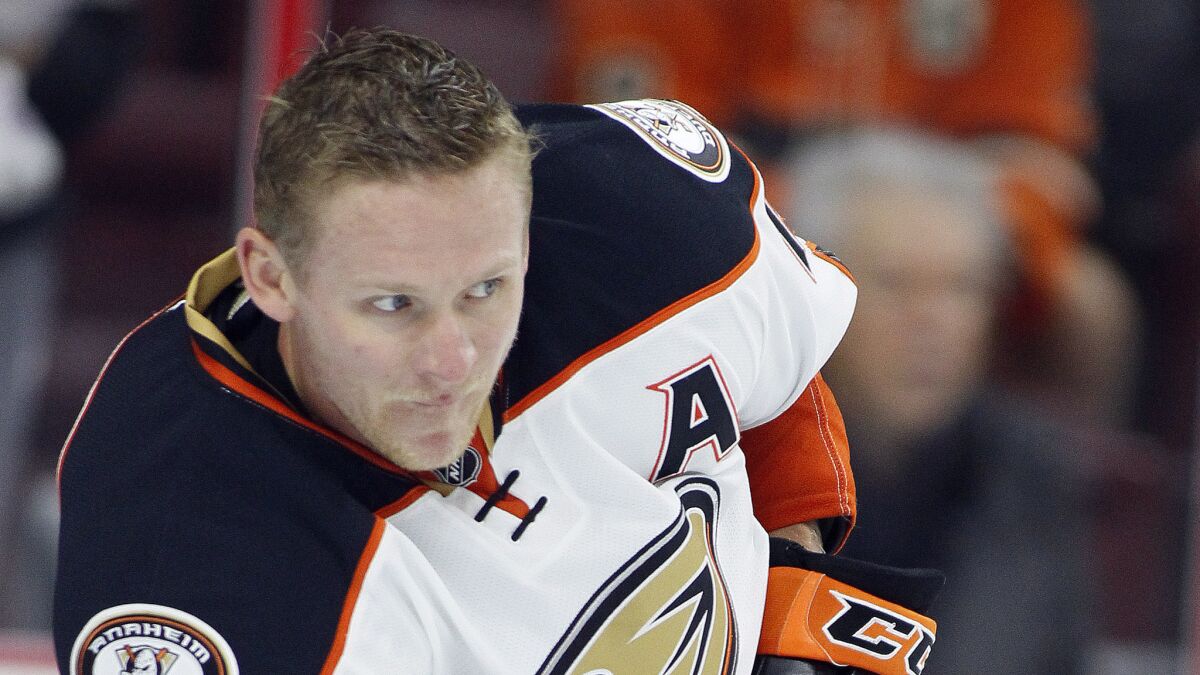 Eight days after he left Honda Center feeling feverish, Corey Perry rejoined his Ducks teammates Thursday, having received a clean bill of health following a battle with the mumps.
"Swollen jaw, pressure in my head, body aches, fever – those things weren't fun," said Perry, whose surge of 11 goals in 13 games was halted by the disease that also has struck and sidelined Ducks defenseman Francois Beauchemin. "I had no energy to do nothing, slept most of the time."
Perry skated on his own Thursday and conditioned for the first time since falling ill. He said the mumps forced him to spend three days at a local hospital, and he felt the effects of his absence from daily workouts.
"It's going to take some time," Perry said. "The body's a little weak; to go through a virus … hopefully we can do all the right steps. Not ruling out this weekend, but you never know."
Perry cracked that he'll be closer to returning to play when he's "not being tired after 20 minutes of skating."
Coming off a thrilling 6-5 shootout victory over the Kings on Wednesday night without Perry, the Ducks (11-3-3) next play the Kings again, Saturday at Staples Center, before a Sunday home game against the Florida Panthers.
"When you have guys out of the lineup, guys are going to have to step up," said, Perry, his team 1-0-3 without him. "Guys have done that. [Wednesday] night was one of the best games I've seen in awhile. Everybody was skating, hitting … makes it exciting for fans."
Ducks Coach Bruce Boudreau said he will consult with trainers about Perry's progress, estimating it could "be within a week" for the first-line right wing to regain his "world-class condition," which would put Perry's return game around Anaheim's trip next week to Calgary and Vancouver.
"I don't want him to come back too soon and hurt himself," Boudreau said.
Thursday's exercises were "a battle," Perry said. "It's going to take some time. It's mostly the lungs … being weak is the most noticeable thing."
Perry said he has spoken briefly with Beauchemin, who has been sidelined since Saturday, and said the mumps appear to have hit the veteran defenseman worse than they did Perry.
"It's a tough thing to go through," Perry said.
Kyle Palmieri sent down to Norfolk
Ducks forward Kyle Palmieri, sidelined throughout the season due to a preseason high ankle sprain, was sent to minor-league Norfolk for a conditioning assignment.
Palmieri has practiced with the Ducks this week and reported no pain. He scored 14 goals last season.
Game of the year (so far)
Boudreau said Honda Center on Wednesday "was as loud as I've heard that building for a regular-season atmosphere."
He said while coaches don't normally enjoy a 5-5 game that goes to overtime due to the defensive lapses, "it was really an exciting game for the fans."
Boudreau replaced starting goalie Frederik Andersen after he let three of nine shots hit net, and Kings Coach Darryl Sutter benched forwards Tanner Pearson, Tyler Toffoli and Kyle Clifford from the third period on for their defensive miscues.
Boudreau said Andersen will start in goal Saturday.
"Both teams will get back to their normal type of games" Saturday, Boudreau said.
Get our high school sports newsletter
Prep Rally is devoted to the SoCal high school sports experience, bringing you scores, stories and a behind-the-scenes look at what makes prep sports so popular.
You may occasionally receive promotional content from the Los Angeles Times.