Sports media: Tennis analyst Doug Adler, ESPN reach truce about Venus Williams comment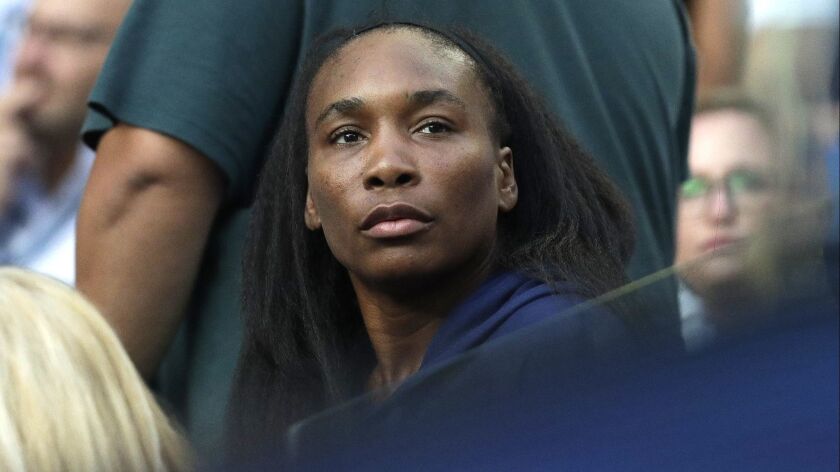 Two years and a wrongful termination lawsuit later, Doug Adler says fighting for his professional life was "like the longest tennis match I've ever played in, but I have thankfully persevered."
The entire charade shouldn't have lasted more than a Hawk-Eye replay.
ESPN yanked the tennis analyst, a one-time USC All-American player from Sherman Oaks, off its 2017 Australian Open coverage in the social media afterburn of a tweet by New York Times freelance tennis writer Ben Rothenberg. He questioned Adler's use of the phrase "guerrilla effect" to describe a Venus Williams strategy of charging the net, which she did successfully during an early-round 6-3, 6-2 win over Stefanie Voegele. Social media response piled on Adler without proper context. The coverage was on ESPN's Interactive feed accessible by DirecTV subscribers, so it's difficult to say how many people — or really, how few — actually heard Adler's call.
Any abhorrent effort to translate "guerrilla" to "gorilla" and imply racism or disrespect was misguided.Nike used "guerrilla tennis" as the theme of an Andre Agassi-Pete Sampras commercial campaign in 1995, which many people say is still history's most successful tennis ad campaign.
After he was let go, Adler went to the court of public opinion and explained his side on NBC's "Today Show." An ESPN spokesman said: "Adler made an inappropriate reference to Venus Williams for which he felt no apology was necessary. We disagree and stand 100% behind our decision" to take him off the tournament "for making an inappropriate comment."
The network held serve on that stance until last week. The same spokesman confirmed via email: "We have amicably resolved our dispute with Doug Adler," including the intent to hire him for future ESPN tennis events.
Why finally a change in heart, and done so quietly before this resolution was reported last week by the New York Post?
ESPN President Jimmy Pitaro, who came on board in March 2018, has said he wants "less politics and more sports" as he tries to recalibrate the network culture since the departure of John Skipper in December 2017. More tennis content is also being used on the ESPN+ pay-to-view platform.
Adler, who suffered a heart attack a year ago, said he "can't be more ready to move forward after all this. I feel the weight of the world off my shoulders. I was living, breathing, sleeping and eating this travesty for two years."
A lawsuit set for L.A. Superior Court in October had been delayed until May of this year, but Adler said his lawsuit "was never about the money, it was always about my reputation and credibility — getting my voice back."
Time will tell if all that is rightfully restored.
When he does go back on the air, which could be during ESPN's coverage at Wimbledon, Adler seems wise enough not to bring back that phrase, even though he knows it was taken out of context.
"I'd have to be foolish to use it and put myself under that kind of scrutiny," he said. "… Who'd want to go through that again?"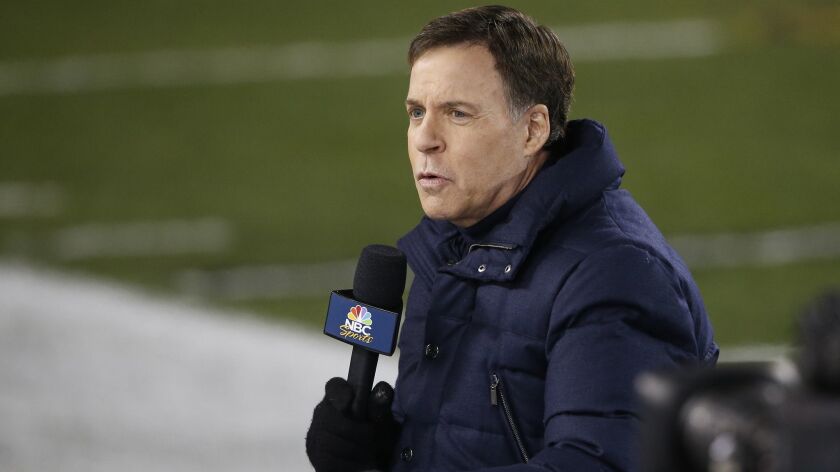 Cost of Costas' commentary
NBC says it is "disappointed" in Bob Costas because he chose to "mischaracterize … private interactions" pertaining to his removal from the network's Super Bowl LII broadcast last year.
Right back at you, NBC. You had a year to come clean with your reasons.
Costas picked reporter Mark Fainaru-Wada of ESPN's "E:60" for his big reveal Sunday — that he was told by NBC execs that he "crossed a line" in offering opinions on-air about the NFL concussion controversy, and that's why he was removed from the broadcast team.
Costas had already told other media outlets he believed TV networks, including Fox, had been bowing to pressure from the NFL and did not want to threaten their cozy relationship.
This time, Costas just had more of a personal spin on the matter, which further explains why he and NBC parted ways last month, ending a 40-year run.
It speaks highly of ESPN's journalistic boundary to separate its NFL partnership, just as it speaks poorly of NBC's commitment to Costas, who also said that NBC Sports Chairman Mark Lazarus and Executive Producer Sam Flood squashed one of his concussion-related essays before a 2015 "Sunday Night Football" game.
Had ESPN balked on this piece, surely HBO's "Real Sports" could have taken it up. But now, ESPN has all sorts of platforms to present the Costas confession in perpetuity. All of which is problematic to NBC.
Giving it the college try
Ted Enberg, the 30-year-old son of the late great Dick Enberg, has landed a play-by-play job with USC baseball this season. Beginning with Friday's opener, Enberg will do live-stream of all 35 Trojans home games (https//pac-12.com/live/usc) as well as continue work for the Pac-12 Networks.
"It's a very cool opportunity," Enberg said. "I was in the right time and the right fit."
Meanwhile, Tim Wilhelm starts his 12th season doing UCLA baseball on the school's website (https://ucla.leanplayer.com).
Former Dodgers' play-by-play man Ross Porter, who turned 80 in November, starts his fourth season with Cal State Northridge with a 30-game home slate of games accessible on audiostream with some on CSUN Sports Network videostreaming.
"It's been so gratifying when someone who wants you also makes you feel happy too," Porter said. "My wife and I feel part of the family now. You don't get that too much in a broadcasting career anymore, especially if you're in the professional ranks."
---
Get our high school sports newsletter
Prep Rally is devoted to the SoCal high school sports experience, bringing you scores, stories and a behind-the-scenes look at what makes prep sports so popular.
You may occasionally receive promotional content from the Los Angeles Times.