The Sports Report: The Rams talk about the Patriots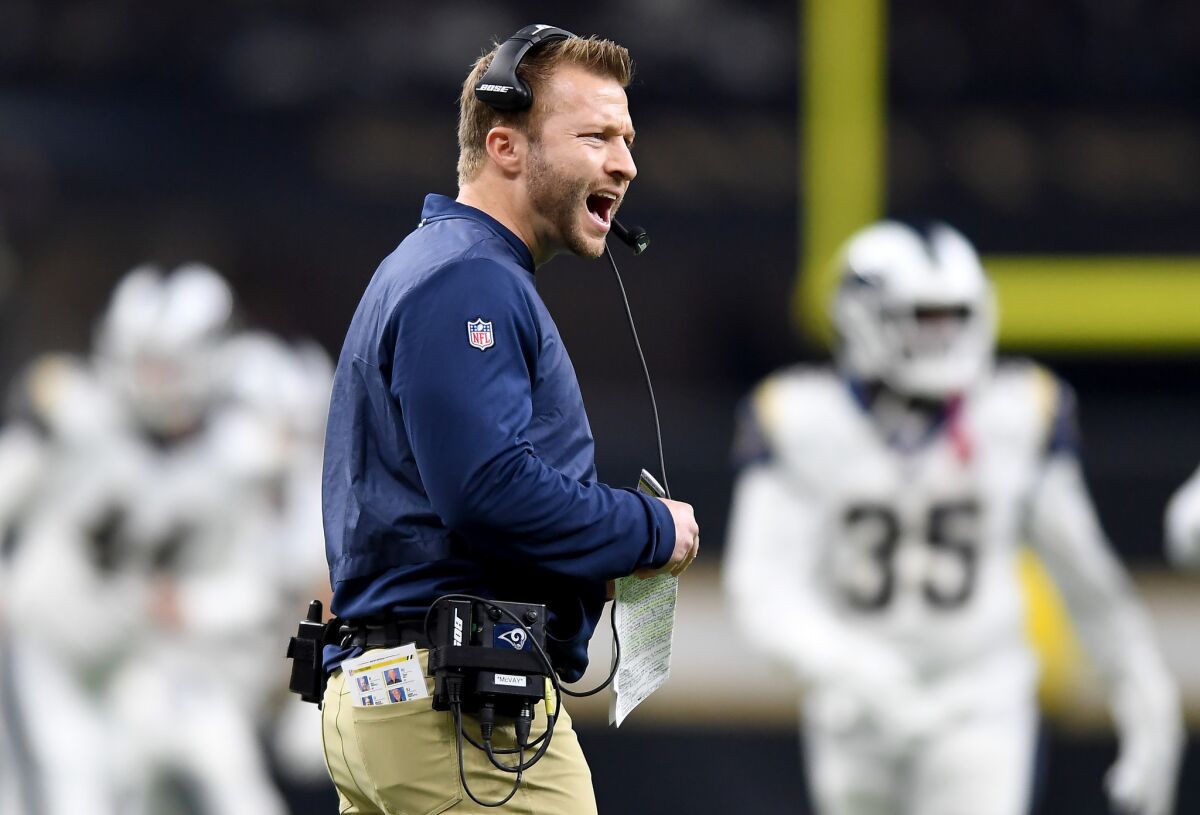 Howdy everyone, and welcome to the Tuesday edition of the Los Angeles Times daily sports newsletter. My name is Houston Mitchell and I'm your host for the festivities. Subscribe to this newsletter by clicking here.
Let's get to it.
Rams speak about the Patriots
Now that they know who their Super Bowl opponent is, the Rams had a few things to say to Gary Klein about New England.
"They've been doing it as consistently as any organization in the history of this league," Rams coach Sean McVay said.
"It's an honor, honestly, he's the all-time great," safety John Johnson said of playing Tom Brady, adding, "He's beatable though.
"So, I mean, you just can't go in there with the mindset of, 'Oh, it's Tom Brady.' He's definitely beatable, so we're going to go in there and give it a go."
Punter Johnny Hekker, on the two weeks to prepare for the game, said: "When you're playing the Patriots, you need all the time you can get. They've been in these games very consistently for the last decade for a reason."
Also, there are some large difference between the Rams and Patriots:
Brady and Jared Goff have the largest age gap – 17 years, 72 days – of any starting quarterback matchup in Super Bowl history.
Same goes for the coaches, the Patriots' Bill Belichick and the Rams' McVay, separated by a record 33 years, 283 days.
But there are a lot of similarities too. Read more in Sam Farmer's column.
When is the Super Bowl?
It will be on Sunday, Feb. 3 at 3:30 p.m. on CBS.
Who will win?
The last polls we did were successful, so let's do it again. Who will win the Super Bowl? Click here to vote. We'll announce the results on game day.
Lakers
I finally got to see the movie "Annihilation" starring Natalie Portman. I didn't recognize which character she played, but I assume she was part of this team called the Warriors that annihilated the Lakers, 130-111. The Warriors lead, 110-80 after three quarters. I would say the movie has Oscar potential, but the actors who portrayed the players on the Lakers team weren't convincing as basketball players.
Dodgers
Dave Roberts said the Dodgers need a right-handed bat to balance out their predominantly left-handed lineup. Speaking before he was the grand marshal of the Kingdom Day parade on Monday, Roberts told our own Jorge Castillo.
"The left-handed hitters that we have, the defense, with the addition of Seager with us, is going to be huge. But now to kind of balance out the lineup with a right-handed bat, probably makes it a little better."
The Dodgers have been rumored to be among those in the hunt for free-agent outfielder A.J. Pollock. Of course, the Dodgers have been rumored to be among those in the hunt for a lot of people this offseason, and not much has happened yet.
Angels
The Angels, looking to grab some air while in the same area as the Dodgers, are counting on Tyler Skaggs to be a big part of their rotation. But injuries have sideline for what feels like forever. Can he give the Angels a full season? Maria Torres takes a look at how he is rehabbing and his thoughts on next season.
LZ Granderson
The sports dept. welcome a new columnist into the ranks this week: LZ Granderson, who will bring a fresh perspective to our section. Check out his first column here. Here's an except:
"When I hear the phrase "stick to sports" I usually roll my eyes and snicker. Not because I have this burning desire to talk about racist hiring practices or the hypocrisy of the NCAA but because I'm not afraid to recognize the truth: Sports doesn't stick to sports.
"Its cultural and financial impact on our society are far too great to pretend all that matters is the box score. No one told the media to stick to sports when we covered how the New Orleans Saints helped the city heal after Hurricane Katrina. No one says stick to sports when we cover a team's visit to a children's hospital or when cameras were on hand the moment Nike made Justin Gallegos the first athlete with cerebral palsy to have a pro contract.
Boxing
NFL teams weren't the only ones getting robbed over the weekend.
Manny Pacquiao's house was robbed while he was in Las Vegas beating Adrien Broner.
There is no word yet on the extent of the burglary, as Pacquiao spokesman Fred Sternburg said security authorities were still taking inventory of his possessions.
Tennis
Serena Williams continued her march through the Australian Open by defeating top-seeded Simona Halep, 6-1, 4-6, 6-4 victory.
"It was a really intense match, and it was some incredible points," said Williams, who improved to 9-1 against Halep and now meets Karolina Pliskova in the quarterfinals. "I love playing tennis and I love to play here and I love to be back out here."
The other quarterfinal on that side of the women's bracket features No. 4 Naomi Osaka against No. 6 Elina Svitolina.
In men's matches, Milos Raonic defeated No. 4-seeded Alexander Zverev, 6-1, 6-1, 7-6 (5). No. 28 Lucas Pouille defeated No. 11 Borna Coric, a 6-7 (4), 6-4, 7-5, 7-6 (2). No. 8 Kei Nishikori defeated No. 23 Pablo Carreno Busta, 6-7 (8), 4-6, 7-6 (4), 6-4, 7-6 (8) and No. 1-seeded Novak Djokovic defeated No. 15 Daniil Medvedev, 6-4, 6-7 (5), 6-2, 6-3.
This date in sports history
1960: Paul Pender defeats Sugar Ray Robinson for the middleweight boxing title.
1968: The NBA says it will add to teams to the league, one in Milwaukee and one in Phoenix.
1969: Roy Campanella and Stan Musial are elected to the Baseball Hall of Fame.
1973: George Foreman defeats Joe Frazier by TKO in the second round to win boxing's heavyweight title.
1982: Free-agent outfielder Reggie Jackson signs a four-year, $3.9-million deal with the Angels.
1983: Bjorn Borg retires from tennis.
1984: The L.A. Raiders defeat the Washington Redskins, 38-9, in Super Bowl XVIII.
1988: Mike Tyson defeats Larry Holmes by TKO in the fourth round to win boxing's heavyweight title.
1989: The San Francisco 49ers defeat the Cincinnati Bengals, 20-16 in Super Bowl XXIII.
2006: Kobe Bryant scores 81 points in the Lakers' 122-104 victory over the Toronto Raptors. You can read more about that here.
Notable births on this date
1957: NHL star Mike Bossy
Notable deaths on this date
1968: Gold-medal winning swimmer Duke Kahanamoku of Hawaii, 77.
2001: Baseball player Tommie Agee, 58, of a heart attack.
Ask a Times sportswriter
A new feature of this newsletter will be you, the loyal subscriber, being able to ask any Times sports reporter a question. Just click here to send me an email. Include in the email who you want to ask a question of and what your question is. I'll pass it on and it will be answered in a future newsletter. Ever wanted to ask Bill Plaschkea question? Want to ask Tania Ganguli a question about the Lakers? Have a question for Sam Farmerabout the NFL? Click here and ask away. But make sure you let me know which sportswriter you want answering the question.
And finally
That concludes the newsletter for today. If you have any feedback, ideas for improvement or things you'd like to see, please email me here. If you want to subscribe, click here.
---
Get our high school sports newsletter
Prep Rally is devoted to the SoCal high school sports experience, bringing you scores, stories and a behind-the-scenes look at what makes prep sports so popular.
You may occasionally receive promotional content from the Los Angeles Times.