The Sports Report: Losing Mike Trout wouldn't be the end of the world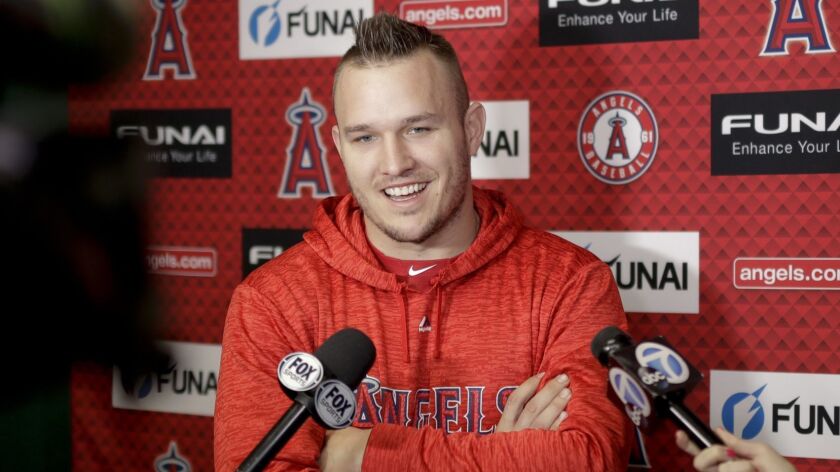 Howdy everyone, and welcome to the Tuesday edition of the Los Angeles Times daily sports newsletter. My name is Houston Mitchell and I'm your host for the festivities. Subscribe to this newsletter by clicking here.
Let's get to it.
Angels
Mike Trout doesn't want to talk about the possibility of leaving the Angels one day. His contract expires at the end of the 2020 season, so we could be looking at his last two seasons as an Angel.
The obvious first reaction when you think about losing a player like Trout is "Please don't let that happen. The Angels would be ruined without him."
But would they? Maybe not. It's not like they have won a ton of titles with him. Not that that's his fault. He's not the one blowing money on guys like Albert Pujols, C.J. Wilson, Josh Hamilton and Gary Matthews Jr. He hasn't been given a lot of help over the years, and it takes more than one player to win a title, no matter how great that player is.
But if you look at history, losing one player, no matter how great, isn't always the end of the world. Sometimes it is quite the opposite. The Seattle Mariners won 116 games after Randy Johnson, Alex Rodriguez and Ken Griffey Jr. were no longer on the team. The San Francisco Giants won three World Series after Barry Bonds was off the team. The St. Louis Cardinals won the World Series the season after Pujols signed with the Angels.
I would love for Trout to be an Angel for the rest of his life, but it's far too early for the nervousness some Angels fans are feeling. There's still two seasons to go. The Angels need to be very smart in those two seasons as to how they build their team. GM Billy Eppler has already begun rebuilding the farm system and seems to be on the right course. Many experts have the Angels finishing second in the AL West this season. If the Angels keep doing the right things, they could have the type of team that could win the World Series in 2021. With or without Trout. So, Angels fans, relax. No matter what happens, the Angels will survive.
Dodgers
As far as the Dodgers go, it was pretty quiet on Monday. Clayton Kershaw and Rich Hill don't care much for the 20-second pitch clock that will be used in spring training. In fact, Kershaw plans to pretty much ignore it. And outfielder Andrew Toles will not report to camp for a while as he attends to a personal matter.
Still the greatest?
LeBron James is widely considered the world's greatest basketball player, but with the Lakers in 10th place in the Western Conference and James looking vulnerable after missing a month because of a groin injury ... and Kevin Durant winning most-valuable-player awards and Stephen Curry shooting at a level no one has ever seen ... and Paul George and Kawhi Leonard redefining how much someone can impact the game on both ends of the floor ... and Giannis Antetokounmpo improving at hyper speed, the debate over who's the best player in the world may be tighter than it's been since James took the unofficial throne.
Rams
Tuesday marks the first day NFL teams can place a franchise tag on one of their pending unrestricted free agents, and the Rams are not among the favorites to utilize it, our Gary Klein writes.
A non-exclusive tag binds a potential unrestricted free agent to the team for one year if certain conditions are met. The player is guaranteed a salary no less than the average of the five highest-paid players at his position, or 120% of the player's previous salary, whichever is greater.
The deadline for teams to tag players is March 5, eight days before the start of free agency and the new league year.
The Rams' pending unrestricted free agents are safety Lamarcus Joyner, defensive linemen Ndamukong Suh, Ethan Westbrooks and Dominique Easley, linebackers Dante Fowler, Ramik Wilson, Matt Longacre and Bryce Hager, cornerback Sam Shields, quarterback Sean Mannion, running back C.J. Anderson and offensive lineman Rodger Saffold.
May the farce be with you
In a sure sign that the world is coming to an end soon, France's fencing federation (cleverly named the French Fencing Federation) has officially recognized lightsaber dueling as a competitive sport. Yes, lightsabers, those glowing blades used in the Star Wars films.
For fencing, the lightsabers are made of rigid polycarbonate and are LED-lit. They even have a chip that emits a sound like you hear in the movies. Only difference, you can't cut anyone in half with it, so if Darth Maul is reading this, you are safe to compete.
The reason for this unusual move? To get young people to exercise more.
"With young people today, it's a real public health issue. They don't do any sport and only exercise with their thumbs," Serge Aubailly, the federation secretary general, told the Associated Press. "It's becoming difficult to persuade them to do a sport that has no connection with getting out of the sofa and playing with one's thumbs. That is why we are trying to create a bond between our discipline and modern technologies, so participating in a sport feels natural."
Police officer Philippe Bondi, 49, has his own lightsaber, which costs about $400. It emits a green glow "because it's the Jedi colors, and Yoda is my master."
OK. So if you are in France and you are stopped by an Officer Bondi, try this: Wave your hand from one side to the other and say quietly "This is not the car you are looking for." Because the Force can have a strong influence on the weak-minded.
Odds and Ends
The lovable Chicago Cubs were building a sports dynasty. What happened?… The Lakers need to do a better job of honoring their rich coaching history…. Tyson Fury signs with Top Rank/ESPN, complicating a Deontay Wilder rematch…. Victor Espinoza returns to horse racing for first time since breaking his neck…. The Kings lost to the Washington Capitals, 3-2.
Best sports movie
We are at the semifinal round of our reader poll to pick the best sports movie of all time. All of the movies voted through to this round appear on the ballot. You vote for your best five by clicking here or by emailing me here. Those five will advance to the final round starting Thursday.
The semifinalists are:
Blue Chips
Brian's Song
Bull Durham
Caddyshack
Chariots of Fire
Cinderella Man
Field of Dreams
He Got Game
Hoop Dreams
Hoosiers
Jerry Maguire
The Karate Kid (1984)
A League of Their Own
The Longest Yard (1974)
Major League
The Mighty Ducks
Million Dollar Baby
Miracle
Moneyball
The Natural
The Pride of the Yankees
Raging Bull
Remember the Titans
Rocky
Rudy
Seabiscuit
Slap Shot
Tin Cup
White Men Can't Jump
Results from last three rounds:
Three best hockey movies
Slap Shot, named on 97.5% of ballots
Miracle, 74.7%
The Mighty Ducks, 44.9%
Four best boxing movies
Raging Bull, named on 79.1% of ballots
Rocky, 78.5%
Million Dollar Baby, 49.4%
Cinderella Man, 28.4%
Five best miscellaneous sports movies
Caddyshack, named on 53.1% of ballots
Chariots of Fire, 41%
Seabiscuit, 37.5%
The Karate Kid (1984), 35.8%
Tin Cup, 31.7%
Born on this date
1916: Jockey Eddie Arcaro
1957: Baseball player Dave Stewart
1962: Tennis player Hana Mandlikova
Died on this date
1996: Oakland A's owner Charlie Finley, 76
And finally
That concludes the newsletter for today. If you have any feedback, ideas for improvement or things you'd like to see, please email me here. If you want to subscribe, click here.
---
Get the latest on L.A.'s teams in the daily Sports Report newsletter.
You may occasionally receive promotional content from the Los Angeles Times.