The Sports Report: Max Muncy doesn't mind the doubters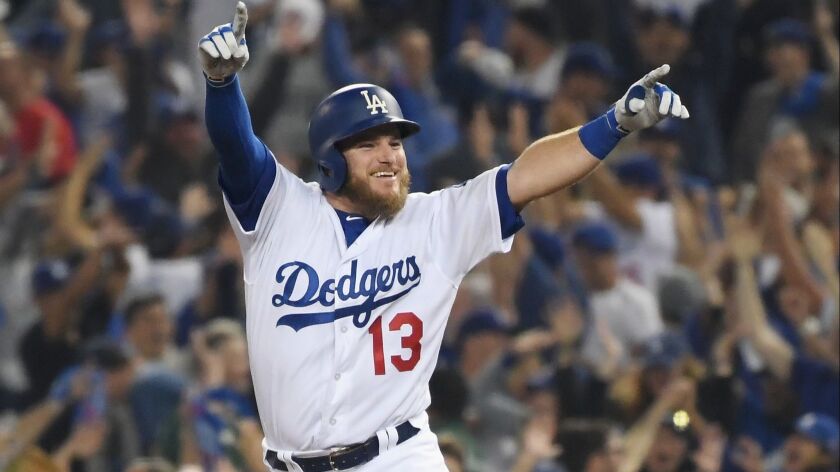 Howdy everyone, and welcome to the Thursday edition of the Los Angeles Times daily sports newsletter. My name is Houston Mitchell and I'm your host for the festivities. Subscribe to this newsletter by clicking here.
Let's get to it.
Dodgers
At this time last year, few people knew who Max Muncy was. He was just one of those seemingly interchangeable guys the Dodgers sign who may get a few at-bats in the majors but seems destined for obscurity. He didn't reach the majors until a couple of weeks into the season, and even then the reaction was, who's Max Muncy?
Then he started to hit homers, but there was still a lot of skepticism, waiting for him to come back to earth.
Suddenly, it was the end of the season and Muncy had hit. 263/.391/.582 with 35 homers and was one of the key reasons the Dodgers were in the playoffs.
All he has to do now is do it all over again to fend off doubters who are betting he was a one-season fluke. And he's fine with that.
"I'd prefer it to be not thinking about it and keep preparing every single year like I haven't done anything yet," Muncy said. "That's exactly how I want it to be."
You can read more in Jorge Castillo's story here.
UCLA basketball
With only a handful of games left in its season, UCLA is still spending much of its time on player development. There's not much of a choice for a team that continues to struggle with turnovers, defensive rotations and free throws, even if the calendar suggests players should have a pretty good handle on those things by now.
"What we've tried to do as a staff is just pour everything into them individually," Murry Bartow, the Bruins' interim coach, said this week. "So we have tried to work on the individual and then at the same time tried to do the best we can in terms of winning games, but we are incredibly young. We just don't have a lot of experience on this team, we just don't."
Read more from Ben Bolch here.
Lakers
If the playoffs started today, the Lakers would not be in them. That makes Lakers fans uncomfortable. It makes LeBron James uncomfortable. But he doesn't mind that.
"I love being uncomfortable," James said. "I fall in love with being uncomfortable. This is another uncomfortable thing for me and I love it."
Their fate over the next few months will depend on James' ability to push them and himself, and his teammates' ability to match his intensity.
"We know we have who we view as the best player in the world on our team, but we also know that it takes a team to win," Lakers coach Luke Walton said. "So we expect him to lead us and we expect the other guys on the team to continue to make plays and help us win games. This league is too tough to do it by yourself."
Read more from Tania Ganguli here.
Clippers
As the NBA schedule resumes today, the Clippers (32-27) are in the eighth and final Western Conference playoff spot. Four games separate the five teams that stand sixth through 10th in the standings. In order, that's Utah, San Antonio, the Clippers, Sacramento and the Lakers.
There is a belief within the Clippers organization that 46 victories could be required to make the playoffs in the West. To reach that number, the Clippers have what seems to be a favorable schedule. Eleven of their remaining games are against teams with losing records, including Friday's first post-break matchup at Memphis. There are also four games against Cleveland and New York, which own two of this season's three worst records in the league.
The Clippers are 17-15 against the opponents remaining on their schedule. They have 13 more home games, and one of their 10 road matchups will be played at their home arena, Staples Center, against the Lakers.
ESPN projects the Clippers to win 44 games, with an 82.1% chance of making the playoffs.
Read more from Andrew Greif here.
Odds and Ends
Patrick Mahomes spends a lot of the offseason playing video games, and our own Arash Markazi took some time to play too. Read about it here (with some cool video)…. USC's Bennie Boatwright is playing his best basketball as he nears final home games…. After setback, Angels pitcher Nick Tropeano is ready for rehabilitation to strengthen his right shoulder…. At a dinner attended by several USC donors, athletic director Lynn Swann was warm, even charming, but he did almost nothing to alleviate the concerns of USC fans who watched in horror as Clay Helton finished last season with a 5-7 record and remain the head football coach.
Sports Podcast
In the latest episode of the "Arrive Early, Leave Late" podcast, NBA columnist Dan Woike talks about the sport's shoe culture and his contributions to The Times' recent special section dedicated to basketball sneakers, including his love letter to the Eastbay catalog.
Later, sports editor Angel Rodriguez joins host Beto Durán to discuss the future of The Times sports department and how to stay relevant in the digital age.
Scheduling note
I have written this newsletter now for 313 consecutive days (that may be a slight exaggeration) so I am going to take this weekend off. No newsletter Saturday or Sunday. Back in action Monday.
Best sports movie
Well, we are finally here at the finals for the poll on best sports movie. After several rounds of voting and thousands of votes, we are down to the final five. So please vote for what you feel is the best of the below movies by clicking here or by emailing me here. Results will be announced on Monday. Here are the semifinal results after receiving 20,452 ballots:
"Field of Dreams" named on 50.4% of ballots
"Rocky" 42.2%
"Hoosiers" 41.6%
"Bull Durham" 36.5%
"A League of Their Own" 35.7%
Just missed the cut
"The Natural" 33.3%
"Brian's Song" 23.7%
"Caddyshack" 21%
"Raging Bull" 20.3%
Others receiving votes in order of finish: "Chariots of Fire," "Major League," "Slap Shot," "Remember the Titans," "The Pride of the Yankees," "Miracle," "Seabiscuit," "Moneyball," "Rudy," "Million Dollar Baby," "Jerry Maguire," "Tin Cup," "The Longest Yard" (1974), "The Karate Kid" (1984), "Hoop Dreams," "White Men Can't Jump," "Cinderella Man," "The Mighty Ducks," "Blue Chips," "He Got Game."
Born on this date
1958: Baseball player Alan Trammell
And finally
That concludes the newsletter for today. If you have any feedback, ideas for improvement or things you'd like to see, please email me here. If you want to subscribe, click here.
---
Get the latest on L.A.'s teams in the daily Sports Report newsletter.
You may occasionally receive promotional content from the Los Angeles Times.