Column: High-school years gave Rams coach Sean McVay his first taste of fame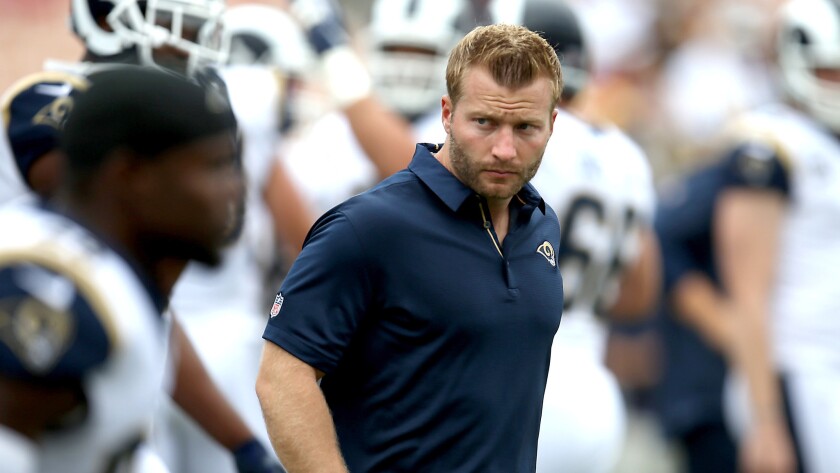 Reporting from brookhaven, ga. —
The legend of Sean McVay only grows at the Marist School, a sprawling campus of red-brick buildings tucked into the hilly suburbs just north of Atlanta.
It wasn't so long ago that the 31-year-old Rams wunderkind — the likely NFL coach of the year — thrilled Marist students and fans, not with his headset wizardry but with his forehead-slapping, ankle-snapping moves as a high school quarterback.
McVay's game video was like a video game. The bright-eyed kid with straight and shaggy blond hair (not spiked like now) was so good that he was named 2003 State Player of the Year in Georgia, edging future Detroit Lions star Calvin Johnson in the process.
"That was ridiculous," McVay said almost sheepishly this week during a break from preparations for Saturday night's playoff game against the Atlanta Falcons at the Coliseum. "He was a five-star recruit, best receiver in the country, and here I am, just a tough competitor that's on a state championship team. Really what that was is it was a reflection of the team success we had, and then we were able to have some good stats because we won the state championship.
"But I don't think anybody would have sat up there and said, 'We think Sean is a better player than Calvin Johnson.' It was more of a successful team, so let's go ahead and give the award to the quarterback."
That's typical McVay, say those who know him best. He deflects praise, he spreads it around, but when it comes to grabbing it himself, he's got hands of stone. Still, the tapes don't lie. And while the 6-foot-5 Johnson would one day answer to Megatron, the compact, 5-9 McVay was undeniably Sean-a-tron, darting around opponents as an option quarterback and smashing into them as a menacing free safety.
"He was the most athletic guy on the field and the most savvy," teammate Chris Ashkouti recalled. "He has a knowledge of the game that's hard to put into words. He played with a chip on his shoulder that nobody had. The combination of those things made him impossible to beat."
McVay, who later played receiver at Miami of Ohio, didn't get a chance to throw the ball much in the run-based offense at Marist. So he took particular umbrage on those rare occasions when his passes were intercepted.
"I would actually feel bad for the defender who picked it off, because he was coming and he would take your head off," Ashkouti said. "I'm not kidding. I can show you tape."
There's plenty of tape on McVay, but he's far from the only famous graduate of the private Catholic school that was started by the Society of Mary, originally as a military academy in downtown Atlanta. Marist, which includes grades 7-12, turned coed in 1976 and has an enrollment of about 1,100.
Dodgers catcher Kyle Farmer was the starting quarterback there five years after McVay.
"Everybody looked up to him," said Farmer, who was a seventh-grader when McVay was a senior. "He was like a god walking through the hallway because he was just so good. But he had the personality of someone who was just very humble, an everyday, average Joe."
When Farmer got called up to the Dodgers last season, one of the first congratulatory texts he got was from McVay.
"That meant the world to me," Farmer said.
Other notable Marist alumni include retired NBA player Matt Harpring, Olympic swimmer Kathleen Hersey, actor David Hasselhoff, Fox News anchor Brett Baier and longtime Miss America host Bert Parks.
Marist football plays in Georgia's AAAA division, even though it would be in the bottom third of smaller AAA schools in terms of enrollment. Still, the program has been remarkably successful under coach Alan Chadwick, winning two state championships and finishing as runner-up nine times.
These days, there's an island of Rams fans in the middle of Falcons country.
"I'm just walking around with my chest poking out like you wouldn't believe," said Chadwick, who has coached at the school for 41 years. "I'll be sitting at the bar having dinner or something like that. The TV is on, and I'll be sitting next to some guy I don't even know, and they'll have the Rams on there, and I'll say, 'Hey, I coached that guy.' I'm just bragging like crazy all over the place.
"I'm spreading that word as much as I can."
McVay, who was an outstanding soccer player as a kid, eventually gravitated to football, where his grandfather and father made their mark. His grandfather, John McVay, coached the New York Giants then, as a front-office executive, helped build the San Francisco 49ers dynasty with Bill Walsh. Sean's father, Tim, was a defensive back at Indiana.
Tim has been a constant at Rams games this season, watching as his son has run a reverse with a franchise that went 4-12 last year. These Rams finished 11-5 — although they didn't play their starters in the finale, a meaningless loss to the 49ers — and returned to the playoffs for the first time since 2004.
Football courses through the family's veins, so it's no surprise the young McVay grew obsessed with it. His friends would tease him about being a football nerd, often opting to study film with coaches when he could have been hanging out.
"We've had a lot of talented kids, we've had a lot of talented quarterbacks, but nobody like Sean," said Paul Etheridge, his offensive coordinator in high school. "I'd say he was the best Marist quarterback we've ever had. We've had some better passers, but we've never had a better runner or a better overall quarterback.
"I'm not just talking about football skills. I'm talking about understanding the offense, reading defenses, and most importantly ability to lead and ability to communicate."
McVay said those experiences in high school helped him pour the foundation for the coach he is today.
"Marist is a special place," he said. "Some of the best coaches I've been around are those people I worked with in high school. What you realize is when you have an environment and an atmosphere like we had at Marist, where guys cared about each other, the coaches were great teachers and communicators, whether it's high school, college or pro, I think coaching is coaching.
"That was really for me, as a young guy growing up, is seeing what you think is doing it the right way."
That doesn't mean it was always bliss. Chadwick recalls tearing into McVay early in a game after a bad decision led to turnover.
"He came over on the sideline and I'm just jumping in his ear," the coach recalled with a laugh. "I take him over to the bench and sit him down. I just cussed him up one side and down the other side."
McVay was sitting at the end of the bench, next to a golf cart where the trainer and team doctors sat.
Chadwick walked to the other end of the bench, then decided he wasn't done. He came back and loudly chewed out McVay again. When the coach walked away, the kid, respectful yet not rattled, turned to the medical personnel and shrugged.
"He thinks I'm hard of hearing," McVay said with a smile.
On the contrary, he soaked in every word.
"He's very witty, and it's tough to slip a joke in on him," former Marist teammate Chris Davis said of McVay. "He's always going to come back on you. He's really competitive. If you make a shot into the trash can with a balled-up piece of paper, he's going to take two steps behind you and try a shot of his own."
McVay was known for his toughness, but had a touch of vanity about his boyish looks. Running back Michael Ashkouti remembers him taking a hard shot to the facemask during a game that pushed his nose sideways.
"John played soccer and he had taken a lot of soccer balls to the face, broke his nose a few times," Ashkouti said. "He was kind of a pretty boy. He was always worried about his nose. So after that play he comes up to me and goes, 'How does my nose look? Is my nose broken? Be honest with me.' It was crooked."
Ashkouti looked at him, looked up at the scoreboard, then did his best job of acting: "Bro, your nose is fine."
Good thing there wasn't a mirror.
"I would have lost him," Ashkouti said. "I had to keep him in the game."
As long as McVay was on the field, the Marist players breathed easy.
"Our coaches were more nervous than us before games," Chris Ashkouti said. "We'd just kind of look at each other and smile. We were like, 'We've got Sean. We'll be fine.' "
The Rams know the feeling.
Follow Sam Farmer on Twitter @LATimesfarmer
Times staff writers Gary Klein and Andy McCullough contributed to this report.
---
Get the latest on L.A.'s teams in the daily Sports Report newsletter.
You may occasionally receive promotional content from the Los Angeles Times.