Super Bowl 2019 opening night: Aaron Donald says L.A. is 'a football town'
Rams quarterback Jared Goff, left, and Patriots quarterback Tom Brady talk on stage during media day.
(Wally Skalij / Los Angeles Times)
Rams quarterback Jared Goff answers questions as members of the media surround him during Opening Night.
(Wally Skalij / Los Angeles Times)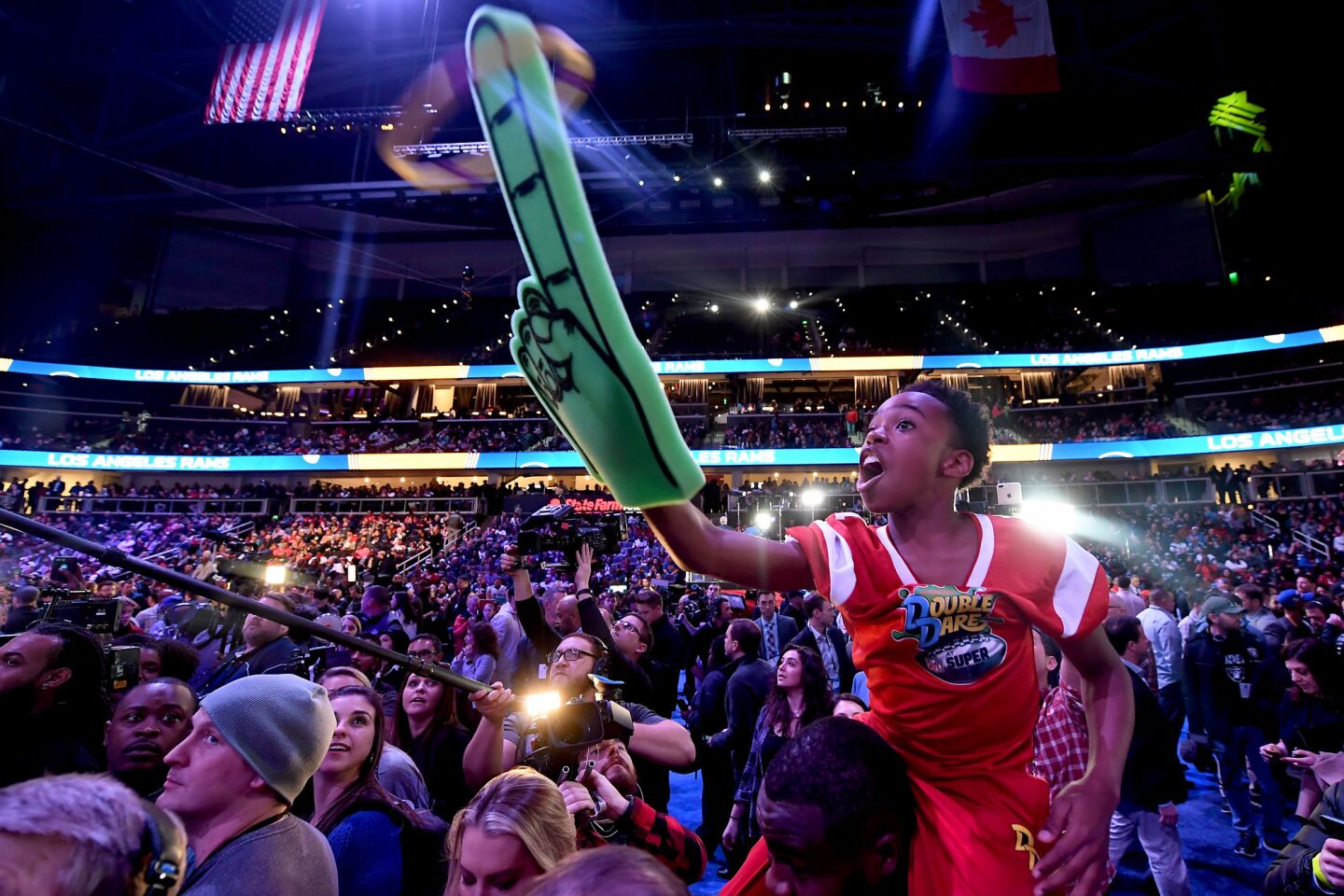 Actor Dallas Dupree Young catches a ring thrown by Rams quarterback Jared Goff during media day.
(Wally Skalij / Los Angeles Times)
Rams Aaron Donald answers questions during media day in Atlanta.
(Wally Skalij / Los Angeles Times)
Rams Aaron Donald wears his necklace during media day.
(Wally Skalij / Los Angeles Times)
Rams head coach Jared Goff answers questions as members of the media surround him during Opening Night.
(Wally Skalij / Los Angeles Times)
Members of the media take pictures of Rams head coach Sean McVay.
(Wally Skalij / Los Angeles Times)
Actor Dallas Dupree Young dances with the Rams cheerleaders during media day.
(Wally Skalij / Los Angeles Times)
Super Bowl week is here. The Los Angeles Rams and New England Patriots are in Atlanta with less than six days to go before Super Bowl LIII kicks off at Mercedes-Benz Stadium.
Super Bowl media night, which has been dubbed Super Bowl Opening Night by the NFL, serves as the official starting point for a week full of news conferences and practices for the players. Here's a recap from Monday's event:
Tom Brady on facing Rams: 'It's going to be tough, but hopefully we can get it done'
For the third straight year and for the ninth time of his career, Tom Brady is on the cusp of winning a Super Bowl. The New England Patriots quarterback has won five Super Bowl titles over the course of his illustrious 19-year career.
A win over the Rams would give Brady an unprecedented sixth Super Bowl ring and further solidify his place among the all-time greats.
While Brady knows he's venturing into uncharted territory when it comes prolific NFL achievements, the 41-year-old quarterback isn't letting all moment overwhelm him.
Still, as colleague Arash Markazi points out, perhaps Brady is exactly where he wants to be heading into Sunday's game against the Rams, the team he beat for his first Super Bowl title at the end of the 2001 season.
Austin Knoblauch | 6:45 p.m.
Shocker: Rob Gronkowski dances at Super Bowl opening night
It remains to be seen if Sunday will mark the final game of New England Patriots tight end Rob Gronkowski's outstanding career, but it appears his dancing game is in mid-career form.
Gronkowski, who's knack for dancing is only outmatched by his reputation for frustrating defensive backs, busts a couple of sick moves at Super Bowl LIII opening night.
Asked point blank by Hall of Famer Michael Irvin if he would retire after Sunday's game, Gronkowski responded, "I don't know."
While Gronkowski's Patriots teammates wouldn't like to see him break dance into the sunset, at least one of them seems fine with the idea of possibly never seeing Gronk dance again.
Austin Knoblauch | 6:15 p.m.
Aaron Donald: Los Angeles is 'a football town now'
Aaron Donald and Brandin Cooks would like to annihilate the notion that L.A. isn't a football town.
Speaking to reporters at Super Bowl LIII Opening Night, Donald made it clear what he thinks of Los Angeles — and who's going to argue with the NFL's reigning defensive player of the year?
Rams wide receiver Brandin Cooks also saw the passion of the Los Angeles fans during the Rams' send-off celebration.
"For being so young, in a sense, it's still growing," the wide receiver said. "For us to have that showing the other day, it was special. It shows the backing that we have from our fans and we thank them a lot."
Austin Knoblauch | 5:40 p.m.
Patriots, Rams meet on stage at Super Bowl Opening Night
After the Rams were done speaking to the media at Super Bowl LIII opening night, they shared the stage with the New England Patriots.
Patriots quarterback Tom Brady is used to Super Bowl opening night. The 41-year-old quarterback is playing in his record ninth Super Bowl this week and needs no introduction when it comes to his stellar list of career accolades.
While everything was cordial on stage, the Rams and Patriots won't meet again until they face one another on the gridiron on Super Bowl Sunday.
Austin Knoblauch | 5:20 p.m.
Todd Gurley 'feeling good' heading into Super Bowl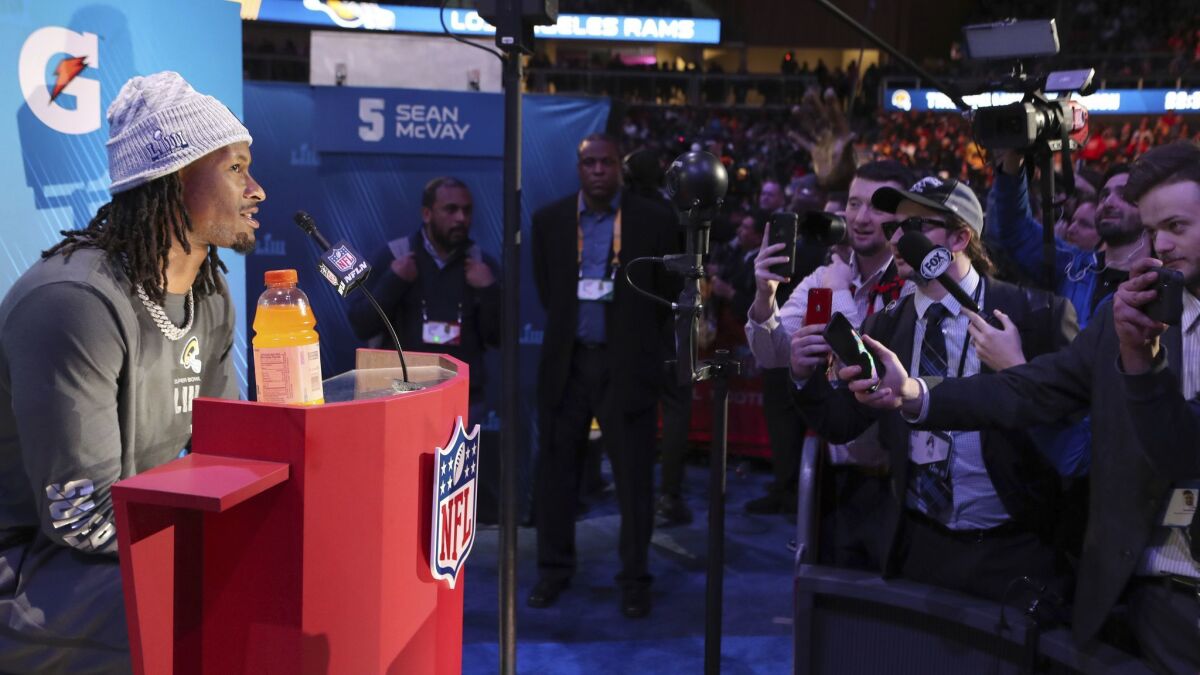 Todd Gurley's health heading into Sunday's Super Bowl showdown with the Patriots has been one of the major talking points over the past week.
The prolific running back barely saw playing time during the Rams' NFC championship victory over the New Orleans Saints, fueling speculation that the knee injury he suffered late in the season was still an issue for him.
Gurley pointed at his poor performance for why he struggled against the Saints, and he's staying upbeat about how he's feeling heading into the Super Bowl.
"Feeling good, man. Feeling good," Gurley told Deion Sanders. "You just get on that field and feel like you can't be stopped."
Austin Knoblauch | 5:10 p.m.
Does bling = ring for Rams?
Rams cornerback Aqib Talib notices one thing always happens when he joins a new team. Talib let Hall of Famer Deion Sanders be privy to his big observation:
Meanwhile, Marcus Peters and Dante Fowler were dealing with rings of a different nature during the final part of the Rams' meeting with the media.
They weren't the only ones having some competitive fun in front of the cameras. Rams coach Sean McVay showed off his long-range field goal acumen.
Austin Knoblauch | 4:45 p.m.
Nickell Robey-Coleman says Tom Brady comments were 'misconstrued'
Los Angeles Rams cornerback Nickell Robey-Coleman, who was at the center of Sunday's controversial win over the New Orleans Saints, caused a stir among New England Patriots fans Monday with comments attributed to him in a Bleacher Report story.
Robey-Coleman described Patriots quarterback Tom Brady as a player past his prime.
"For him to still be doing it, that's a great compliment for him. But I think that he's definitely not the same quarterback he was," Robey-Coleman said. "Movement. Speed. Velocity. Arm strength. He still can sling it, but he's not slinging it as much.
"Whatever he was doing -- because of his age and all that -- he's not doing as much of that anymore. He's still doing the same things, he's just not doing as much of it. And sometimes, it's not the sharpest. But it still gets done."
Robey-Coleman said Monday his comments were taken out of context.
"I think everybody made a big deal of the situation," Robey-Coleman said. "Tom Brady is a great quarterback. I wasn't trying to say nothing bad about him. I respect him as the G.O.A.T. He is the legend, and I think words just got misconstrued and they got taken out of context."
Fellow Rams corner Aqib Talib agreed with Robey-Coleman's Monday night assessment of Brady: "He ain't lost nothing. He's in the Super Bowl again."
Austin Knoblauch | 4:35 p.m.
Sean McVay talks about the respect he has for Bill Belichick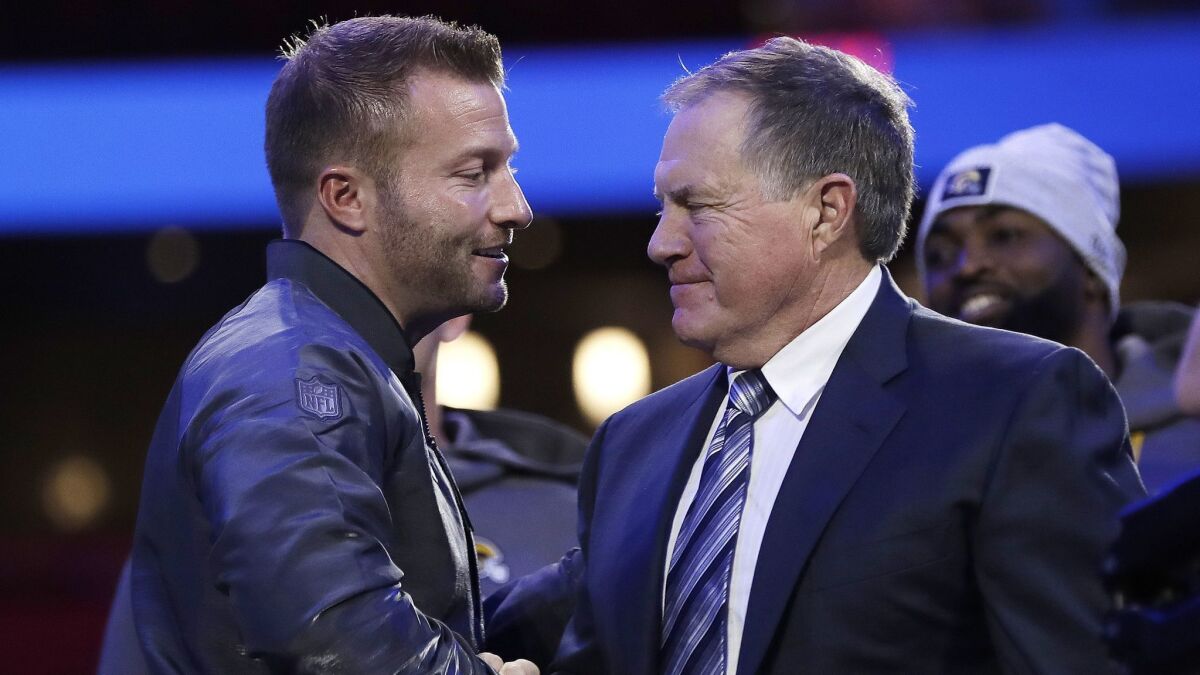 Rams coach Sean McVay talked about how New England Patriots coach Bill Belichick texted him throughout the season to offer him support and encouragement throughout the season.
"It means a lot … to be able to even just have that rapport and the way that he's treated me and the little bit of dynamic and interaction we've had, it means a lot."
McVay said he first met Belichick last year and that he congratulated McVay after the Rams' big win over the Minnesota Vikings early on the season.
Austin Knoblauch | 4:25 p.m.
Super Bowl opening night underway in Atlanta
Jackie Slater has given the Rams his heart, but the Patriots have his DNA
he meeting represents the sport's ultimate, almost comic-book confrontation of separate allegiances, the name of the game even including the word "Super."
And there might not be a more intimately embedded spectator Sunday than Jackie Slater, who has given the Rams his heart and the New England Patriots even more: his DNA.
Slater is so close to Super Bowl LIII, in fact, that unlike everyone else involved, he can't lose.
"It's going to be emotional for me, sure," he said. "But I'm not going to say I'm conflicted because I look at the game a little differently. It's a win-win situation."
Jeff Miller
Rams' Gerald Everett gets to show off athleticism in front of hometown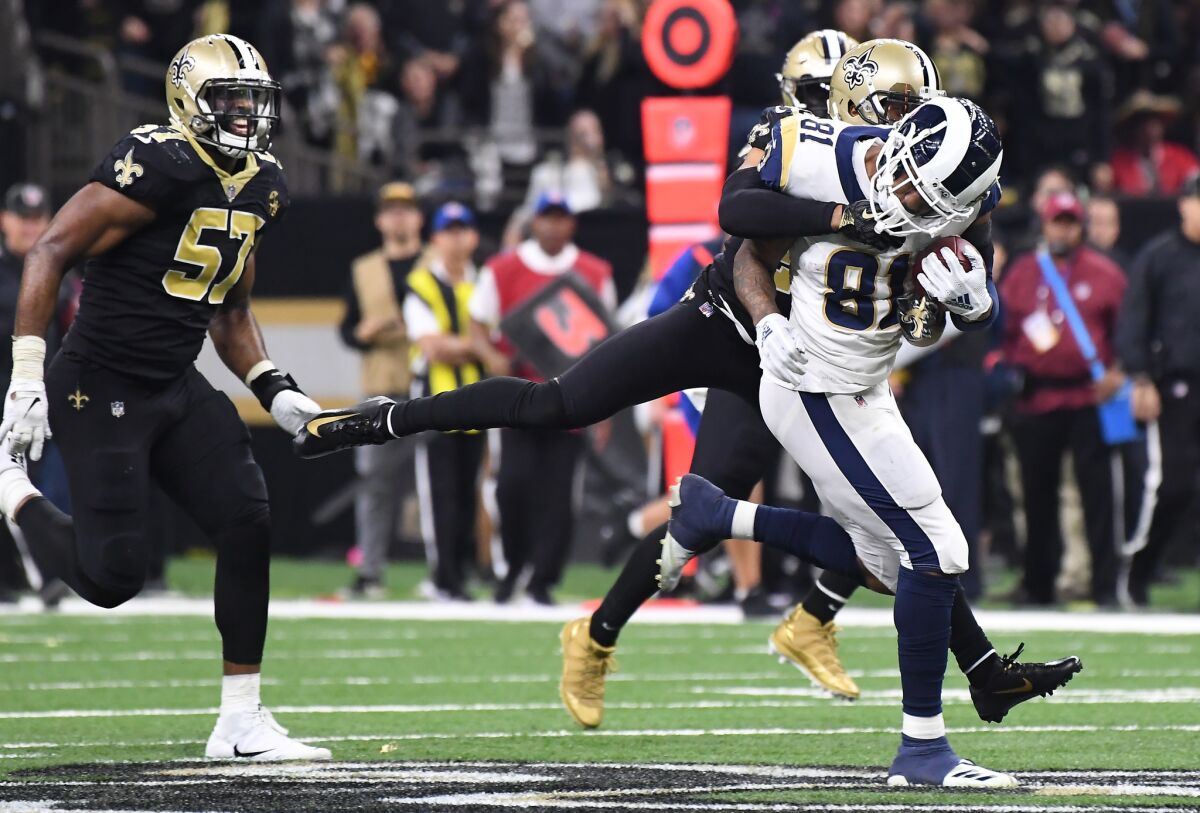 The athleticism that attracted the Rams to tight end Gerald Everett was on full display throughout the season.
The second-year pro caught a pass from behind the line of scrimmage and powered his way across the goal line for a two-point conversion. He dived for a short touchdown reception, carried the ball on fly sweeps and jetted past a defensive back for a long touchdown catch, tiptoeing the final five yards along the sideline to stay in bounds.
But Everett's agility and body control were perhaps never more evident than after Greg Zuerlein kicked a game-winning field goal in the NFC championship game.
The 6-foot-3, 240-pound Everett dashed from the sideline, took about a dozen loping strides, and then hurdled over stunned and squatting New Orleans Saints linebacker A.J. Klein. Everett continued on his way to celebrate with teammates.
Gary Klein
Super Bowl podcast: Sam Farmer won't have to sneak into this one
This week, the "Arrive Early, Leave Late" podcast goes behind the scenes at Super Bowl LIII with the Los Angeles Times reporters who will be covering Sunday's game between the Rams and the New England Patriots, as well as everything leading up to it.
NFL writer Sam Farmer shares stories of Super Bowls past (including sneaking into the big game as a high school student) and breaks down this year's matchup:
The stage is set for Super Bowl LIII
Bill Belichick on what stands out about Rams' Aaron Donald: 'Everything'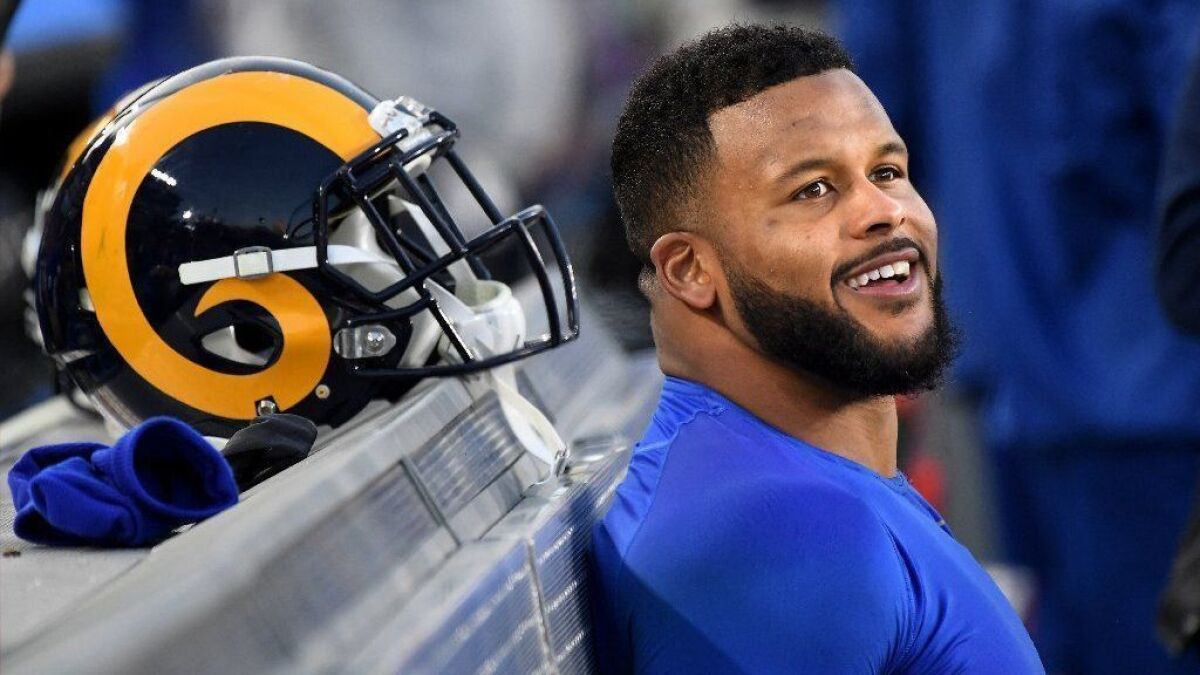 A seemingly endless contract impasse kept Aaron Donald out of training camp before each of the last two seasons.
It did not slow down the Rams defensive tackle.
He won the NFL's defensive player of the year award in 2017, and after signing a $135-million extension and recording 20½ sacks this season he should win it again.
So will the Rams require Donald to attend training camp before next season?
"He better, with all that money we're paying him," coach Sean McVay joked Friday. "Sheesh, maybe he wouldn't have to wait to really get into a flow."
Gary Klein
Ndamukong Suh has his game face on for media night
Randy's Donuts gets blue-and-gold makeover in support of L.A. Rams for Super Bowl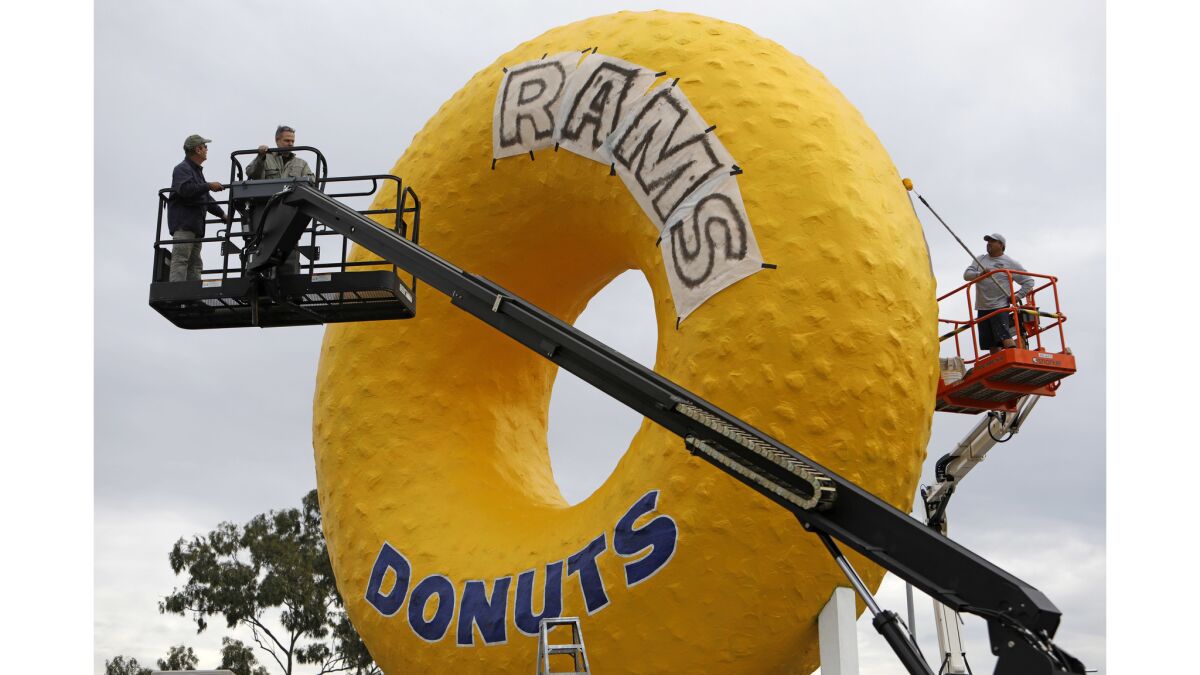 Randy's iconic giant doughnut is even more eye-catching after it was painted gold for the Super Bowl game between the Los Angeles Rams and the New England Patriots.
Drivers on La Cienega and West Manchester boulevards in Inglewood saw the large sign's transformation over the weekend, when workers on lifts painted the brown doughnut bright yellow and inked "Rams Donuts" in blue letters on the side. The makeover is part of a partnership between Randy's, Nike and the Rams.
To complete the color theme, the building was painted bright blue. On Sunday, workers could be seen adding finishing touches behind yellow caution tape as customers lined up.
The huge doughnut atop Randy's has been covered in vinyl wrap in partnership with other brands before, but this is the first time since the shop's founding in the 1950s that it has been painted over — and the first time the building itself has experienced a full makeover — said Brad Tennesen, senior product manager for Gallagher, a marketing agency whose clients include Randy's, the Rams and Nike.
Alejandra Reyes-Velarde
Get our high school sports newsletter
Prep Rally is devoted to the SoCal high school sports experience, bringing you scores, stories and a behind-the-scenes look at what makes prep sports so popular.
You may occasionally receive promotional content from the Los Angeles Times.