Here's what's new and interesting in entertainment and the art
Adam West fans mourn the loss of Batman under the Bat signal in Los Angeles
Holy heartfelt tribute, Batman. The citizens of Los Angeles gathered in a makeshift Gotham City on Thursday night to remember Adam West, best known for playing Batman in the 1960s TV series. 
City Hall glowed under the iconic Bat signal out of respect for the actor, died June 9 at 88 after a short battle with leukemia.
The original 1966 Batmobile (complete with Bat fire extinguisher and Bat phone) was parked at the steps, along with several other Batcentric automobiles. Fans congregated around the memorabilia and recalled the actor and the hero he represented on screen.
Artemio Rangel, 34, brought his 3-year-old son Roan and wife Leslie. "I grew up with Batman, to a staggering degree." Rangel said. "I've been a Batman fan since. It's everywhere. It's in my house, it's all over the place — my poor wife has to deal with it." 
Leslie agreed, "When we were teaching [our son] words, one of the things that he taught him to say was, 'What does Batman say?' And he would say 'Justice.'" 
Louis White, 50, was slightly more somber in his black-and-yellow Batman T-shirt. "A part of my childhood is done," he said.
However, he said, he would always remember something West had that no other Batman after him could muster: "Accessibility."
"It would have been a whole different thing had I been a child and it was the Christian Bale Batman right out the top. I would have been terrified. It was that and my mom would buy me the comics — it was a wonderful memory."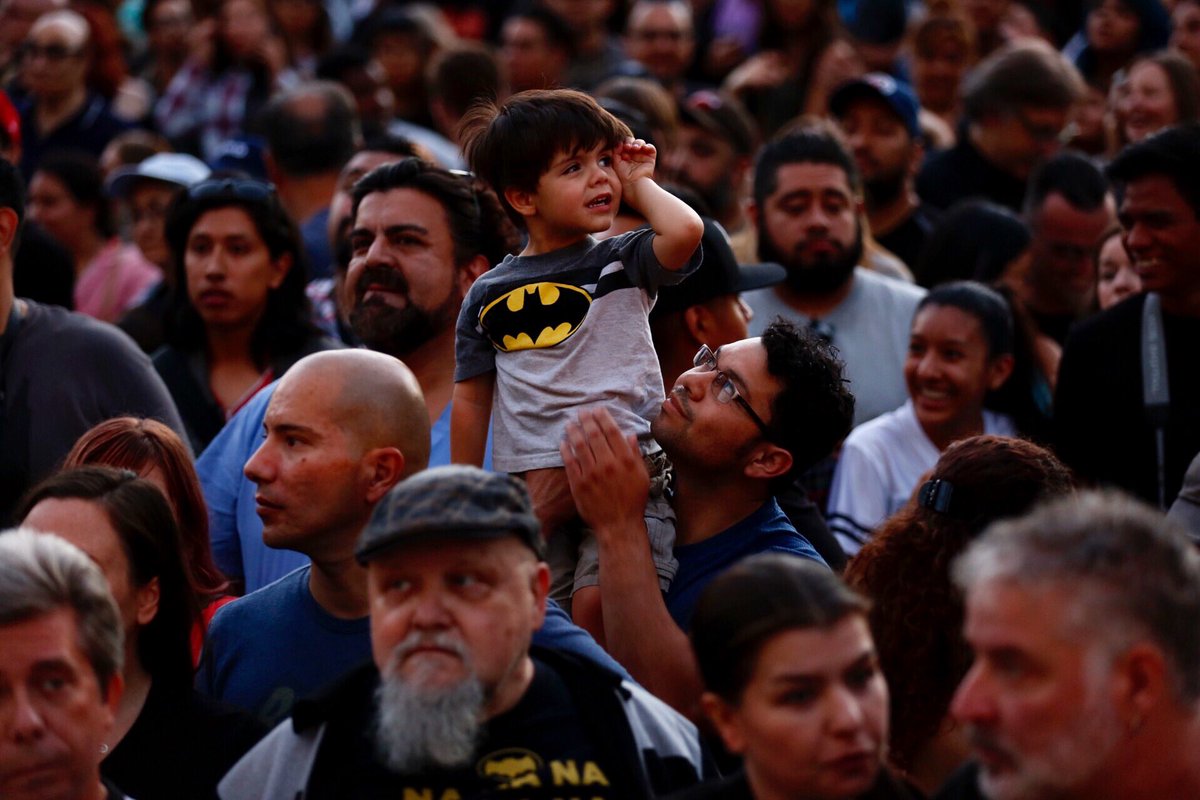 Mayor Eric Garcetti took the stage next to a facsimile of the red Bat phone from the TV show. He welcomed the "citizens of Gotham" along with LAPD Chief Charlie Beck, members of West's family and Burt Ward, who played Robin in the series, plus Lee Meriwether, who portrayed Catwoman in a 1966 Batman movie starring West.
"We don't gather on these steps very often at night," Garcetti said. "But when we do it's for a solemn and holy purpose. Tonight we're going to light up your City Hall for our own 'Bright Knight,' the legendary Adam West." 
As the night got darker, the crowd grew bigger.
When Garcetti spoke in the classic cadence describing his time in front of the TV watching at "the same Bat time, the same Bat channel," many in the crowd recited the lines with him. 
But Garcetti really stuck a chord with the Bat swarm when he told them what he believed was West's personal truth.
"You don't have to wear a cape, you don't have to be a movie star, you don't have to wear a badge or get elected mayor to make a difference and to be a hero," Garcetti said. "Adam West taught us that each one of us had a heart of gold. And that we could have a fun time doing it too."
The Boy Wonder (Ward) took the stage with an exclamation of  "Wowie Zowie!" and a message: "My friend Adam would want every single one of you to be incredibly happy and to be joyous because he spent his entire life as a performer making people happy, making people laugh and trying to make this world a better place." 
Ward, Garcetti and Beck then flipped on the Bat signal, which was a prop, and the iconic yellow-and-black Batman logo, projected from a remote location, stretched across the upper floors of City Hall. 
The crowd went wild, with smiles and cheers for a different kind of Batman: the charming, funny master of the cape and cowl — the Bright Knight. 
As Garcetti said, "There will never be a Batman like Adam West, and there will never be another Adam West." 
Latest updates
Copyright © 2017, Los Angeles Times