At a stop in Beverly Hills, Bernie Sanders vows Obamacare repeal bill 'is never going to pass' in Senate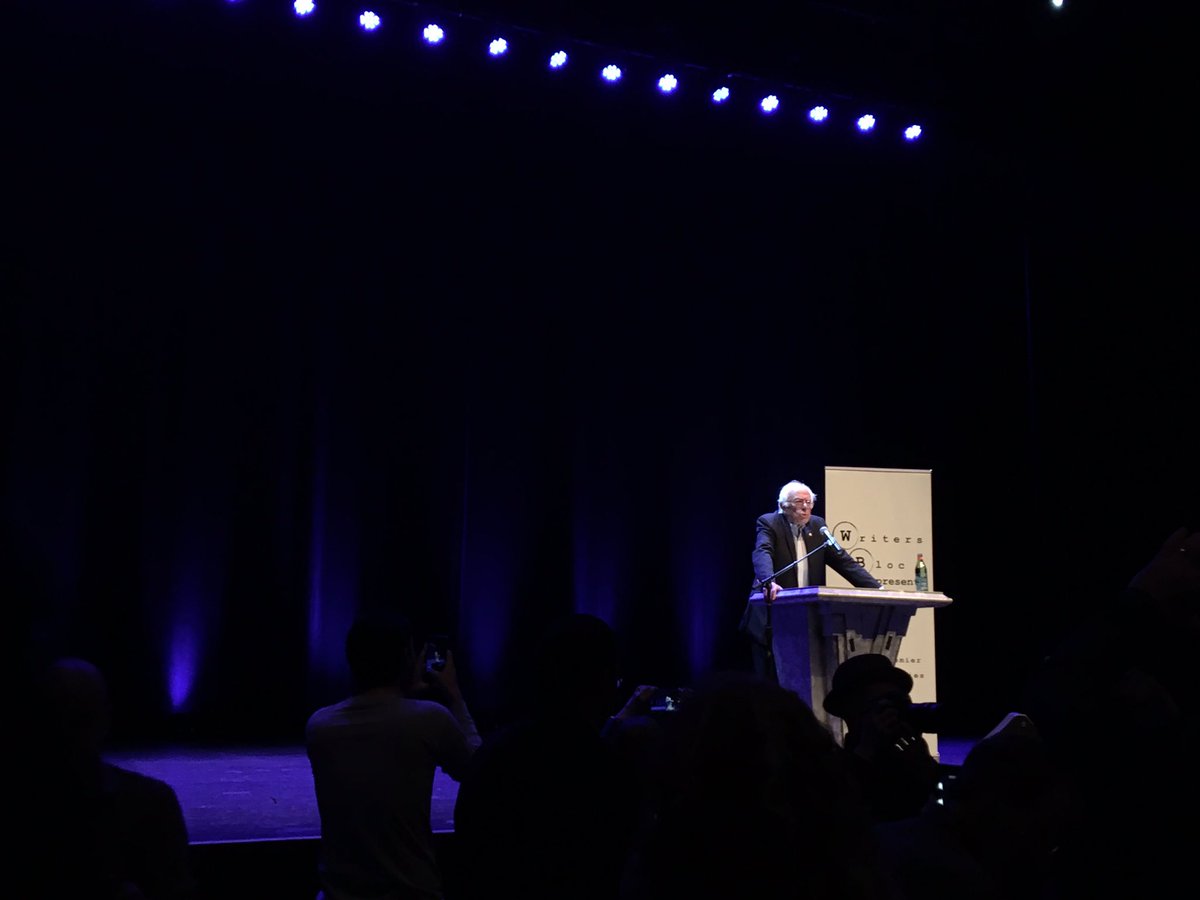 Vermont Sen. Bernie Sanders on Sunday called the GOP-backed Obamacare repeal bill "one of the most disgusting pieces of legislation ever passed," and called it a "death sentence for thousands" of Americans who may not seek medical care when they get sick.
Speaking to a sold-out crowd of more than 1,500 people at the Saban Theatre in Beverly Hills, Sanders vowed to help make sure that the bill, which passed the House on Thursday, is "dead in its tracks."
"Let me tell you," he said as the theater erupted in applause. "That legislation is never going to pass the United States Senate."
California Republicans were key to helping narrowly passing the bill in the House. It heads to the Senate next, where it's expected to face several obstacles.
In the wide-ranging speech, the latest of several appearances the senator has made in the Los Angeles area in recent months, Sanders hit many of his usual key talking points: the social ills of a shrinking middle class, the burden of student debt, and the need to rid politics of corporate money. Like he has in many post-election appearances, Sanders blamed last year's election results on a Democratic Party and media that he said ignored the economic suffering of those in America's heartland.
But healthcare dominated much of the talk, with Sanders adding that it's important to acknowledge the "many, many problems" with Obamacare. Some of the most raucous applause from the audience came after Sanders mentioned his so-called "Medicare for All" single-payer healthcare proposal. 
Sanders repeated a call he made at an event Saturday night, urging California to adopt such a measure that is currently being considered in the state Legislature.
"You can help me, you can help this country pass single-payer right here in California," Sanders said. 
Responding to a question submitted via social media, Sanders also addressed his support of Omaha mayoral candidate Heath Mello, a Democrat who has been criticized by abortion rights group NARAL for his "anti-choice" stances.
After criticizing the GOP healthcare bill for stripping funds from Planned Parenthood, Sanders said the party should not exclude Democrats who don't pass a "litmus test" on abortion rights.
"Should the Democratic Party be a strong, vigorous uncompromising pro-choice body? The answer is yes," Sanders said. "I would rather be a party in the Senate that's 85% pro-choice in the majority rather than being 90% pro-choice in the minority."
Latest updates
Copyright © 2018, Los Angeles Times