The Festival of Books has ended, but relive the fun with these highlights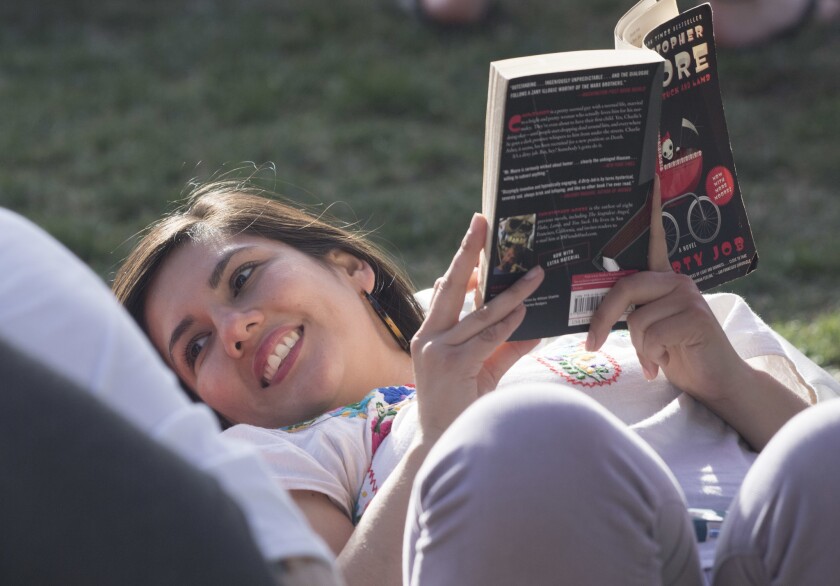 The Los Angeles Times Festival of Books came to a close on Sunday, with thousands of book lovers from across the country making the trek to the USC campus to participate in the country's largest literary festival.
Attendees of this year's festival got to spend their weekend not only seeing some of their favorite authors, but watching musical performances, cooking demonstrations and a wide variety of events.
Here are some of the highlights from L.A. Times coverage from the 2019 Festival of Books:
The L.A. Times Book Prizes: The 39th annual book awards were announced at a ceremony on Friday. Winners included Nafissa Thompson-Spires, who took home the first fiction prize for "Heads of the Colored People"; Francisco Cantú, who won for current interest for"The Line Becomes a River: Dispatches from the Border"; and Rebecca Makkai, who was named the fiction winner for her novel "The Great Believers."
The L.A. Times Book Club: The spirit of the book festival will continue year-round in a new, more intimate forum, the Los Angeles Times Book Club. Every month The Times will share a book club selection, publish stories exploring the topic and invite you to read along. Then the Times will host a community book club evening with the featured author and invite you to join that too.
Sandra Cisneros raises up Frida Kahlo and other women at L.A. Times Festival of Books
The legendary author of "The House on Mango Street" started off her appearance at the festival with some words in Spanish, which she then translated into English. "Gracias a todos! Bienvenidos!" she said. "Hello, thank you to all and welcome! And get with the program. It's the new millennium. You need to learn more than one language. Any other language will do, but in this part of the world it's very good to have Spanish."
Author Anabel Hernandez demands answers for Mexico's missing 43 students
Anabel Hernández was featured in a Spanish-language panel at the Los Angeles Times Festival of Books on Saturday about her book "A Massacre in Mexico: The True Story Behind the Missing Forty-Three Students."
Winston and Betty just turned 11, but they're Festival of Books experts already
Angeleno kids often grow up going to the Festival of Books. Times staff writer Michael Ordoña follows the adventures of his own children as they ramble through the fest.
Dave Barry brings humor and dog wisdom to the Festival of Books
The Pulitzer Prize-winning journalist's sense of humor was on full display during a Times video interview as he discussed his latest book, "Lessons From Lucy: The Simple Joys of an Old, Happy Dog."
Author Laila Lalami on how 'immigration is a timeless theme'
The L.A.-based author discussed immigration in the United States and her new novel, "The Other Americans," in a video chat with the Times. "Immigration is a timeless theme," Lalami said. "It's something that people have written about literally since the dawn of humanity. The earliest stories we tell are stories of immigration and exile and dislocation.
Festival of Books music writers on Nipsey Hussle's impact: 'Dude could rap'
Amid a panel celebration of literature of 1990s-era rap music, former KDAY-Los Angeles radio show host Greg Mack — the first DJ to play the genre on air in 1983 — and other panelists made a point to pay tribute to fallen rapper Nipsey Hussle.
Karamo Brown gives affirmations to help you live your best life
The "Queer Eye" star and author of "Karamo: My Story of Embracing Purpose, Healing, and Hope" wants people to take care of themselves not just physically but mentally. "Every single one of you is perfectly designed," he said at the Festival of Books. "What I mean by that: Every part of who you are is perfect just the way it is."
T.C. Boyle on the magic of writing: 'I hear a voice and I follow it'
Prolific author T.C. Boyle paid a visit to the Times studio at the Festival of Books to discuss his 28th book, "Outside Looking In." The recently released novel, which plays off his 2003 book "Drop City," takes place on Harvard's campus in the early 1960s and follows the "beginnings of LSD."
Bret Easton Ellis on the New Yorker controversy: 'I got punked'
In a video interview with the Times, the controversial author of "American Psycho" and the new book "White" addressed his recent interview with the New Yorker, which set social media on fire. "I got punked, I have to admit it," Ellis said. "Being upset about politics, you can get me there to a certain place, but I just don't know how much they interest me as someone who's an ironist."
Amber Tamblyn stresses the importance of turning rage into action
The actor, director and author of "Era of Ignition: Coming of Age in a Time of Rage and Revolution" wants people to turn anger into action, she told the audience at the festival. "I was trying to find a term to encapsulate this sense of condensed change and really palpable rage that we're feeling as a culture in the country right now," she said.
Ruth Reichl, author of 'Save Me The Plums,' talks food, media and revolution
The award-winning journalist — honored with six James Beard Awards for her journalism, magazine feature writing and criticism — visited the Times studio at Los Angeles Times Festival of Books for a video chat.
Damon Young on celebrating black excellence
The cofounder of Very Smart Brothas and columnist for GQ stopped by the L.A. Times Studio at the Festival of Books for a video interview about his latest book, "What Doesn't Kill You Makes You Blacker."
Gigi Gorgeous' 'Transgender Journey' was more than a literary exercise
Gigi Gorgeous may be a YouTube star and social media personality — nearly 8 million followers across her social platforms — but during her Times video interview at the Los Angeles Times Festival of Books to talk about her book, "He Said, She Said: Lessons, Stories, and Mistakes From My Transgender Journey," she expanded on the difficulties that old-school media presents.
Former NFL star Marcellus Wiley on why his first book was a brutal lesson on honesty
Former NFL star and radio host Marcellus Wiley sat down with The Times to discuss his recently released book, "Never Shut Up: The Life, Opinions, and Unexpected Adventures of an NFL Outlier" at the Los Angeles Times Festival of Books.
Kwame Alexander on the intersection between his children's books and poetry
Children's author Kwame Alexander chatted with The Times about his new book, "The Undefeated," and dropped some poetry in our video interview.
Rigoberto González on how his latest work, 'The Book of Ruin,' gives voice to nature
Times book critic-at-large Rigoberto González's recent book of poetry, "The Book of Ruin," has a dark core. "It's an apocalyptic narrative," González tells The Times in a video interview. "I'm imagining the end of the world."
Adam Higginbotham on how the Chernobyl nuclear disaster was like the Titanic
Author Adam Higginbotham goes beyond the oft-told narrative of the nuclear disaster in his latest book, "Midnight in Chernobyl: The Untold Story of the World's Greatest Nuclear Disaster." In a Times video interview from the Festival of Books, Higginbotham explained how the book helps draw parallels to another historic man-made tragedy.
---
Get the latest news, events and more from the Los Angeles Times Book Club, and help us get L.A. reading and talking.
You may occasionally receive promotional content from the Los Angeles Times.