Newsletter: California Inc.: Hollywood hopes Potter-less Harry Potter can still work magic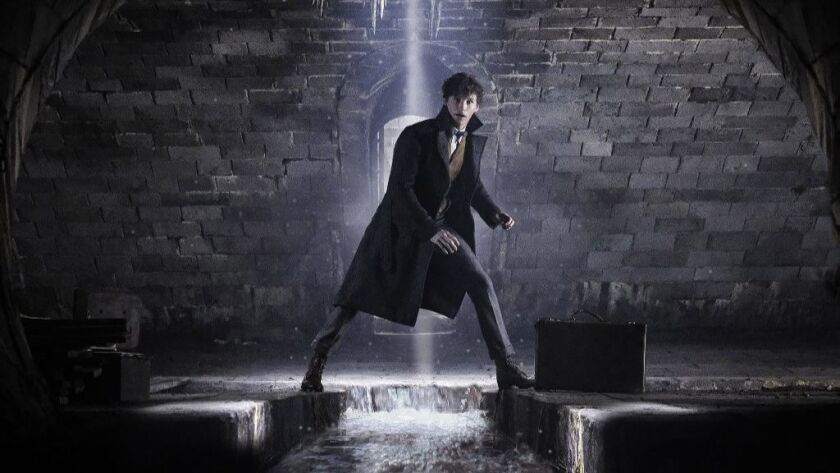 Welcome to California Inc., the weekly newsletter of the L.A. Times Business Section.
I'm Business columnist David Lazarus, and here's a rundown of upcoming stories this week and the highlights of last week.
We got a peek the other day at the much-anticipated Disney streaming service, dubbed Disney+, which will compete with Netflix, Amazon Prime Video and in-the-works offerings from AT&T's WarnerMedia and Apple. Disney CEO Bob Iger says the new service, launching in late 2019, will include a slate of original content, including a live-action "Star Wars" series.
LOOKING AHEAD
Veterans Day: Monday is Veterans Day. The stock market is open, but most federal offices are closed.
Fox meeting: Rupert Murdoch, chairman of 21st Century Fox, will preside over the annual (and possibly last) shareholder meeting Wednesday on the Fox lot in Los Angeles. Soon, 21st Century Fox will be no more. Murdoch is selling some of the most prominent Fox assets to Walt Disney Co. in a $71.3-billion deal, which is expected to close by early next year.
Consumer prices: The latest look at consumer prices will be released Wednesday. In September, the consumer price index rose 0.1%, less than expected, after gaining 0.2% in August. The inflation report probably won't change expectations that the Federal Reserve will raise interest rates at its December policy meeting.
Retail sales: Retail sales are closely watched as we hit our holiday-season shopping stride. October's numbers will come out Thursday. In September, sales at stores and restaurants rose a seasonally adjusted 0.1%. That was below economists' expectations for a 0.7% month-over-month gain.
Movie magic: "Fantastic Beasts: The Crimes of Grindelwald," the latest Harry Potter prequel, opens Friday and will no doubt trample everything in its path. But don't overlook "A Private War" starring Rosamund Pike and "The Front Runner" with Hugh Jackman. These are smaller films with more to say.
THE AGENDA
President Trump's trade war may be the poster child for unintended consequences. One industry that is surprisingly suffering is the beer business, which needs aluminum to make cans and is seeing costs rise due to tariffs. Then there is Smithfield, a U.S.-based pork producer owned by the Chinese. It will sell at least $240,000 worth of ham products to the federal government as part of a farm bailout meant to assist U.S. farmers hurt by the trade war.
STORY LINES
Here are some of the other stories that ran in the Times Business section in recent days that we're continuing to follow:
Banking on it: Site work is set to begin this month for the Grand Avenue project in downtown Los Angeles after Related Cos. announced it received $630 million in construction financing. The firm was contracted in 2004 to develop the $1-billion mixed-use complex by Frank Gehry — who also designed the nearby Walt Disney Concert Hall — but has delayed the start of construction.
Up in smoke: Los Angeles voters rejected a ballot measure that would have allowed for the creation of a city-owned bank to support public priorities such as affordable housing and possibly service the growing number of cannabis businesses. Supporters complained the measure was put on the ballot by the City Council before they could mount a proper education campaign.
Tesla news: The Palo Alto electric-car maker appointed one of its directors to replace Elon Musk as head of its board, raising questions as to whether the mercurial chief executive will be restrained after costly run-ins with securities regulators. Robyn Denholm, 55, will assume her new role immediately and leave her CFO position at an Australian telecommunications company.
Google protest: The tech giant is promising to be more open about its handling of sexual misconduct cases after thousands of workers walked out over the company's male-dominated culture. Chief Executive Sundar Pichai sent an email to employees conceding to several demands, including dropping its requirement that sexual misconduct cases be handled through arbitration.
Fair share: San Francisco residents administered a wake-up call to the tech industry, which has brought wealth to the city but also soaring housing prices. Voters approved Proposition C, which increases taxes for companies grossing more than $50 million annually. The proceeds go solely to providing permanent housing, rent support and other services to prevent homelessness.
WHAT WE'RE READING
And some recent stories from other publications that caught our eye:
Just say nyet: Last week's election day appeared to be largely free of online misinformation but, as the New York Times reports, Facebook and other social-media outlets shouldn't pat themselves on the back too much. "Want a disaster-free Election Day in the social media age? You can have one, but it turns out that it takes constant vigilance from law enforcement agencies, academic researchers and digital security experts for months on end."
Dust in the wind: The Wall Street Journal delves into "smart dust," or machines that never stop working. "Eventually, researchers believe these tiny, always-on devices could enable us to do things that aren't realistic today, such as sticking small security cameras wherever we like, instrumenting every square meter of a farm, or filling our cars and homes with sensors that increase both our safety and the usefulness of our most expensive assets."
Bad medicine: On the healthcare front, the New Yorker explains why doctors hate their computers. "The University of Wisconsin found that the average workday for its family physicians had grown to eleven and a half hours. The result has been epidemic levels of burnout among clinicians. Forty percent screen positive for depression, and 7 percent report suicidal thinking — almost double the rate of the general working population."
The Tiffany of tech: Wired says Apple is turning its back on the mass market and focusing instead on rich people. "In a world where everyone will soon have a smartphone as surely as electricity, and the middle class will likely have a tablet or some form of computer, Apple has elected to be more like Tiffany or Mercedes rather than Walmart or Hyundai."
Flying high: Legal weed is a nightmare for airports and travelers, says Bloomberg. "Regardless of the airport, your personal pot isn't allowed beyond the security checkpoint, a federal zone where marijuana of any amount — irrespective of a medical purpose — remains illegal. The U.S. government classifies marijuana a 'Schedule 1' drug, along with heroin, LSD and ecstasy. Most U.S. airlines, which traverse federal airspace, also prohibit marijuana aboard their flights."
SPARE CHANGE
A fascinating video from the Atlantic about how a typo in the Declaration of Independence has caused generations of Americans to misunderstand the document. "Danielle Allen, a political theorist and professor at Harvard University, explains why this seemingly innocuous oversight can have grave consequences. Interpreting this sentence correctly, Allen argues, is crucial to understanding how the powers of government are organized — and, consequentially, how to be an effective civic agent."
For the latest money news, go to www.latimes.com/business. Mad props to Laurence Darmiento for helping put this thing together.
Until next time, I'll see you in the Business section.
---
Your guide to our new economic reality.
Get our free business newsletter for insights and tips for getting by.
You may occasionally receive promotional content from the Los Angeles Times.