Dangerous Diablo winds fueling Kincade fire with gusts up to 76 mph
Forecasters had been warning for days that dangerous Diablo winds were coming. Now, those conditions have rapidly spread a monster fire in Sonoma County.
The Kincade fire was burning out of control, consuming 10,000 acres in just a few hours. Officials expected fire conditions in the Bay Area to improve Thursday afternoon, but smoke issues across the region will worsen Friday.
A second round of extreme fire weather will return to the region on Saturday, with gusts as high as 80 mph possible this weekend in the North Bay and East Bay hills at elevations above 1,000 feet. The wind conditions will be worse than experienced Thursday morning.
What are the conditions firefighters are facing Thursday?
The area around the Kincade fire saw severe fire weather with sustained winds of roughly 50 mph and gusts as high as 76 mph overnight and Thursday morning, said National Weather Service meteorologist Matt Mehle. Temperatures around midnight were about 70 degrees, and humidity levels were about 10% to 15%.
PHOTOS: Kincade fire in Sonoma County
By late Thursday morning, gusts in the North Bay at elevations above 1,000 feet were clocked in at 40 mph, and wind speeds were expected to continue to decrease through the afternoon, allowing red flag warnings — a term reflecting weather that may lead to especially dangerous wildfire growth — to expire before Thursday evening if current conditions continue, said meteorologist Steve Anderson of the National Weather Service's Monterey office.
But firefighters will still need to contend with unusually high temperatures in the 90s throughout the Bay Area on Thursday and low humidity levels. Officials added that while the Kincade fire's smoke isn't causing problems in the Bay Area, winds will shift Friday and could affect San Francisco International Airport by midday Friday.
"Even though the winds will be lower, fire danger will continue to remain high today," Anderson said.
Overnight, cameras and satellite data showed the fire spreading rapidly. Based on Mehle's observations, the overall footprint of the fire was moving from the northeast to the southeast.
The Bay Area is in a classic Diablo wind situation, a common weather phenomenon for this time of year that sends extreme gusts from the northeast to the southwest. Such winds have had a long history in California of rapidly spreading fire.
What about the weekend?
The National Weather Service in Sacramento says the next wind event starting Saturday could be the strongest so far this fall.
Wind speeds in Northern California this weekend, Anderson said, could be comparable to those in the 2017 Tubbs fire that burned Santa Rosa and the 2018 Camp fire that destroyed much of the town of Paradise -- the two most destructive fires in California's modern record. But temperatures will be cooler.
What is the larger picture in California?
Strong winds and extremely dry conditions will result in widespread critical fire weather conditions throughout California on Thursday.
Southern California population centers listed at critical risk include Santa Ana, Anaheim, Riverside, San Bernardino and Oxnard. Population centers at extreme risk include Ontario, Fontana, Santa Clarita, Rancho Cucamonga and Pomona.
What about the power situation?
More than half a million utility customers could lose power this week in California.
Southern California Edison said more than 308,000 customers in seven counties — Ventura, Los Angeles, San Bernardino, Riverside, Orange, Kern and Santa Barbara — could face blackouts starting Wednesday night and rolling into midday Thursday.
Pacific Gas & Electric Co. on Wednesday shut off power to customers in the Sierra Nevada foothills about 2 p.m. An hour later, counties in the north San Francisco Bay Area began to lose service. By 1 a.m. Thursday, portions of San Mateo and Kern counties were also expected to be in the dark. In total, 179,000 customers are expected to have their power cut.
What are Diablo winds, and how are they different from the normal weather pattern for the Bay Area?
The normal weather pattern near the coast is for moist sea breezes to come off the Pacific Ocean and into the land. But in the fall, high pressure that builds into the Great Basin in Nevada and Utah causes wind to shift in the opposite direction, according to Jan Null, adjunct professor of meteorology at San Jose State University and former meteorologist with the National Weather Service.
In the Bay Area, they're called Diablo winds; in much of Southern California, they're called Santa Ana winds. Similar winds that threaten Santa Barbara are called sundowner winds. In the Sacramento Valley area, Jarbo Gap winds are what locals call the gusts that howl through the Feather River Canyon as high-pressure air over Nevada and Utah seeks a path through the state's mightiest mountain range, the Sierra Nevada, to fill the lower-pressure voids on the California coast.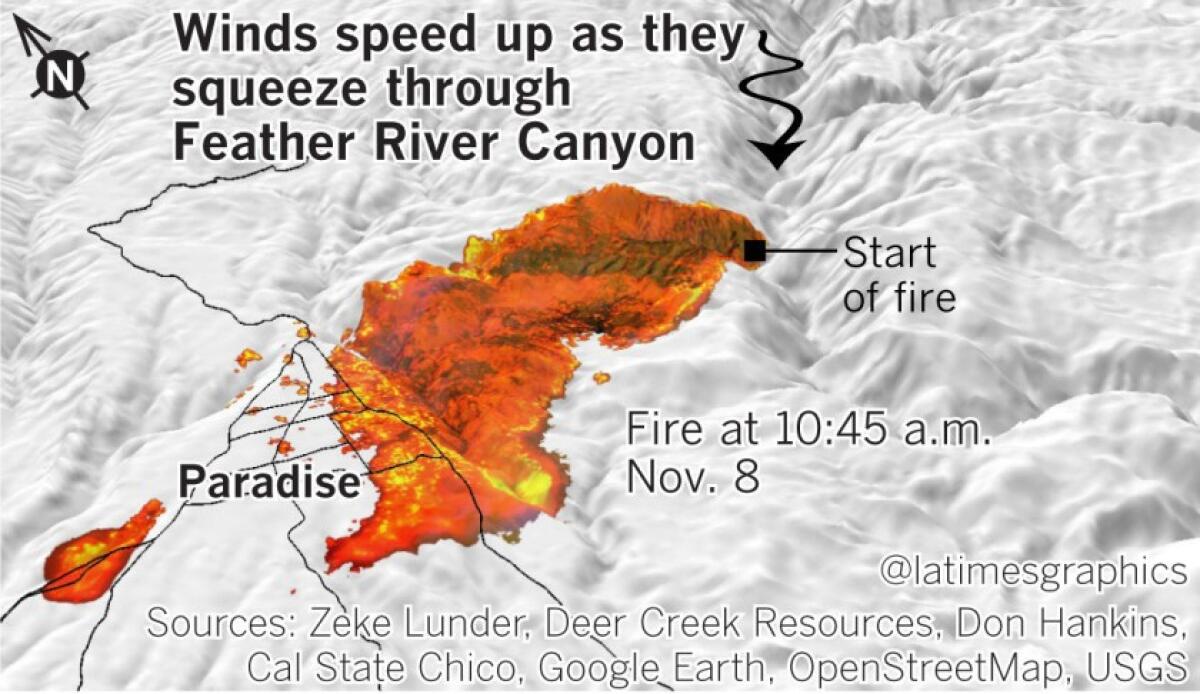 In Northern California, the winds arrive when air coming down from Nevada and Utah, falling from an elevation of about 4,000 feet, gets pushed down to sea level. That air is compressed, and warm winds are created.
What are examples of how Diablo and Santa Ana winds have fueled fast-moving wildfires?
A classic example of a destructive fire fueled by Diablo winds is the October 1991 firestorm that struck the Oakland and Berkeley hills, killing 25 people and destroying about 2,900 structures. Until 2017, that fire was the most destructive in California history.
Two more fires have been more destructive since then. The Tubbs fire of Sonoma and Napa counties in October 2017 roared 12 miles in four hours into Santa Rosa, killing 22 people and eventually destroying more than 5,000 structures.
The Camp fire of Butte County, which destroyed much of the town of Paradise and destroyed more than 18,000 structures last November, is now the state's most destructive fire on record. A Los Angeles Times analysis published last year said the fire grew at a rapid clip — about 4,600 acres an hour — a rate that was matched by the Tubbs fire and other California fires. The Camp fire led to more than 80 deaths.
California's fourth most destructive fire, the Cedar fire of San Diego in 2003, grew even faster than the Camp fire. That fire had kindled for hours until a Santa Ana wind rolled in at midnight. By 3 a.m., the wind-driven fire had jumped a river and a reservoir and run nearly 17 miles. In the three-hour run, the fire spread an average of more than 19,600 acres an hour. Fifteen people were killed and more than 2,800 structures destroyed.
The same high-pressure, low-pressure gradient last year set up a Santa Ana wind event that pushed the Woolsey fire into Malibu. Its pace in the first three hours was 21,290 acres an hour. It destroyed more than 1,600 structures and caused three deaths.
Sign up for Essential California for news, features and recommendations from the L.A. Times and beyond in your inbox six days a week.
You may occasionally receive promotional content from the Los Angeles Times.