46 fire, ignited by fiery end to a police chase, grows to 300 acres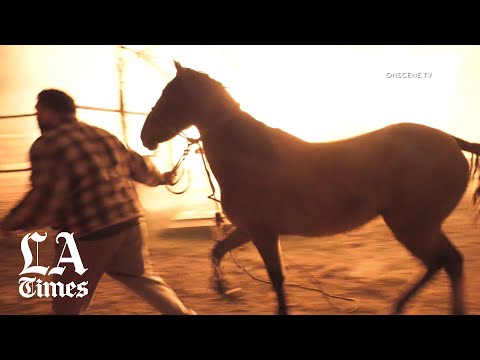 Forecasters warned that conditions will remain extreme through most of Thursday.
A late-night police pursuit in Jurupa Valley that ended in a crash had devastating consequences: The car sparked a fire in a field that quickly spread to 300 acres, damaging several buildings and forcing evacuations.
Riverside County officials declared a state of emergency, and Gov. Gavin Newsom announced federal aid for the county in the wake of the wind-driven blaze, named the 46 fire, as well as other fires burning throughout the county.
The 46 fire was reported at 12:39 a.m., minutes after the car crash, and was pushed by gusts reaching 25 mph, according to law enforcement and weather officials. An hour after the 46 fire started, the Hillside fire in San Bernardino exploded to 200 acres near Highway 18.
Video footage of the 46 fire showed flames feet away from goats and horses, as well as an animal shelter for dogs and cats. A group of ducks paddled in the Santa Ana River, with orange flames glowing in the darkness around the water.
Capt. Fernando Herrera of the California Department of Forestry and Fire Protection aid morning winds and darkness posed a challenge for firefighters, who initially were unable to access hot spots or drop water from aircraft. The fire quickly moved toward a bridge connecting Riverside to Jurupa Valley and was burning mostly in the Santa Ana riverbed among thick vegetation and oak trees.
Embers flew through the darkened sky, increasing the risk of another fire sparking in surrounding homes, many of which are ranches with large animals and acres of land, Herrera said. One resident was taken to a hospital with respiratory problems from the smoke, but no other injuries were reported.
The fire leaped from the riverbed to a nearby shipping container manufacturer about 4:30 a.m., chewing through its inventory of cardboard boxes and crates and setting part of a warehouse on fire, said Rick Schumaker, owner of Jack's Box & Crate.
Schumaker thinks a wind-carried ember sparked the fire at his business. A nearby pallet warehouse caught fire as well.
The fire at Schumaker's business was knocked down about two hours after it broke out, he said. Fire crews used tractors later that morning to clear away the charred, sodden remains of his inventory.
"It's gone," he said. "Thirty years we've been here, we've never had a fire."
As soon as the sun rose and the winds slowed, firefighters began making progress. Water-dropping helicopters, including a huge double-bladed Chinook copter, unleashed massive loads of water onto the fire as it burned along the Sana Ana riverbed.
"Things are looking a lot better than they were early this morning," Herrera said. Cal Fire was expecting an increased containment figure — which stood at 5% at noon — later in the day, he said.
The fast-moving blaze prompted fire officials to expand initial mandatory evacuation orders around Jurupa Road. An evacuation center was set up at Patriot High School at 4355 Camino Real in Jurupa Valley.
The Jurupa Unified School District announced several schools in the evacuation area would close for the day, including Granite Hill Elementary School, Ina Arbuckle Elementary School, Indian Hills Elementary School, Mission Middle School, Pacific Avenue Academy, Peralta Elementary School, Rubidoux High School, the Learning Center, the School Readiness Center and West Riverside Elementary School. The district said the schools are expected to be back in session Friday.
Metrolink commuters trying to get to Los Angeles also found themselves stranded because of the fire. The 403 train to L.A. was canceled, and passengers were asked to board train 703 on the San Bernardino line instead.
All evacuation orders were lifted after 2 p.m. after fire officials got a better handle on the blaze.
Joyce Russell's insomnia kept her up at 2:30 a.m. when she smelled smoke drifting into her Riverside home. She reckoned it was her neighbor, a smoker — but her windows were shut and the smell was different.
"That's not cigarette smoke," she thought. She flicked on the radio and heard that a fire was burning. A neighbor from across the street banged on Russell's door.
"You've got a fire in your backyard," he told her.
Russell peered out her back door, past her yard, which overlooks the golf course near Rancho Jurupa Park.
Although Russell has trouble seeing because of cataracts, the sight was unmistakable, she said: "A ring of fire. Deep in the park, almost by the riverbed. A red-and-orange glow, bright red, bright orange."
She set about gathering up her pets: Sabrina, a Chihuahua, and Tibs, a cat. She was having trouble corralling Tibs when a police officer knocked on her door and told her she had to go. Leave the cat, he told her. She'll be OK.
Russell got in her car with her dog and crept out of her driveway, worried that because of her poor eyesight, she might hit a firefighter or police officer in the dark.
She made it as far as the end of her street, driving very slowly, when a young man approached and asked if she needed help. She asked him to take her to an evacuation center.
He got behind the wheel and drove Russell to Patriot High School, where a gymnasium had been converted into a shelter for residents displaced by the fires.
"Bless him," she said. "Everyone's upset with their own situation, and there he was helping someone he didn't know."
When Russell listened to the radio earlier this week about fires all over the state, in Los Angeles and Northern California, she would say a prayer for the people living through them. Now she finds herself in the same position.
"This is how you learn other people's pain," she said.
46 fire: Evacuations, emergency shelters and school closures in Jurupa Valley
Before dawn, winds blew the fire right up to the fence of an animal shelter filled with more than 100 dogs and cats. Residents flocked to the Mary S. Roberts Adoption Center to move the animals to the Riverside Municipal Airport after hearing of the situation on Facebook, said Lisa Chavez, the center's admissions counselor.
The flames later retreated, and the volunteers who had rushed to the facility were told to shelter in place instead of evacuating the pets inside.
Smoke belched from Rancho Jurupa Park as the sun rose over Riverside, unspooling in dark gray coils above the empty homes and eucalyptus groves that surround the park.
At the animal shelter, rows of wire carriers stood ready in case the blaze made another advance. Volunteers cradled kittens and puppies, whispering to keep them calm. Video footage of the hours after the chaos showed kittens and dogs sleeping soundly and playing in their cages.
"It was havoc in the beginning," Chavez said, "but we all came together as a family to take care of what we needed to do."
In Rancho Jurupa Park, a heap of blackened stone and smoldering beams was all that remained of the plans of the Sunshine Haven Wildlife Rehabilitation group, which hoped to open a nature education center in the park. The structure once housed a nature center that closed several years ago, said Maria Gouyd, a volunteer with the group, which has worked for years to reopen a home in the park for animals native to the area.
"To have this all of a sudden go up in flames is disastrous," she said.
Two other structures, however — mobile units donated by a church in Perris — were untouched by the flames, and for that, Gouyd was thankful. They will house coyotes, squirrels, possums, raccoons, birds and other creatures that call the area home, she said.
The fire originated in a field in the 4800 block of Crestmore Road after a police pursuit ended in a car crash there, according to the Riverside County Sheriff's Department. Two people were arrested in connection with the crash, Riverside police said.
Bryan Anguiano, 23, of Jurupa Valley was booked into Robert Presley Detention Center on suspicion of felony evading, car theft and possession of a stolen vehicle, along with an outstanding felony warrant for burglary and false impersonation, the Riverside Police Department said in a news release. Authorities also plan to charge him with arson violations stemming from the fire, police said.
Kevin Hidalgo, 28, of Riverside was arrested on an outstanding felony warrant for allegedly violating conditions of a post-release community supervision program, police said.
The pursuit began shortly after midnight after Riverside police identified the car as stolen, authorities said. Officers tried to stop the vehicle, but the driver and a passenger sped off. As the car neared the field on Crestmore, it jumped several curbs and blew out its tires, said Officer Ryan Railsback, spokesman for the Riverside Police Department.
The car broke down in a field, and investigators believe that heat from its wheels ignited a fire underneath it. Flames engulfed the car, then the field, police said.
Sign up for Essential California for news, features and recommendations from the L.A. Times and beyond in your inbox six days a week.
You may occasionally receive promotional content from the Los Angeles Times.