Gov. Gavin Newsom said he 'owns' coronavirus testing lapses, announces task force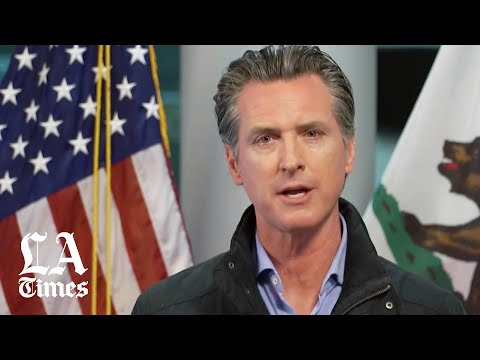 SACRAMENTO —
Gov. Gavin Newsom said California will significantly increase COVID-19 testing capabilities, adding that he "owns" testing lapses in the state that have made it difficult to track the deadly virus. In a Saturday news conference, Newsom announced a task force that he said will work toward a fivefold increase in daily testing in the state by identifying supply shortages and adding testing locations.
The announcement comes as California continues to see dramatic increases in people hospitalized with the virus, with 2,300 patients in the state. Another 3,267 people hospitalized are suspected of having COVID-19, but are awaiting testing results.
Overnight, the number of coronavirus patients in California's intensive care unit beds rose nearly 11% to 1,008 people.
In all, Newsom said 126,700 people have been tested in California, a state of nearly 40 million people. Of those who have been tested, 13,000 are awaiting results.
"The testing space has been a challenging one for us and I own that," Newsom said. "And I have a responsibility as your governor to do better and do more testing in the state of California."
Public health experts have said widespread testing is crucial to the state's efforts to accurately assess how many people are infected and where the virus is spreading. However, testing has lagged across the country. For those who have been able to be tested, backlogs in laboratories have led to delays in results, which Newsom said has been equally frustrating.
The number of coronavirus deaths in California jumps to 285 as officials warn of tough weeks ahead amid the virus' rapid spread.
Newsom announced Saturday that he formed a task force of private and public leaders and said he is confident the group will upend testing challenges in the state.
"We are now in a position where I can confidently say it's a new day," Newsom said.
Newsom said the state is partnering with universities, hospitals, labs and testing companies to increase testing locations across the state, reduce backlogs and ensure there is more accurate and timely data on the number of COVID-19 cases.
The newly created task force will be led by Paul Markovich, president and CEO of Blue Shield of California, and Dr. Charity Dean, assistant director of the state Public Health Department.
State officials have been working feverishly to add more hospital and intensive care unit beds to handle the expected surge in coronavirus patients. The state's modeling suggests California will need 50,000 new hospital beds by mid-May. To meet that demand, the state is asking for recently retired medical providers, those with licenses from other states and medical school students to join the newly created California Health Corps.
Newsom said Saturday that a "staggering number of individuals" — some 79,000 people — have signed up through the state's health corps website.
The latest maps and charts on the spread of COVID-19 in California.
The state is also launching a website, covid19supplies.ca.gov, to allow individuals and companies to donate, sell and offer to manufacture essential medical supplies, such as N95 masks and testing materials. Supply shortages have been blamed for inadequate testing in the state, while a lack of masks, gloves and gowns has left critical healthcare workers unprotected against the virus.
In addition, Newsom said he hoped that the state-managed website would help combat rampant fraud. On Friday, Kaiser Permanente said it is cooperating with a federal fraud investigation involving a much-publicized deal for 39 million N95 masks that never materialized. Newsom said the state is working with the FBI on a number of fraud allegations involving medical supplies.
"People are taking advantage of all of us at this moment, and saying they're going to deliver something quite literally that they're not capable of delivering or never intended to deliver," Newsom said.
The state's new task force is gathering data to better understand the supply chain for testing materials, said Markovich of Blue Shield. What they do know, he said, is that supplies are scarce.
"There are multiple states and countries that are demanding the same materials at the same time," Markovich said.
Understanding where the shortages are and being able to more quickly move testing supplies to the areas that need them will be a top priority for the task force, Markovich said. The task force will also monitor new testing capabilities to ensure the latest breakthroughs are being used, he said.
Coronavirus cases are slowly creeping into vast, rural Northern California. Only a handful of counties had no cases.
On Saturday, the state announced a partnership with Stanford Medicine to launch the first serology test invented in California. Serology tests use blood samples, instead of secretions taken from throats and noses, to identify whether a person has COVID-19 antibodies. This month, Germany could begin widespread serology testing, while the United Kingdom has ordered millions of antibody tests that can be taken at home.
The Stanford serology test is expected to be rolled out next week and will help the state with increased testing capabilities, said Dean of the state's public health department. However, the test was still awaiting federal approval as of Saturday. Newsom said he expects the test to be approved "within hours."
Newsom said that despite the state's difficulty with adequate testing, California has led in other areas, including in its stay-at-home order, which the governor said will continue to remain in place. Newsom has said the order should be enforced through persuasion, not punishment. But he acknowledged that there is enforcement happening throughout the state by local governments.
Los Angeles prosecutors on Friday filed criminal charges against four businesses, accusing the nonessential shops of refusing to close. A paddleboarder was arrested Thursday after ignoring orders from lifeguards to get out of the water on a closed beach.
"The state is always prepared to do more," Newsom said. "And I just want to encourage people, don't force our hand in that respect."
Newsom said he understands that people have been asked to drastically alter their lifestyles and stay indoors.
"We cannot allow cabin fever to come in, we cannot allow people to congregate again in pews, on our beaches and in our parks," Newsom said. "Let's hold the line."
Newsom said he received a text message from a good friend Saturday morning asking for advice on how to keep her teen son from going to a party with friends. He said he offered to handle it for her.
"Give me his cellphone [number], I'll call him," Newsom said.
Sign up for Essential California for news, features and recommendations from the L.A. Times and beyond in your inbox six days a week.
You may occasionally receive promotional content from the Los Angeles Times.