Eric Holder Jr. found guilty of murder in death of rapper Nipsey Hussle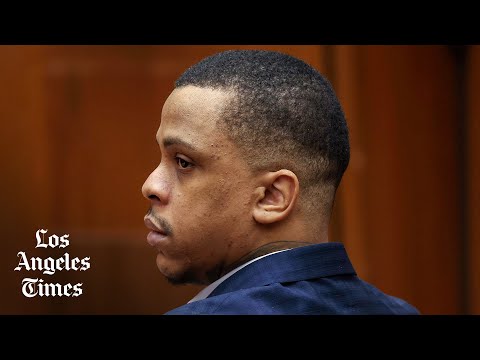 Eric Holder Jr. has been convicted of murder in the March 2019 killing of L.A. rapper Nipsey Hussle.
Eric Holder Jr., the gang member who killed rapper Nipsey Hussle, was convicted of first-degree murder Wednesday and will likely spend the rest of his life in prison for gunning down the beloved Crenshaw musician and community figure.
Hussle, an ascendant rap artist and himself an avowed Crips gang member, was signing autographs for fans on March 31, 2019, outside a clothing store he owned in the Crenshaw neighborhood where he grew up when Holder approached. Holder departed after a brief conversation but returned several minutes later and shot Hussle 11 times. Two other men were also shot but survived.
Police arrested Holder in nearby Bellflower two days later, after the woman who served as his unwitting getaway driver turned herself in and identified him as the gunman.
Nipsey Hussle was gunned down outside the Marathon Clothing store, in the same neighborhood where he was known as much for his civic work as he was for his music.
Holder's guilt was not in question throughout his two-week trial, with multiple witnesses confirming his identity and the shooting captured on security cameras. Rather than arguing for an acquittal, Holder's attorney, Aaron Jansen, tried to persuade jurors they should convict his client of a lesser manslaughter charge instead of murder.
Jansen's argument hinged on the words that Holder and Hussle, whose real name was Ermias Asghedom, allegedly exchanged before the shooting. The two men had been members of the Rollin 60s, a subset of the Crips street gang that has long dominated Crenshaw, since they were teenagers. Witnesses at trial testified that Hussle had warned Holder there was "paperwork" on him — an implication there were court or police records showing Holder had cooperated with police on an investigation.
Jansen said that being accused of snitching by someone of Hussle's stature, in front of other gang members in the heart of Rollin 60s territory, left his client so "triggered" that he wasn't thinking clearly when he stormed back into the parking lot with two loaded handguns.
"This was not just a pleasant conversation between homies who are chopping it up … this was a serious accusation," Jansen said during closing arguments. "Mr. Holder Jr. took it serious, as it was. He knows the consequences of being called a snitch in this manner."
Authorities have not said whether there was truth to the rumor.
Holder showed no reaction to the verdict. In an email afterward, Jansen said he was "deeply disappointed" about the murder conviction and plans to appeal. And he said at Holder's sentencing hearing in September he will introduce evidence pointing to alleged mental health issues Holder is experiencing. He has said Holder was trying to check himself into a mental health facility in Bellflower on the day of his arrest.
The courtroom was relatively empty for the reading of the verdict, and none of Hussle's relatives were present. But Herman Douglas, a close friend of Hussle and key witness at the trial who also goes by "Cowboy," broke into tears in a hallway outside the courtroom after learning of the verdict.
With his head hung low as reporters hovered nearby, Douglas wept while being comforted by community activist Najee Ali.
"We got justice for Nipsey, thanks to you," Ali said to Douglas, a fellow member who testified despite concerns that doing so could be considered "snitching."
Los Angeles County Deputy Dist. Atty. John McKinney dismissed Jansen's account of Holder's state of mind as "ridiculous" — a position that was bolstered by Douglas, who took the stand to testify that Hussle's comment alone would have hardly been enough to put Holder in danger.
Douglas said if he detected any tension in the discussion between Hussle and Holder he would have pulled the rapper to safety, but he believed Hussle's comments were a friendly warning and that Holder overreacted.
Shortly after beginning their second day of deliberation, jurors returned with their verdict, rejecting the idea that the killing had been a spur-of-the-moment act of passion. Along with the murder conviction, the jury found Holder guilty of attempted voluntary manslaughter and assault for the shooting of the two other men, deciding against the attempted murder charges filed against him. Holder faces a prison sentence that could amount to life behind bars when he is sentenced on September 15.
"Obviously nothing that happened here today can heal the wound … but again we hope there is some resounding peace in the fact that [Hussle's] killer will be imprisoned, likely for the rest of his life," McKinney said after the verdict.
In the trial's last days, the courtroom in downtown Los Angeles was full as attorneys made their closing arguments, with members of the crowd nodding or smirking in response to McKinney's argument for a murder conviction. The heightened interest in the case came after Holder was attacked by other inmates while in a holding cell. Holder, who was punched and cut with a razor, had to be treated at a hospital. Law enforcement officials have not offered a motive in the attack.
Eric Holder is about to stand trial in the killing of beloved rapper Nipsey Hussle. But the Crenshaw community that loves him focuses on his legacy.
In the years leading up to his death, Hussle was rising both as a rapper and entrepreneur who remained rooted in the Crenshaw neighborhood where he was raised.
After years handing out his own CDs on the street and selling clothing, he'd broken through as a rapper with his 2013 mixtape "Crenshaw." Hip-hop mogul Jay Z purchased 100 copies of the 21-track record, which Hussle was selling for $100 apiece. Hussle's lone full-fledged album, "Victory Lap," was nominated for a Grammy in the best rap album category in 2018.
He opened his Marathon Clothing store in 2017 and helped found a co-working space called Vector 90 in the neighborhood one year later. His death led to an outpouring of sadness and anger among fans, who praised the musician for reinvesting in the neighborhood that had given rise to him.
In the lead-up to the trial, some Crenshaw-area leaders and friends of Hussle described any conviction as a "hollow form of closure," saying putting Holder in jail wouldn't do anything to fix the long-term impact the rapper's death had on the neighborhood.
Douglas echoed those sentiments Wednesday. By the time of his death, he said, Hussle had emerged as an employer, a champion of his neighborhood, and an aspirational figure. The jury's decision did nothing to help fill the void left by the killing, Douglas said.
"In the Crenshaw district, it's been rough over there for us. When Nipsey was living, a lot of us was working. When Nipsey was gone, a lot of us had nowhere to go," said Douglas, who also worked at Marathon Clothing. "He was building that for the community, and without that establishment there, there's a lot of people that don't have jobs... we're definitely suffering. A lot of these kids, they're backsliding. They looked up to Nip, and they were trying to do positive stuff, and now Nip's not here."
Sign up for Essential California for news, features and recommendations from the L.A. Times and beyond in your inbox six days a week.
You may occasionally receive promotional content from the Los Angeles Times.