(Gary Coronado / Los Angeles Times)
MONTECITO —
In the town of Montecito, where the median home costs $5 million, Bentley drivers leave their car windows open as they hop out to grab something from the market and residents refer to Gwyneth Paltrow as simply "Gwyneth," it's hard to imagine anything ever goes wrong here. And most of the time, nothing does.
But massive storms, fires and the positioning of the town in the foothills of the Santa Ynez Mountains have resulted in a precarious existence for the mostly wealthy residents, who on Monday were ordered once again to evacuate as record-breaking rains battered the coastal enclave.
That order came on the five-year anniversary of the violent debris flow on Jan. 9, 2018, that killed 23. Traumatized by that experience half a decade ago, most of the town's 9,000 residents heeded government orders to get out. Brown waves lapped at the empty sands of the Pacific Ocean, and muddy water pooled on the streets and sidewalks of the trendy shopping district on Coastal Village Road.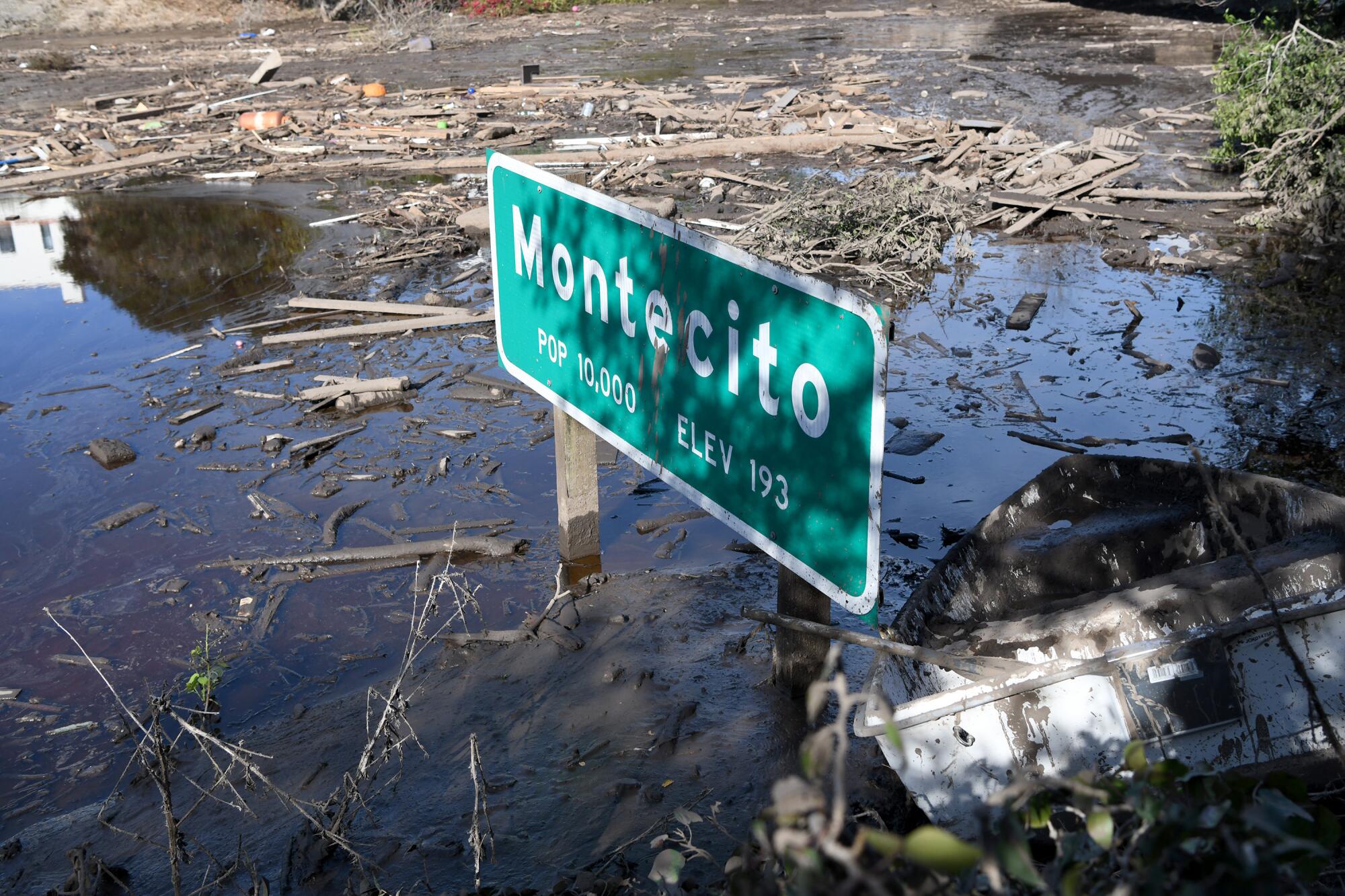 No one was killed or injured Monday in Montecito, despite more than 500,000 cubic yards of material being deposited in the town's debris basin during the 36 hours the storm dumped more than 12 inches of rain, said Montecito Fire Protection District Chief Kevin Taylor.
Scarred by disaster, Montecito residents remain on edge as evacuation orders are lifted a day after a massive storm.
Taylor's agency rescued 50 people, compared with 900 during the 2018 storm — a difference that he said highlighted how much more effective the evacuation order and storm preparations were this year.
"That's the price of living in paradise. We have rain and mudslides and devastating fires," said Richard Mineards, a gossip columnist for the weekly Montecito Journal who has lived in the town he likened to the Hamptons of California since 2007. "But what could be nicer than a sunny day with the Pacific twinkling and an ocean breeze blowing in? What could be nicer than living in Montecito?"
The beachside town in Santa Barbara County has become synonymous with Hollywood types looking for a home away from the shutterbugs of Tinseltown. Celebrities such as Oprah and musician Adam Levine own property in Montecito, and royal defector Prince Harry, the Duke of Sussex, and his wife, Meghan, the Duchess of Sussex, shot much of their Netflix documentary at their estate in the town.
"Celebrities feel safe here because people are so used to them that we just leave them alone," said Pam Peterson, a Montecito resident whose grandfather invented the Egg McMuffin. "I just saw Rob Lowe this morning at the grocery store. I see Ellen [DeGeneres] at Tre Lune all the time."
But not even the celebrities are spared from the biblical rains.
"Montecito is under mandatory evacuation. We are on higher ground so they asked us to shelter in place. Please stay safe everyone," DeGeneres wrote in a caption to an Instagram post Monday. Her video showed a raging creek near her Montecito home.
Other luminaries were more coy about their evacuation.
A publicist for the Duchess of Sussex declined to say whether she and Prince Harry left Montecito during the storm.
"We would never share their whereabouts for safety reasons," the publicist said.
The Duke and Duchess' Montecito estate falls within the boundaries of an evacuation order issued by Santa Barbara County. Other celebrity homes are also at risk.
Residents and Santa Barbara County public works officials have made changes to the hillside community since 2018 to try to ensure that future storms would be less destructive. The county completed construction in the fall of a $21-million debris basin, which helps capture sediment, boulders and trees caught in cresting creeks during storms.
"I moved about 10 minutes away because my daughter, she was very certain due to her trauma that she did not want to live in Montecito in the near future."
— Kim Cantin, whose husband and son were killed by a debris flow during the 2018 storm
The Project for Resilient Communities, a Montecito nonprofit organization, raised $5 million after the 2018 debris flow and used the funds to install nets high in the mountains that capture and slow debris as it slides toward town. Photos of one of the nets showed it completely full after Monday's storm.
Regrowth of trees and shrubs since the Thomas fire also made any runoff from the 2023 storm less ferocious, experts said.
The changes helped keep safe those Montecito residents who were ordered to evacuate but did not. Brian Fitzgerald, a Los Angeles transplant, didn't leave — nor did he flee during the deadly debris flow in 2018.
"I'm not one of those to evacuate," he said, as he rode a Pedal electric bike around town Tuesday morning with a friend. "But at like 3:30 in the morning, I could hear the boulders smashing against each other getting dragged down the road."
Residents on California's Monterey Peninsula and in the Salinas area were told to prepare to be cut off for two to three days due to flooding.
Fitzgerald got up and tried to find a hotel but all were booked, so he drove to a yacht club where he's a member and slept in his car in the lot. Hours later, the sun had begun to peek through the remaining storm clouds, drying off flooded roads that were slowly reopening to traffic.
Up the mountain, toward Montecito Hot Springs, 95-year-old Richard Schultz also stayed put. In his massive Spanish colonial home that looks out over the expanse of Montecito, Schultz said debris that flows down the mountain tends to skirt his house on both sides, which left him safe in 2018 and again on Monday.
"I'm stubborn. I know the drainage pattern," the retired plastic surgeon said while sitting in his home office.
Schultz did evacuate in 2017 during the Thomas fire, when flames licked at his property and burned his hedges and driveway lights. But when the Jan. 9, 2018, rains came, bringing with it the deadly debris flow, he stayed put, living in his house without internet or electricity for 10 days, with sheriff's deputies checking up on him every few days and bringing water.
"The most devastating part of that experience was the lack of stimulation," he said.
Not everyone is as brash about staying in Montecito as Schultz and Fitzgerald.
Kim Cantin knows intimately the devastating effects the rain can have on property and life. After they decided to remain home in an area that wasn't under a mandatory evacuation order in 2018, her husband and son were killed in the debris flow. She was dragged about 600 feet, coming to rest on a pile of detritus wrapped in electrical wires in the middle of an intersection. Her daughter was buried alive for six hours but survived. Her son's remains were not found for more than three years.
"I moved about 10 minutes away because my daughter, she was very certain due to her trauma that she did not want to live in Montecito in the near future," said Cantin, who now lives in Santa Barbara.
With a massive storm coming back five years to the day that her family was torn apart, Cantin couldn't help but recognize the "cruel joke" that the environment was playing on Montecito and its residents.
"Was I nervous? Sure. It brought back how ferocious Mother Nature can be when things collide. It was very real in the mudslide. I was in it. It washed away my home and killed half my family," she said.
Five years after debris flows killed 23 people, the entire town of Montecito was evacuated after rain pounded California. A recent study found the area has a long history of similar events.
Still, Cantin travels some of the same routes as before, to the grocery store and dry cleaners, and Montecito will always be her home.
"I think this area has to be careful from burn scars and heavy rain, and the combination of the two, and just take precautions. But it doesn't make it any less paradise. I think it's just an evolution," Cantin said.
And with her daughter going to college, Cantin has not ruled out a return to the hillside town.
"One day, I'll maybe be back in Montecito," she said. "Right now, it's working for me here. I'm still just 10 minutes away."
Sign up for Essential California for news, features and recommendations from the L.A. Times and beyond in your inbox six days a week.
You may occasionally receive promotional content from the Los Angeles Times.