Coronavirus cancels E3 convention, leaving a hole in L.A.'s gaming community
Los Angeles' Electronic Entertainment Expo, the gaming industry's largest event in North America, is the latest gathering affected by the growing threat of coronavirus.
E3, as it's known, typically brings more than 65,000 fans and industry professionals to the Los Angeles Convention Center and surrounding events every summer. This year's E3, originally scheduled for June 9-11, was particularly anticipated, because new consoles from Sony and Microsoft are due to be released by the end of the year.
"Following increased and overwhelming concerns about the COVID-19 virus, we felt this was the best way to proceed during such an unprecedented global situation," read a statement posted Wednesday on the official website for the Electronic Software Assn. (ESA), the trade body that hosts the conference.
"We are very disappointed that we are unable to hold this event for our fans and supporters. But we know it's the right decision based on the information we have today."
The cancellation arrived the same day the World Health Organization referred to the coronavirus outbreak as a pandemic for the first time, reflecting the virus' rapid spread across the globe. "This is the first pandemic caused by a coronavirus," WHO Chief Tedros Adhanom Ghebreyesus said. "We have rung the alarm bell loud and clear."
Major events, including music festivals such as Coachella and South by Southwest, have been canceled or postponed, and a growing number of colleges and universities, most recently Cal State Long Beach and Pepperdine University, have suspended in-person classes in favor of online instruction.
Thus, the cancellation of E3 started to seem like an inevitability this week. Late Tuesday, the offbeat independent developer Devolver Digital, which stages an unsanctioned E3 event in a parking lot across the street from the Los Angeles Convention Center, essentially broke the news when it tweeted, "Cancel your E3 flights and hotels, y'all."
Coachella, SXSW, "Hamilton," the next "Fast and Furious" movie and even Disneyland have been affected by the coronavirus. But wait — there's more.
While the merits of E3 have become a subject of media debate in recent years — especially with some top game companies, including Sony Interactive Entertainment, opting to no longer participate in the event — the loss of the convention this year is a relatively major blow to Los Angeles. The trade group has stated that it generates upward of $88 million in revenue for the city, and its opening last year was marked with a ribbon-cutting ceremony with Mayor Eric Garcetti.
The ESA said it would be offering full refunds to attendees and exhibitors and was looking to stage some sort of virtual event this summer. "We are also exploring options with our members to coordinate an online experience to showcase industry announcements and news in June 2020," the group's statement read.
E3 is currently contracted to stay at the Los Angeles Convention Center through 2023.
"We have proudly hosted E3 in Los Angeles for over 25 years and will work closely with our partners at ESA to identify the potential of future dates," said Darren K. Green, a senior sales executive with the Los Angeles Tourism & Convention Board. "The meetings, conventions and tourism industries around the world have been deeply impacted by the COVID-19 virus; however, experience shows that when historical events have disrupted global travel, the meetings and events industry has been able to recover rapidly. We all look forward to that day."
E3 over the years has evolved from a pure industry show to one that outwardly focuses on large-scale marketing events. A number of publishers, including Ubisoft, Microsoft and Electronic Arts, typically livestream events and game announcements during E3 and in the days leading up to it.
Sign up for our free Coronavirus Today newsletter
We'll bring you the latest news, our best stories and what they mean for you — plus answer your burning COVID-19 questions.
Companies that had already revealed plans to attend E3 this year included Microsoft, Nintendo, Ubisoft, Bethesda Softworks, Sega, Capcom, Square Enix, Take-Two Interactive Software and Warner Bros. Games.
E3, however, is also vital in bringing attention to small, too-often-overlooked developers, such as those represented by IndieCade, which hosts a yearly event dedicated to independent gaming in Santa Monica and has become a large presence at E3. This year, the group was hoping to showcase a number of games that deal with themes of climate change.
IndieCade said the roster of its 2020 E3 games had already been chosen and that it was exploring options to highlight them. IndieCade head Stephanie Barish added that the lack of E3 would have a "meaningful impact on the mainstream gaming industry," as the trade show is the rare place to have the largest blockbuster games share space with experimental oddities and place both directly in front of an industry audience.
"Having the IndieCade Showcase in the heart of such a major industry event for the past 14 years has enabled us to bring innovation and diversity on every single level to the center of the game industry, expanding what can be seen as a game and who can be seen making games and showing the trends," Barish said.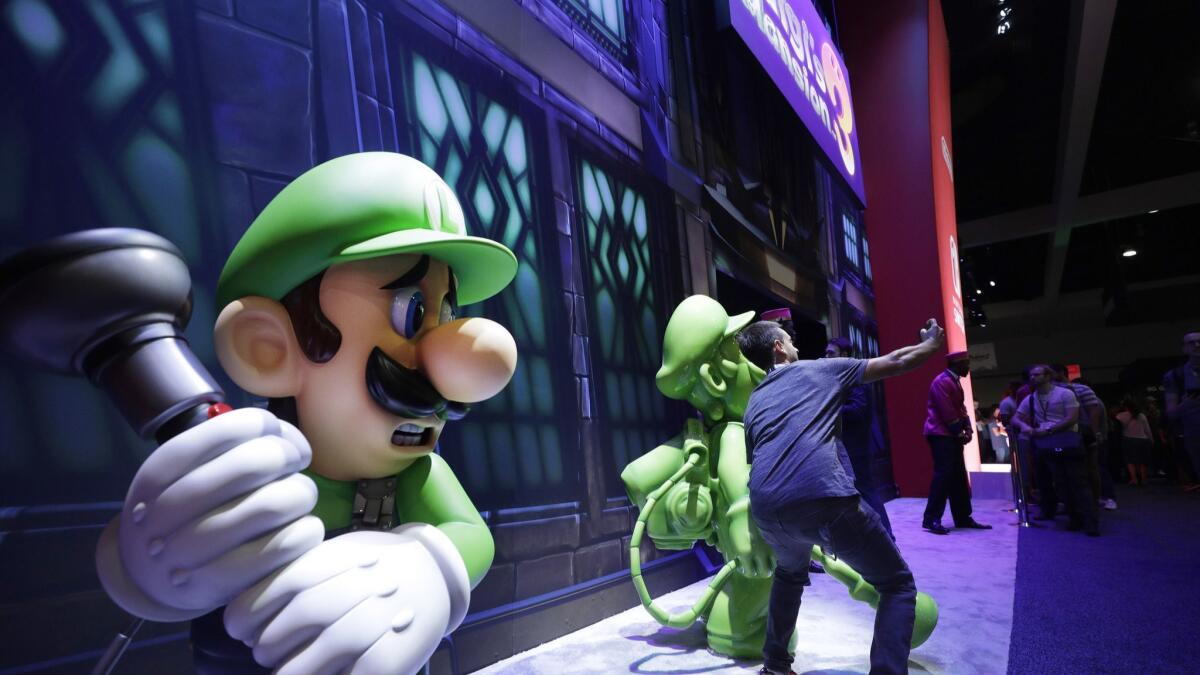 Barish's thoughts indicate how E3 is still seen as an important behind-the-scenes event. Throughout the week, downtown Los Angeles hotels become impromptu meeting and conference rooms as publishers large and small descend on the city.
The industry and the public have become so accustomed to previewing game content in June that already some have indicated that they will still host online events at or around that time.
"The health and well-being of our teams, players and partners is our top priority, so while we're disappointed, we fully support the ESA's decision to cancel E3 2020," said Ubisoft in a statement. "E3 is and will continue to be a moment where we come together as a community and share our love of games. We're exploring other options for a digital experience that will allow us to share all the exciting news we have planned."
Get the latest coronavirus updates from our staff in California and around the world.
Likewise, Microsoft's Xbox head Phil Spencer tweeted that the tech giant intended to still broadcast its upcoming hardware and games this summer. "E3 has always been an important moment for Team Xbox," Spencer posted, adding that "details on timing and more" would be released in the weeks ahead.
Electronic Arts has in recent years hosted its own event in Hollywood the weekend preceding E3. A decision on how its EA Play gathering would move forward had not yet been made. "Clearly the situation is evolving by the day, and we've been reviewing how it will change our plans for EA Play 2020," said an EA spokesperson. "We will share more soon."
E3 isn't the only large-scale game event that has been impacted. Earlier, fears over the coronavirus outbreak canceled the annual Game Developers Conference, a professional gathering of close to 30,000 interactive industry professionals.
GDC is planning a summer conference and streaming of a number of its planned talks during what would have been the original GDC week (March 16-20). On March 18 at 5 p.m. PST, the conference's award programs will air live on its official Twitch channel.
Get our L.A. Goes Out newsletter, with the week's best events, to help you explore and experience our city.
You may occasionally receive promotional content from the Los Angeles Times.