Trump suspends travel from Europe to battle coronavirus; NBA suspends season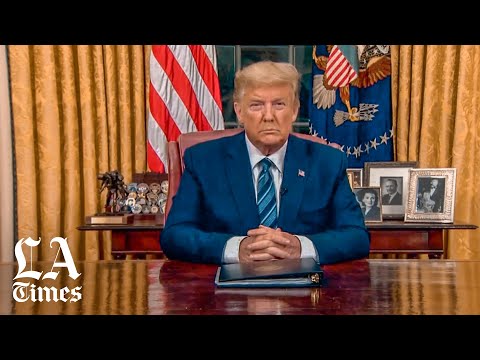 The world's coronavirus crisis entered a new phase Wednesday when a cascade of restrictions, cancellations and revelations worked to further upend everyday life, with more economic ramifications expected Thursday.
The NBA said Wednesday it is suspending its season until further notice after a player tested positive for the novel coronavirus. The announcement came less than an hour after President Trump imposed stringent new travel restrictions, barring most travelers from Europe from entering the country for a 30-day period beginning Friday.
That was followed by Gov. Gavin Newsom's directive that large gatherings should be canceled across California because of the risk of spreading infections. Similar orders had come from governors in Washington state and New York, states hard hit by relatively large numbers of COVID-19 cases.
Trump's new travel restrictions exclude the United Kingdom and a few other European nations and make other exceptions for healthy Americans.
"The European Union failed to take the same precautions" as the United States in barring travel from China, he said, claiming that U.S. clusters of the disease caused by the virus were "seeded by travelers from Europe."
The NBA's announcement stunned the sports world and will surely add to the economic fallout caused by the coronavirus outbreak, an issue Trump touched upon in his televised address.
Trump said he is instructing the Small Business Administration to provide new low-interest loans for some businesses hurt by the outbreak and asked Congress to approve $50 billion in additional funding for that purpose. He also asked Congress again to approve payroll tax relief, a proposal that neither party on Capitol Hill has favored.
"We are at a critical time in the fight against the virus," he said, while still claiming the risk to most Americans remains low.
The travel ban applies to foreign nationals traveling from 26 Europe countries and does not affect travel by U.S. citizens, permanent residents or immediate family members of U.S. citizens, according to a statement from the Department of Homeland Security. It applies to any foreign national who has been in those European countries during the 14 days prior to their scheduled arrival in the U.S. and does not not apply to trade.
Trump did not declare a national emergency, as some had suggested he would, which could have clashed with his previous, repeated calls for calm.
"The virus will not have a chance against us" if Americans take precautions, he said, downplaying dire warnings from his public health officials who say the spread of the virus is inevitable.
Later in the evening, the U.S. State Department issued an advisory urging citizens to reconsider traveling abroad because of the virus and the potential that other countries may unexpectedly limit mobility.
The NBA on Wednesday moved to suspend the season indefinitely amid the coronavirus pandemic, which included Utah's Rudy Gobert contracting COVID-19.
The dual travel announcements come as the coronavirus toll continued to mount in California, especially in the Bay Area, where nearly 100 cases have been confirmed. But Southern California is also seeing the virus spread, affecting churches, LA suburbs and celebrities.
On Wednesday, the Los Angeles County Department of Public Health confirmed its first coronavirus-related death and nine new cases, bringing the county's total to 29, including four cases in Long Beach and one new case in Pasadena. A pair of famous Southern California residents, actors Tom Hanks and his wife, Rita Wilson, announced they had tested positive for the virus in Australia and are in isolation at a hospital.
L.A. County's first coronavirus fatality was a woman older than 60 who had underlying health issues, said Dr. Barbara Ferrer, the county health department's director. The patient was not an L.A. County resident but had been visiting after extensive travel over the last month, including a long layover in South Korea.
"Shortly after being hospitalized, she unfortunately passed," Ferrer said.
Ferrer said that one of the new cases included the county's second instance of community spread. That individual is hospitalized.
Three individuals are household contacts of an L.A. County resident previously confirmed to have the virus. One of those people is currently hospitalized.
To date, the county's public health lab has completed 72 tests for the coronavirus that causes COVID-19. That number does not include those performed by commercial labs.
Elsewhere in Southern California, Pasadena confirmed its first case of the novel coronavirus in a resident, Ventura County its second, Orange County its sixth and Riverside County its seventh. In Beverly Hills, a church announced that its rector had fallen ill with the virus.
As the outbreak continued its rapid spread across the globe, the World Health Organization for the first time referred to the outbreak as a pandemic.
"This is the first pandemic caused by a coronavirus," WHO chief Tedros Adhanom Ghebreyesus said. "We have rung the alarm bell loud and clear."
Coronaviruses typically cause the common cold, but deadly illnesses SARS and MERS were also caused by coronaviruses. Tedros emphasized that countries could still take aggressive steps to beat back the spread of the new coronavirus and said he believed united action could effectively combat the spreading illness.
The pandemic classification does not change the WHO's strategy for slowing the outbreak nor should it affect how countries are tackling cases, Tedros said.
"There has been so much attention on one word, and let me give you some other words that matter much more, and are much more actionable," Tedros said. "These are prevention, preparedness, public health, political leadership and, most of all, people…. We're in this together to do the right things with calm and protect the citizens of the world."
The coronavirus outbreak is declared a global public health emergency, but does it qualify as a pandemic? We explain the difference and why it matters.
Unlike a public health emergency — which is declared based on specific international-law criteria — there is no formal WHO process that governs whether the organization refers to a global outbreak as a pandemic. Instead, the heightened rhetoric simply reflects the worsening trends that officials have been observing for some time, officials said.
On Wednesday, the state released guidelines on how to prepare and protect homeless Californians and service providers from the virus, which included ensuring they had enough health and personal protective equipment on hand, identifying areas to isolate individuals suffering mild symptoms and seeking out the people most vulnerable to the disease.
In Northern California, an elderly patient died in an assisted living facility of the novel coronavirus, sparking fears of an outbreak among other residents there and renewing concerns about statewide availability of testing kits. The patient, in her 90s, was Sacramento County's first fatality from COVID-19, officials announced Tuesday.
The woman was among about 140 patients of the facility in Elk Grove, the same suburb where all public schools were closed this week after two members of a household with students at multiple campuses tested positive for the coronavirus. Tuesday, the district announced that an elementary-school-age student in that family had also tested positive.
Dr. Peter Beilenson, Sacramento County's director of health services, said Tuesday that all patients in the nursing home would be tested for the virus, but that effort was delayed by a lack of test kits. He said the county had access to only 20 tests per day and was having to ration those among possible cases in the community and medical professionals who might have been exposed.
"It has been very frustrating because we have been stuck now for a couple of weeks with just 20 tests a day," Beilenson said.
The city of Alameda on Wednesday said a firefighter had tested positive for the virus, and Stanislaus County confirmed its first two positive cases.
Seventeen others in Stanislaus County are awaiting results, officials said.
Officials have continued to take precautionary measures in an attempt to contain the spread of the illness.
A growing number of colleges and universities, most recently Cal State Long Beach, Cal State L.A. and Pepperdine, have suspended in-person classes in favor of online instruction. Stanford University announced Wednesday two more coronavirus cases have been confirmed on its campus, making that three overall for the school.
San Francisco announced a ban on group events of 1,000 or more people.
"We know that this order is disruptive, but it is an important step to support public health," said Mayor London Breed, noting that city officials were following advice from state officials.
In San Mateo County, officials issued a legal order barring unauthorized visitors and nonessential personnel from licensed skilled nursing facilities, which includes family members.
The county has 15 of the Bay Area's 105 COVID-19 patients.
Officials in other states have also taken action.
Washington state has banned gatherings of 250 or more people as cases continue to rise in Seattle's suburbs, reaching a death toll of more than 30.
In Texas, where more than 20 cases have been confirmed, local officials canceled the Houston Livestock Show and Rodeo because of concerns about the spread of the virus. It's the first time the indoor rodeo — billed as the largest in the world — has been canceled since 1932.
The National Collegiate Athletic Assn. also announced that its upcoming men's and women's basketball tournaments will be played before "only essential staff and limited family attendance."
As of Wednesday afternoon, California had 177 confirmed coronavirus cases. The United States has surpassed 1,300 coronavirus cases, with most in Washington state, New York and California.
Gov. Gavin Newsom said more than 1,075 Californians had been tested for the coronavirus at 18 labs across the state. The state was monitoring an additional 10,300 individuals who had returned to California on international flights and might have been exposed, he said. Many others who have interacted with infected people are being advised to self-monitor and quarantine at home.
The largest outbreak of the illness is in Santa Clara County, where more than 40 cases have been confirmed.
Public health officials in Placer and Yolo counties, meanwhile, have announced a shift from trying to contain the virus to accepting that it is spreading too fast for widespread quarantining measures. Seven people in Placer County have tested positive, including a Rocklin man who died last week. Yolo County has one confirmed case.
Under the new recommendations in Placer and Yolo counties, which are effective through March 31, individuals who have come in contact with a confirmed or suspected case of coronavirus will no longer be required to be quarantined for 14 days. Instead, people with cold-like symptoms, regardless of whether they have the coronavirus or flu, are asked to self-quarantine and manage their symptoms with over-the-counter drugs.
The counties also said that although they had tests for COVID-19, they would be reserved for people with more serious symptoms, because mild symptoms are treated the same regardless of the diagnosis. The counties urged businesses to allow employees to telecommute where possible and for large events to be postponed or canceled.
Aimee Sisson, Placer County's public health director, said the county would continue to do some tracing of those who had come in contact with the virus but that it would screen only for high-risk situations, such as a person who visited a nursing home or came in contact with an immunocompromised individual. A change in strategy is needed, she and other health officials said.
If counties keep quarantining healthcare workers for potential exposure, she said, "we wouldn't have any healthcare workers left."
Times staff writers Emily Baumgaertner, Taryn Luna, Melody Gutierrez, Tony Barboza, Molly Hennessy-Fiske, Ruben Vives and Rong-Gong Lin II contributed to this report.
Sign up for Essential California for news, features and recommendations from the L.A. Times and beyond in your inbox six days a week.
You may occasionally receive promotional content from the Los Angeles Times.