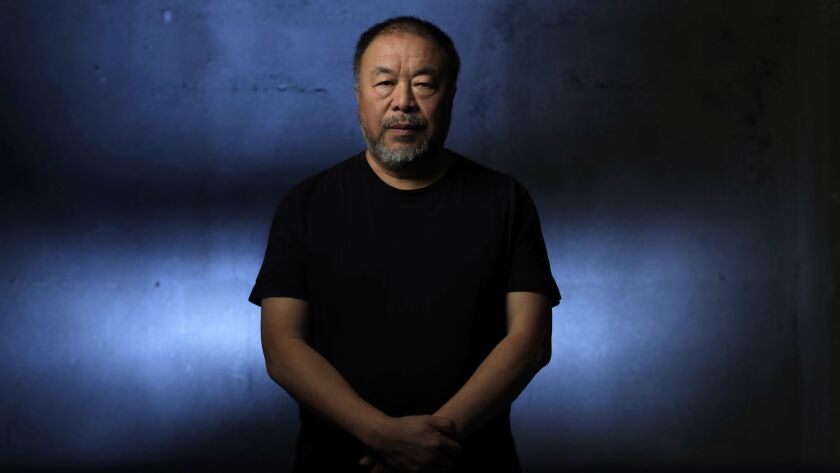 Art about refugees and the Los Angeles Philharmonic's 100-year party. I'm Carolina A. Miranda, staff writer at the Los Angeles Times, with your weekly dose of what's good in the world of culture:
ESSENTIAL IMAGE
Disney Hall will be blanketed with projections by artist Refik Anadol in honor of the L.A. Phil's 100th anniversary for a week — and the first run on Thursday was a stunner. Read on for more anniversary news below. LA Phil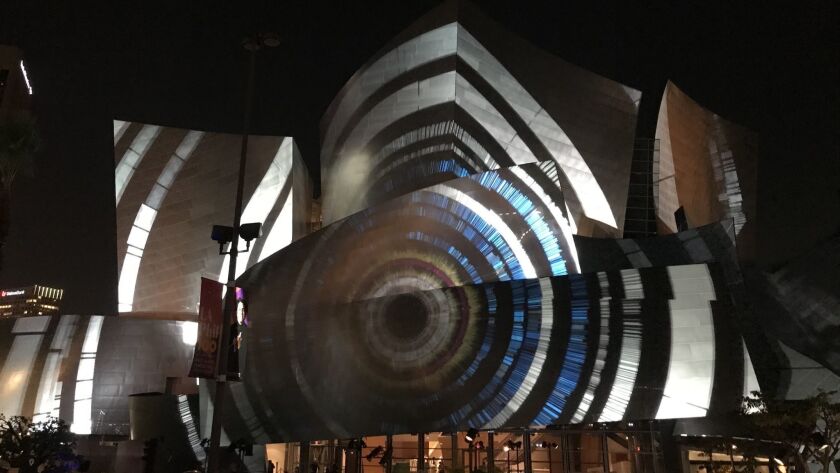 L.A. IN A BIG WAY
Chinese dissident artist Ai Weiwei is having a trifecta of shows in Los Angeles: at the Marciano Foundation, UTA Artist Space and Jeffrey Deitch's new gallery. One of his elaborate pieces, which depicts figures in an inflatable raft, barely made it out of China — it shipped out days before his studio was demolished by authorities. "In a state like China," he tells The Times' Deborah Vankin, "you have no space to make any kind of argument or communication." Los Angeles Times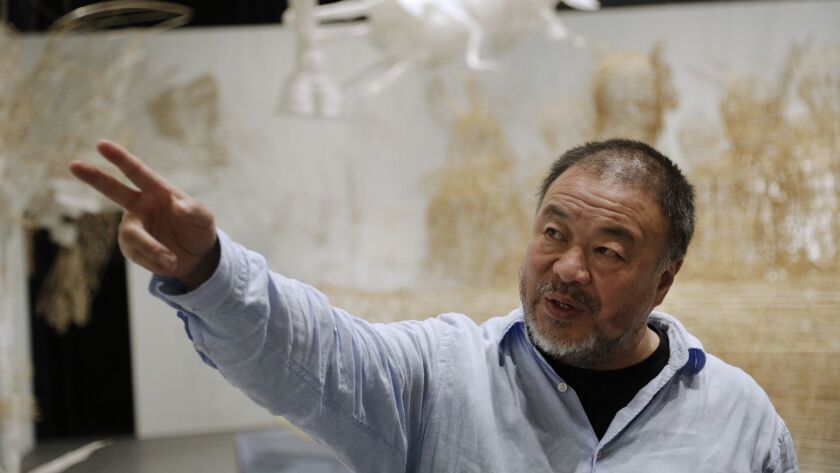 Art critic Christopher Knight describes Ai's show as "imbalanced." A floor display, composed of thousands of hand-painted porcelain seeds, "bristles with energy." But the bamboo-and-silk sculpture titled "Life Cycle," featuring the raft, writes Knight, "seems to be trying too hard." Los Angeles Times
HISTORIC CALIFORNIA
Christopher Knight also reviews "Carleton Watkins: Making the American West," the new Tyler Green biography of the groundbreaking 19th century photographer. Watkins helped define the American West with his images of giant sequoias and the Yosemite Valley. "California's art history is distinctive because it begins not with a painter or sculptor but with a photographer," writes Knight. "Watkins seized a new medium, barely a decade old when he was born, and invented a fresh pictorial language." Los Angeles Times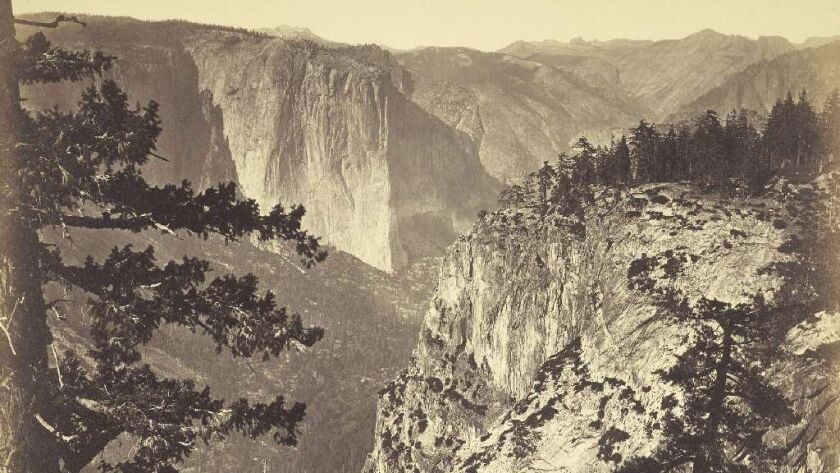 THEATER IN THE GARDEN
"It would be hard to find a more enchanting setting for a play," writes Times theater critic Charles McNulty of the staging of Stan Lai's "Nightwalk in the Chinese Garden" at the Huntington Library, Art Collections, and Botanical Gardens. But while the setting is magical, McNulty reports that Lai's story is "maddeningly mercurial" and "cries out for more stillness and simplicity." Los Angeles Times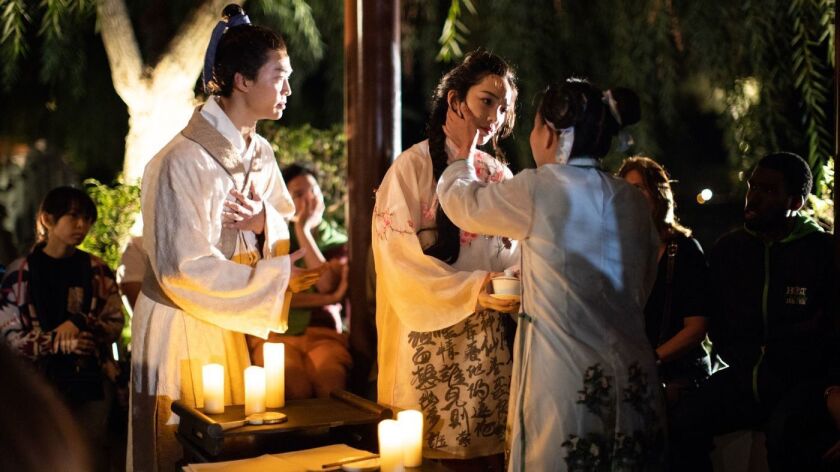 ON STAGE
Times contributing reviewer F. Kathleen Foley reports on "The Rescued," a play at the Road on Magnolia in which all the characters are adopted animals, and which she describes as "one of the most genuinely odd plays you'll see this season." Los Angeles Times
For more theater, check out Margaret Gray's 99-Seat Beat, which features a play about a toxic workplace (that is not the U.S. Congress), as well as Matt Cooper's weekly theater round-up, which includes a work about the atomic physicist Robert Oppenheimer.
Sign up for our weekly Essential Arts & Culture newsletter »
PRESERVING AFRICAN AMERICAN HISTORY
The Getty Research Institute announced this week that it is launching an African American Art History Initiative and its first acquisition is the archive of influential Los Angeles assemblage artist Betye Saar. "It's taken a long, long time for the art world in general to figure out that there are African American artists," Saar, 92, told The Times' Jessica Gelt. Los Angeles Times
STILL STANDING
For 78 days this summer, performance artist EJ Hill stood on a winner's podium in a gallery at the Hammer Museum as part of the "Made in L.A." biennial. The piece used symbols of sport as a way of reflecting on the the artist's own education. "It's hard to be alive in spaces that are designed to kill you," Hill tells me. "But there I am still standing." Los Angeles Times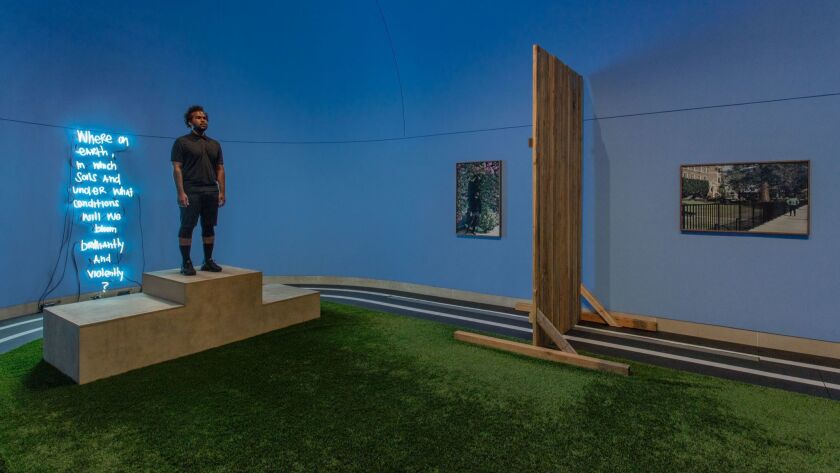 I also profile Thelma Golden, director of the Studio Museum in Harlem, who was in L.A. this week to be awarded the Getty Medal. Golden's institution may be small, but her reach is national. "You can't say 'contemporary art' without saying 'Thelma Golden,'" says James Cuno, of the J. Paul Getty Trust. Los Angeles Times
FIRST LOOK
This weekend marks the first time the public will have a look at the art amassed by the late developer Gerald Buck, whose 3,200-piece collection will form the core of a new museum at UC Irvine. The show, quite appropriately, is titled "First Glimpse" and opens at the Claire Trevor School of the Arts on Sunday. Los Angeles Times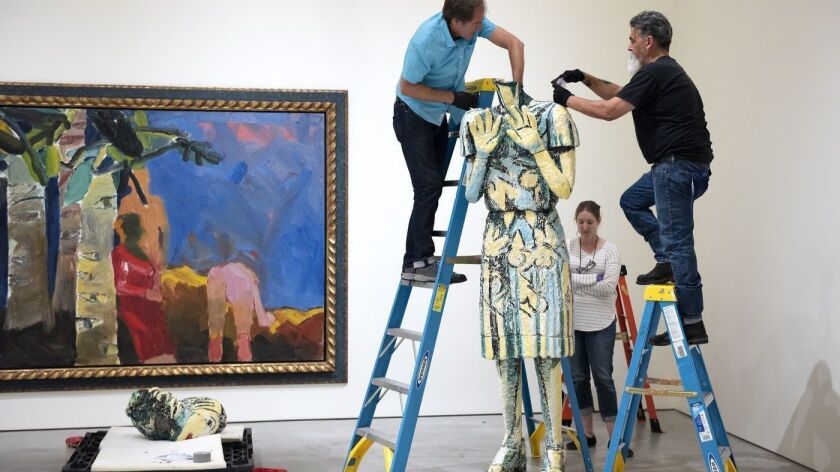 IN THE GALLERIES
Jessica Gelt has a piece on the exquisite photographic portraits made by the late Irving Penn during visits he made to Peru, Morocco, New Guinea, Nepal and Spain. These make my day. Los Angeles Times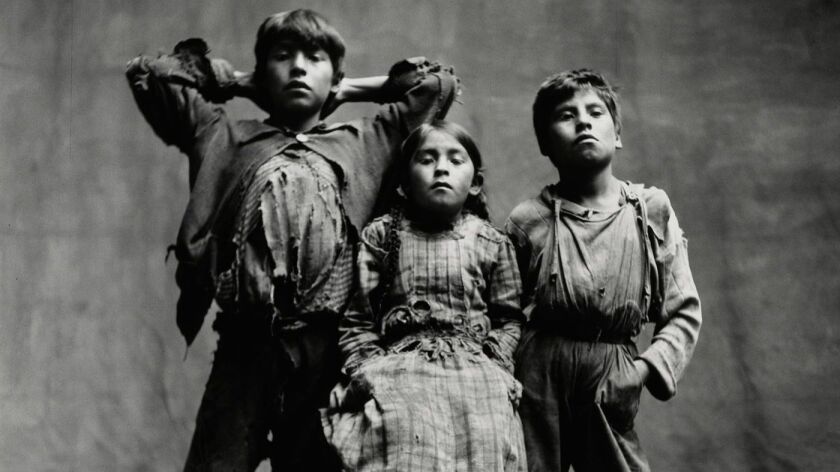 Plus, Times contributing reviewer Leah Ollman has a look at paintings by Hung Liu at Walter Maciel Gallery (of which she has mixed views), the "awesome" photos of Ron Jude at Gallery Luisotti, and she pays a visit to Cal State Fullerton for the "terrifically engaging" exhibition "Living With Clay: California Ceramics Collections."
THE ART OF DAVID LYNCH
Filmmaker David Lynch has a show of paintings at Kayne Griffin Corcoran. Times contributor Steve Appleford chats with him about how he employed ants as collaborators and why he hates explaining his work: "A lot of painters, they talk like crazy," says Lynch. "I just don't get it. It's there on the wall." Los Angeles Times
100 YEARS
The L.A. Phil formally kicked off its 100th season with a concert, a gala and the digital projections of Refik Anadol. The concert, titled "California Soul," included figures from across the cultural spectrum, including composer John Adams, Doors drummer John Densmore and actors Shalita Grant and Bernard White reading poetry. It was, writes Times classical music critic Mark Swed, "a mixed bag of things that worked and that didn't." Los Angeles Times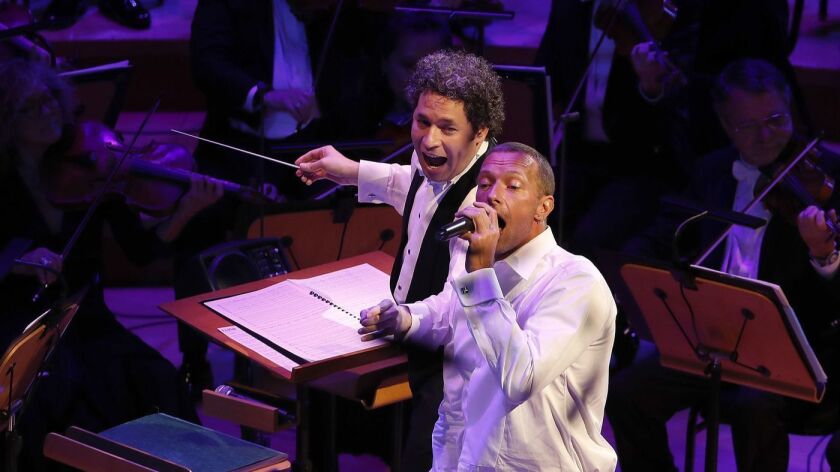 Frances Anderton talks to Anadol about how he created his wild visualizations. Design and Architecture
And Matt Cooper has the essentials on Celebrate LA!, the eight-mile-long street party that will celebrate the symphony's first century on Sunday.
A SPRIGHTLY CARLO
Mark Swed also took in a performance of "Don Carlo," featuring the 78-year-old Plácido Domingo. Even though Domingo may be well past his opera prime, Swed says he sounded like a man of 40 at the Dorothy Chandler Pavilion. Domingo, he writes, "has always been an old-school singer," and "Don Carlo" offers the "unapologetic display" of "a consistently impressive cast of traditional, grand, lapel-grabbing Verdi singing." Los Angeles Times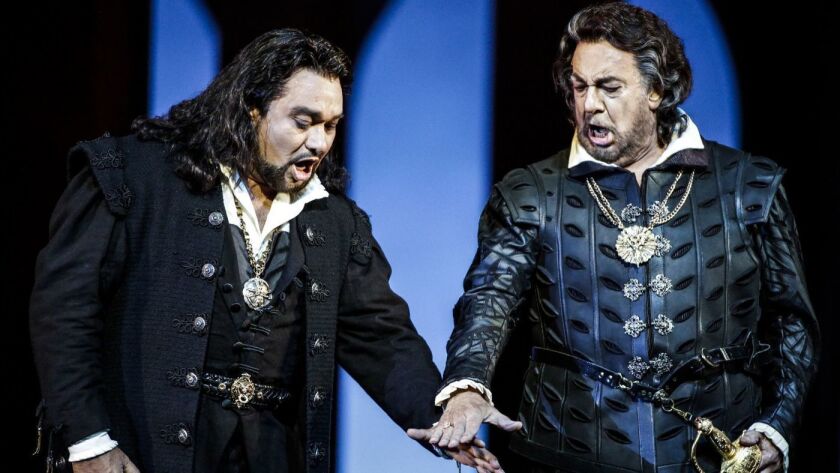 REMEMBERING ROBERT VENTURI
Architecture writer Mimi Zeiger pays tribute to Robert Venturi, the architect who helped usher in Postmodernism, who died last week at 93. His work, she writes, "provides lessons in generosity and humor that seem particularly relevant in our own time troubled by ideological polarization." Los Angeles Times
Critic Mark Lamster also pays tribute: "Venturi had the audacity to toy with the language of architecture, puncturing orthodoxies with exaggerated historical and vernacular forms." Dallas Morning News
IN OTHER NEWS …
— San Francisco's $2.2-billion Transbay Transit Center, which opened last month, has been closed after cracks were discovered on steel beams. San Francisco Chronicle
— Related: Architecture critic John King outlines what may have gone wrong. San Francisco Chronicle
— Kimberli Meyer, the ousted director of the University Art Museum in Long Beach, will appeal her dismissal. ARTnews
— This week, Cal State Long Beach held a public question and answer session about Meyer's termination. Hyperallergic
— This should save everybody some flight time: Mexico City now has a replica of the Sistine Chapel. Al-Jazeera
— Instagram pop-ups will leave you with a hole in your soul. New York Times
— Some of entertainment mogul A. Jerrold Perenchio's art collection will go to auction at Christie's in New York. Los Angeles Times
— A powerful video of California teens using dance to address school shootings. Dance
AND LAST BUT NOT LEAST…
The art of "BoJack Horseman." Hyperallergic
carolina.miranda@latimes.com | Twitter: @cmonstah
---