Essential Arts & Culture: Trouble at the MOCA gala, L.A.'s new stadium, Leonard Bernstein's theatrical mass
In downtown Los Angeles, an artist's withdrawal leaves a museum gala without an honoree. Meanwhile, in Inglewood, a stadium's construction has one critic asking how else all that space might have been used. I'm Carolina A. Miranda, staff writer at the Los Angeles Times, with your 100% locally sourced, artisanally crafted L.A. culture newsletter. Don't settle for imitators — this is the real deal!
REFUSING THE MOCA GALA
The Museum of Contemporary Art Los Angeles was set to honor L.A. painter (and MOCA board member) Mark Grotjahn as part of its 2018 gala. But The Times' Deborah Vankin reports that Grotjahn has declined the honor on account of a lack of diversity among recent MOCA honorees. "There is a new urgency to change the power dynamic and we have an opportunity to do so," Grotjahn said in a statement to board chair Maurice Marciano.
Plus, Lari Pittman, who is Latino and gay, has resigned from the board, saying that his suggestions for better diversity have gone unheeded. "It's a vision problem in what the board wants, what the director wants and what the curatorial team wants," Pittman told Vankin. Essential reading! Los Angeles Times
STADIUMS AT THE EXPENSE OF HOUSING?
Times architecture critic Christopher Hawthorne recently took a hard-hat tour of the under-construction Los Angeles Stadium at Hollywood Park, which will house the Rams and the Chargers football teams. In traversing the site's 298 acres, Hawthorne reports that he found himself asking the question: "In choosing to build the Inglewood stadium, what are we choosing not to build?" For a city in the middle of a crushing housing crisis, the answer is: possibly 15,000 new apartments. Los Angeles Times
THE LENNY-VERSARY CONTINUES
As the celebrations of the 100th anniversary of the birth of Leonard Bernstein continue, Times classical music critic Mark Swed attended the Los Angeles Philharmonic's performance of "Mass," the composer's over-the-top (and historically disdained) Roman Catholic Mass from 1971. "[Gustavo] Dudamel solved the musical puzzle of 'Mass' in a grandiose performance of almost unbelievable splendor," he writes. "An elaborately staged and choreographed production that had some stunning visual moments along with some stunningly clueless ideas, however, suggested that there is still massive work to be done on 'Mass.'" Los Angeles Times
Plus: Times contributor Tim Greiving looks at how the L.A. Phil was able to pull the whole extravagant show together — marching band included. Los Angeles Times
And since we're on the subject of Lenny, Swed also took in a show of Bernstein's "ever-messy 'Candide,'" which is currently being staged by the L.A. Opera. This version, he writes, is a "model 'Candide,'" for "a show that has no model." Los Angeles Times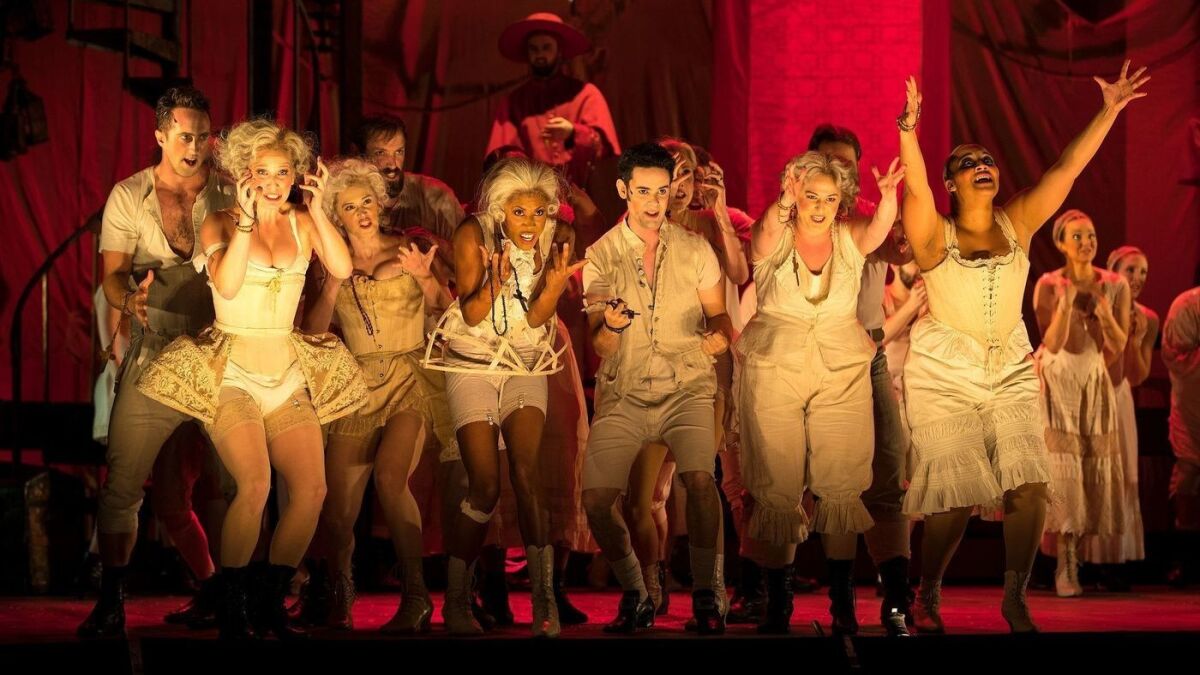 LIMBER AT 94
And because Mark Swed is a very hard-working critic, he also took in a performance by the 94-year-old pianist Menahem Pressler with the Los Angeles Chamber Orchestra — conducted by Thomas Dausgaard. Writes Swed: "His command of dynamics remains uncanny for his age." The show also represents the beginning of LACO's reinvention after the retirement of longtime director Jeffrey Kahane. Los Angeles Times
FORGING HER OWN PATH
L.A. ceramic artist Dora De Larios, who was known for fusing Mexican, Japanese and Modern design into singular sculptures and functional pieces, will be the subject of a survey at the Main Museum in Los Angeles this month. I spoke with the Boyle Heights-born artist late last year about how she carved a unique path in the history of ceramics. "I had to follow my own dream," she told me. "I really didn't care what others were making." Los Angeles Times
Sadly, one day after our story ran, De Larios passed away after a long battle with ovarian cancer. But Main Museum director Allison Agsten tells me her legacy will live on: "She had a certain kind of endurance. She made work for decades — sometimes people weren't paying attention, but she still made work. And it stands the test." Los Angeles Times
PERFORMANCE NOTES
Quiara Alegría Hudes, the Pulitzer Prize-winning playwright whose works explore family and personal struggle, and who co-wrote the script for the musical "In the Heights" with Lin-Manuel Miranda, has three plays going on stage in L.A. in February: "Elliot, A Soldier's Fugue," the Pulitzer-winning "Water by the Spoonful" and "The Happiest Song Plays Last." "I'm the griot, I'm the storyteller," she tells The Times' Daryl H. Miller, "speaking the story into the American story." Los Angeles Times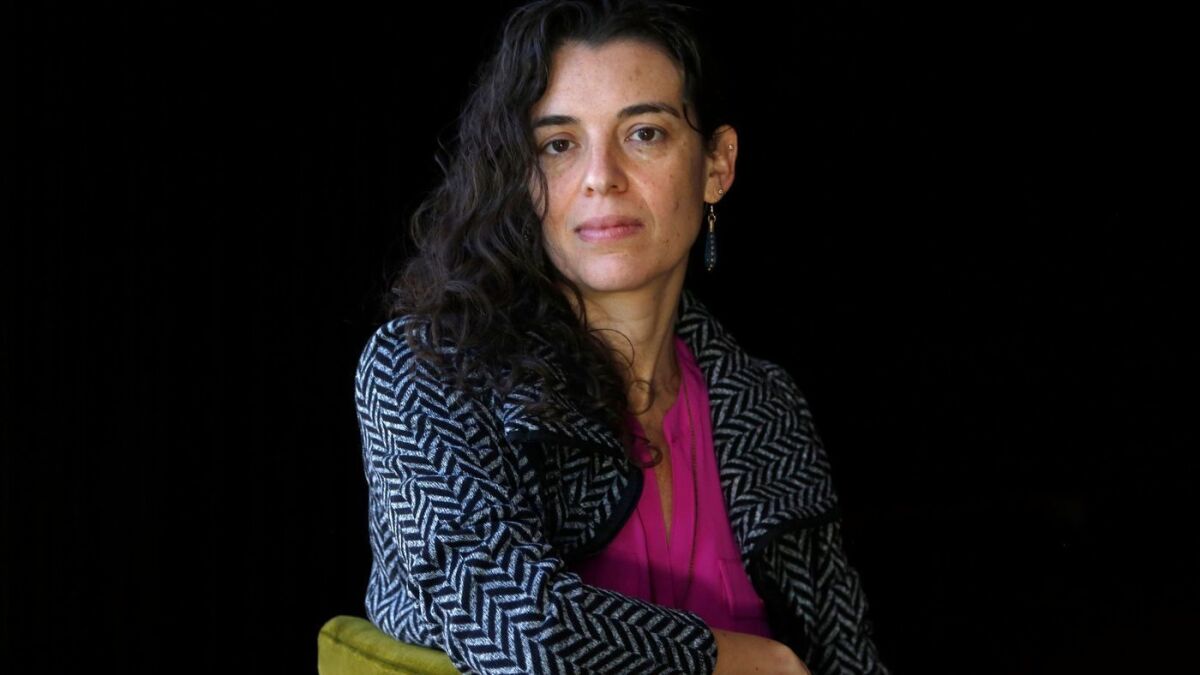 Times contributor F. Kathleen Foley, in the meantime, has a look at the Anteaus Theatre Company's staging of Harold Pinter's "The Hothouse" — a comedic play set in a government-run mental asylum, where torture, incompetence and corruption are the rule of the day. The narrative can get shaky, she reports, but the "gifted" performers are "an embarrassment of riches." Los Angeles Times
Lastly, I have a look at an ethereal performance by experimental vocalist Carmina Escobar — which took place on a floating platform on Echo Park Lake. Los Angeles Times
AMERICAN INDIAN AS SYMBOL
The Cleveland Indians this week announced that they would be retiring the Chief Wahoo mascot. All of this makes a new exhibition at the Smithsonian's National Museum of the American Indian quite timely: "Americans" looks at the historic events that led certain images of Indians to permeate popular culture — including as sports teams mascots. "Many Americans have no interaction with American Indians," says co-curator Paul Chaat Smith, "yet they do know these images and symbols really well and have emotional connections with them." Los Angeles Times
CATCHING UP WITH THE GRAMMYS
The Times' Jessica Gelt has a report on who got what in the area of classical music at the Grammy Awards. Among the winners: the Pittsburgh Symphony Orchestra, the Houston Symphony Orchestra and the Nashville Symphony. Plus, Barbara Hannigan took home the trophy for classical solo vocal album for "Crazy Girl Crazy." Congrats all around! Los Angeles Times
IN OTHER NEWS…
— The touring production of "Hello, Dolly!" will land at the Hollywood Pantages theater in January 2019. Los Angeles Times
— Marin Alsop has become the first female artistic director of the prestigious Vienna Radio Symphony Orchestra. The Guardian
— Selling off paintings to fund museums is like selling off national parks to protect nature, writes critic Charles Desmarais. Pure fire! San Francisco Chronicle
— The resignation of director Laura Raicovich from the Queens Museum in New York raises the question of how politically engaged art museums and their boards are willing to get. Hyperallergic
— A group of French intellectuals is totally not buying Jeff Koons' sculptural "gift" to Paris, which they describe as "opportunistic and even cynical" in an op-ed. Artnet
— That emotional support peacock that was denied a seat on United Airlines? Naturally, it belongs to a performance artist. Hyperallergic
— Robert Campanella, a former soloist for the National Ballet of Canada, is the choreographer behind the dancing dream sequence between woman and man-fish in "The Shape of Water." Dance Magazine
— Critic Peter Marks offers 10 ways you can be the worst theatergoer imaginable. Handy! Washington Post
— Amazon has unveiled a pair of conjoined spheres in Seattle designed by architecture firm NBBJ and, um, you can only imagine what they resemble. Curbed
— "This is Texas not Spain." A Dallas bridge with decorative arches designed by Santiago Calatrava is totally cracking. Dallas Observer
— The L.A. City Council has approved LACMA's plans for a new outpost in South Los Angeles. The Art Newspaper
— Stories that emerge out of old photographs, Part 1: the tale of the World War II-era portrait of Ulysses and Gloria Ricks. Smithsonian National Museum of American History
— Stories that emerge out of old photographs, Part 2: A photo of a kiss that "shouldn't exist." John Edwin Mason
— "We are all individuals!" The photographic trope of the Instagram vacation. Boing Boing
AND LAST BUT NOT LEAST…
"We're ending 'Fixer Upper' so we can explore our new passion for 1970s European brutalism." McSweeney's
Sign up for our weekly Essential Arts & Culture newsletter »
---
Get our L.A. Goes Out newsletter, with the week's best events, to help you explore and experience our city.
You may occasionally receive promotional content from the Los Angeles Times.