CBS stations pulled from Dish Network in contract dispute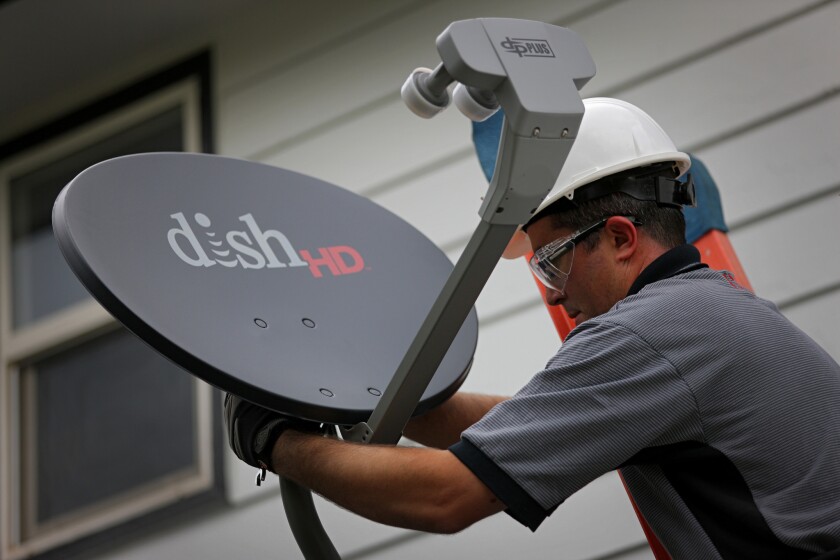 Negotiations between television giants CBS Corp. and Dish Network broke down late Friday, and CBS demanded its signal be removed from Dish's systems in 14 markets.
The blackout of CBS-owned stations on Dish systems began at 4 p.m. Pacific time Friday after the two sides reached an impasse.
The outage means that Dish customers in the metropolitan Los Angeles region no longer receive the two CBS-owned stations — KCBS-TV Channel 2 and KCAL-TV Channel 9 — as part of their Dish programming packages.
Los Angeles is Dish's largest market with nearly 500,000 subscribers.
"CBS programming is no longer available to Dish subscribers in New York City, Los Angeles, San Francisco, Sacramento, Dallas, Denver, Boston, Chicago, Pittsburgh and several other markets," CBS said in a statement.
"CBS has been negotiating a carriage agreement with Dish for six months and has already granted two extensions. During this time, Dish has dragged its feet at our many attempts to negotiate in good faith," CBS said.
Dish customers were disappointed to learn about the blackout, which means they won't be able to watch such CBS shows as "Blue Bloods" and local news.
"Now I have a TV provider that doesn't provide the channels that I really want to see," said Bobby Campbell, a longtime Dish subscriber who lives in Mound, Minn. "The people who get hurt the most are always the subscribers."
CBS had established a Thursday deadline for a new carriage deal, and talks continued for 24 hours before falling apart.
Without an agreement in place, Dish was not authorized to retransmit signals of 26 television stations owned by CBS.
It's not clear how long the blackout will last.
"We are disappointed that CBS has chosen to black out their local channels, but remain optimistic that the channels will return quickly as both sides are continuing to work [Friday night] to finalize an agreement," Dish said in a statement.
Sales of digital antennas, which allow consumers to capture over-the-air signals such as CBS, are expected to get a lift if the outage drags on for several days. Some viewers will seek to restore CBS on their own.
Football fans are expected to be particularly angry, and Dish could be motivated to agree to a deal in time for the kick-off of NFL football games on Sunday.
The network is scheduled to broadcast six NFL football games this weekend, including those featuring the Minnesota Vikings, New York Jets, Denver Broncos, Buffalo Bills, Miami Dolphins, Kansas City Chiefs and Pittsburgh Steelers.
CBS had been threatening to pull its signal for more than two weeks. But the accelerated pace of the talks during the last few days suggested that both sides were motivated to reach an accord.
But the complexity of any pact — along with a tussle over a CBS fee increase and complications over whether Dish would disable its controversial ad-skipping Hopper technology — apparently proved too much to tackle in a compressed time frame.
CBS has complained for weeks that Dish was not negotiating with a sense of urgency. The broadcasting company appears to be betting that an uprising of angry Dish customers could give CBS added leverage to extract some of its contract demands.
Recent history suggests that a prolonged blackout could hurt Dish more than CBS. Last year, in a particularly contentious carriage dispute, Time Warner Cable customers in several markets, including Los Angeles, went a month without their local CBS stations — a risky bet that backfired when Time Warner Cable lost about 300,000 customers.
During the fiscal third quarter, Dish lost 12,000 pay-TV subscribers, and the company probably would like to avoid a larger exodus.
The blackout affects millions of Dish customers around the country.
During the last two weeks, as talks appeared to be progressing, CBS offered two contract extensions for the pact that expired Nov. 20.
CBS granted the extensions because it didn't want to anger viewers by removing its signals during the Thanksgiving holiday, interrupting an American tradition of turkey and NFL football.
But the network's patience ran out this week.
The two sides have been squabbling over several issues, including retransmission fees that CBS collects when pay-TV providers retransmit its station signals. CBS has aggressive goals to boost those fees in the next several years, and Dish has been pushing back.
Digital rights have been another thorny issue. Dish is planning a low-cost Internet streaming package, and the two sides have been discussing how best to include CBS in that offering.
It was unclear late Friday what issues prompted the stalemate.
However, Dish has been among the most aggressive of pay-TV companies that are trying to hold a line on rapidly rising programming costs. CBS said Dish's disputes with several programmers have led to outages of 120 stations, most of them temporary, during the last two years.
The most recent blackout, which covered several Turner Broadcasting channels, including CNN, Cartoon Network and Turner Classic Movies, ended nearly two weeks ago with a temporary accord. Dish customers nationwide went without those channels for nearly a month.
"We hope that we can reach an agreement very soon so we can all get back to the business of providing the best entertainment, news and sports to the Dish customers we both serve," CBS said in its statement.
Twitter: @MegJamesLAT
---
From the Emmys to the Oscars.
Get our revamped Envelope newsletter for exclusive awards season coverage, behind-the-scenes insights and columnist Glenn Whipp's commentary.
You may occasionally receive promotional content from the Los Angeles Times.