Sarah Silverman uses Megyn Kelly Twitter feud to plug 'Ralph Breaks the Internet'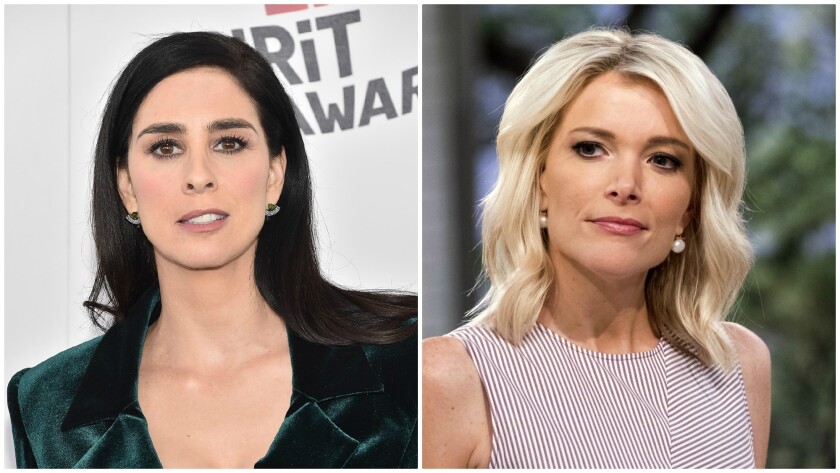 Turns out a Twitter feud can be an effective way to promote a movie.
Sarah Silverman seized the opportunity when embattled in a war of words with Megyn Kelly earlier this week.
It began when Silverman, an actress and comedian, called out President Trump's tweet in which he wondered how Minnesota Sen. Amy Klobuchar made her presidential bid announcement and spoke of fighting global warming in a snowstorm. "No point in explaining how mind blowingly stupid this tweet is," Silverman tweeted on Monday, followed by a few vulgar insults.
Kelly jumped into the conversation on Tuesday, hoping to highlight the inappropriateness of how a foul-mouthed comedian is part of a Disney franchise. She tweeted, "This woman wants to star in children's movies produced by Disney. (And just did, in Ralph Breaks the Internet.)"
Silverman then defended herself and promoted the "Wreck-It Ralph" sequel, in which she reprises her role as the ambitious race-car driver Vanellope.
"It's true! I am a blue explicit often political comedian and also love doing voices for children. I know it's easier if people are one thing but no one is, not even you! We all have many sides and I think that's ok," she said in response to the former NBC and Fox News personality.
"Ps I'm more offended by a president who denies a real threat 97% of scientists beg him to take action on while creating a fake threat out of at-risk brown people at the border," Silverman continued.
She then reminded everyone that "Ralph Breaks the Internet" is now available via home entertainment release: "Which is out on digital TODAY! @DisneyAnimation @wreckitralph #RalphBreaksTheInternet"
Fellow actors Patton Oswalt and Whitney Cummings echoed Silverman's sentiments on Twitter.
"Eh. I deleted my response to Megyn Kelly. @SarahKSilverman's was way more eloquent, elevated and useful," wrote Oswalt. "And she doesn't need my or ANYONE's help smashing trolls."
Twitter: @cashleelee
---
Your essential guide to the arts in L.A.
Get Carolina A. Miranda's weekly newsletter for what's happening, plus openings, critics' picks and more.
You may occasionally receive promotional content from the Los Angeles Times.