Coachella by the hour: Weekend highlights from Vince Staples, Kali Uchis, Moodymann, Oh Sees and, oh yeah, Beyoncé
As the second and final weekend of the Coachella Valley Music and Arts Festival was getting ready on Friday to entertain another population of 125,000 revelers, a few drones hovered above and a small-engine airplane circled, a banner advertising a new innovation in condoms trailing behind it.
The thousands arrived in human clusters over the course of the days and quickly scattered across nearly 700 acres of desert outside Indio. From a bird's-eye view, they could be members of an ant farm let loose for a scientific study on collective behavior.
Each a two-legged data point, would individuals first chase the food? The alcohol? How much? Would they race to the Ferris wheel, to the electronic dance music tents or in front of stages supporting hip-hop and rock? Would they laugh? Would they cry?
Across both weekends of what by popular dictate will forever be known as Beychella, each attendee went on to embark on pathways as unique as individual strands of DNA. Below are the actions of one of these data points, in the form of a detailed report.
Friday, April 20, 2018
1:30 p.m. Cruising to Day One of the second weekend with the car tuned to SiriusXM's BPM dance station, the hosts are mourning the just-announced death of EDM star Avicii. The producer and crossover artist was a headliner at Coachella in 2015. On the radio, DJ Tiesto — also a former Coachella headliner — was honoring Avicii's work. "I can't even think straight at this point, I'm so sad," he said. That sentiment would be echoed across the festival grounds.
2:10 p.m. First impression upon arrival: Coachella's footprint has expanded this year, and for festival veterans that reality is immediately obvious. Every stage seems to be an extra football field away. Where are the moving sidewalks?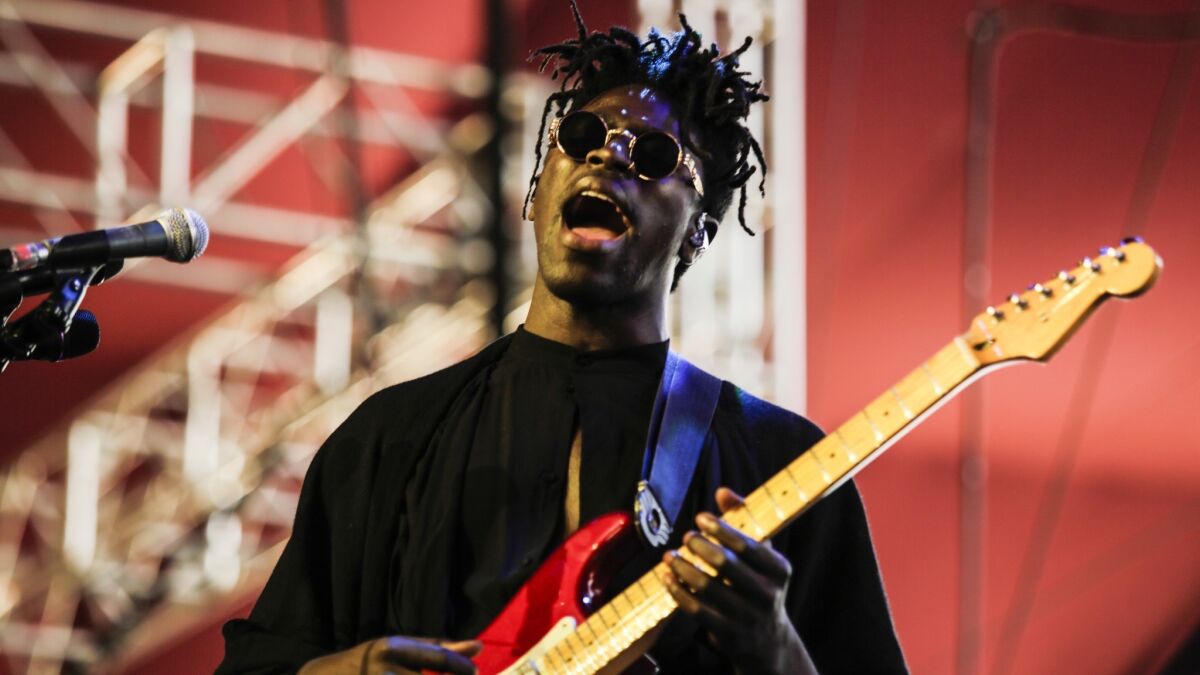 2:17 p.m. On the main Coachella stage, the British singer Benjamin Clementine moves through a riveting performance of "God Save the Jungle." A jarringly confident performer, the Mercury Prize-winning Clementine sings like some wild offspring of Marianne Faithfull, Kurt Weill and David Johansen.
"Welcome to jungle, dear/Where tensions do amount," he sings by way of greeting. "And kids must grow as quick as possible/ Welcome to jungle, dear." If some reports are to be believed, this here jungle is more like a petting zoo.
2:40 p.m.: Noted: A sharply dressed hipster wearing a fancy leather fanny pack. A few years ago this fashion accessory was ridiculed as lowbrow. Are fanny packs now a thing among the young and beautiful? A minute later, the guy spots a friend in the distance. Standing on his tippy-toes, he shouts across the tent: "Quasar!" Yep. Fanny packs must be a thing.
2:44 p.m. Beside Clementine on the Outdoor Stage, the L.A.-based experimental soul singer Moses Sumney utters the first Weekend 2 onstage reference to the unofficial name of this event, after Beyoncé's stunning Weekend 1 performance. "Beychella! What's popping?" A few minutes later, Sumney introduces his next work: "This song is about licking people's faces. It's called 'Make Out in My Car.'"
4:07 p.m. Wearing a white cowboy hat with sparkly beads draped like accents on a fancy chandelier, the progressive R&B singer Kelela greets a modest but adoring crowd on the Mojave stage. As the first sign of fading light signals relief outside, Kelela sings her track "Enemy." Behind her, two alluringly detached backup singers groove as Kelela's DJ works beats.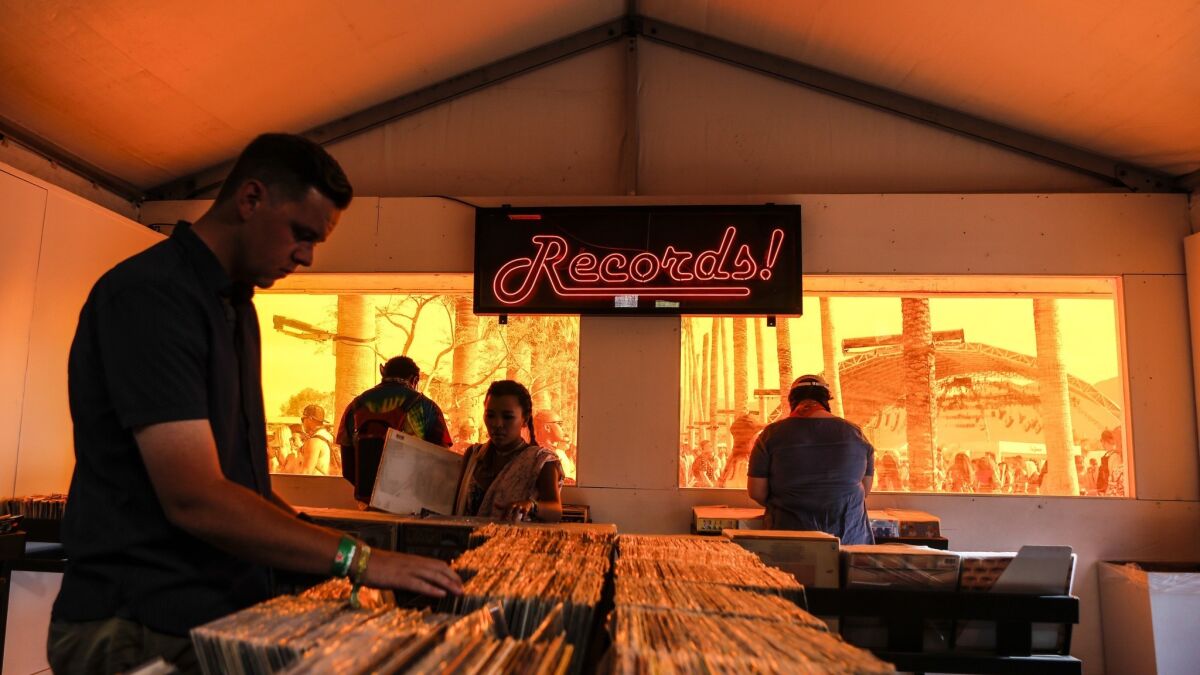 5:11 p.m. The magnetic Colombian-American pop singer Kali Uchis has a devoted, and well-deserved, fan base drawn to her defiantly independent Latin pop songs. She sings "Alone," and the masses follow along: "I don't want to be your cigarette/ I don't want to be your ashtray." Her conclusion? "I'd rather be alone." (She came to the wrong place.)
5:17 p.m. Hey, a retro fanny pack, worn by a teenage girl. No doubt secured in a vintage shop, she wears it draped defiantly — ironically? — across her midriff: "D.A.R.E. to Keep Kids Off Drugs."
7:09 p.m. Walking toward the VIP area to grab a piece of pizza, a college-age couple pose for a selfie with an elderly man who could be their great-grandfather. Wonders one of the kids, "If you don't mind me asking, how old are you?" He replies dryly: "44."
8:53 p.m. As the EDM superstar Kygo drives beats on the Coachella stage, waves of screams drift across the pitch. On the jumbo screen: pop star Ariana Grande, who joins with Marvin Gaye's sampled voice to "duet" on "Sexual Healing." If connecting musical generations is Coachella's mission, this is a moment to note. Between tracks, Kygo acknowledges Avicii's passing by dedicating a song to him. The crowd erupts in response.
9:06 p.m. On the Outdoor stage, the artist who performs as St. Vincent works through a visionary set of pop rock songs. Introducing her recent song, "New York," she thanks the modestly sized crowd by cursing that "you're the only ... in the desert who can handle me."
9:16 p.m. Spotted: Dude in his 20s wearing a matching black baseball cap and T-shirt. On the hat, a big white "B." On the shirt in bold letters: "ASK ME ABOUT BITCOIN." Hard pass.
9:21 p.m. In the Yuma tent, a trio of remarkable Detroit techno DJs Carl Craig, Moodymann and Kyle Hall are in the beginning moments of a mesmerizing set of foundational beat music from the Motor City. "It's all about the funk," says Moodymann to open. "Electric funk … the low end." Moments later, the tag-team mixes in Chicago house pioneer Chuck Roberts' track "In the Beginning There Was Jack."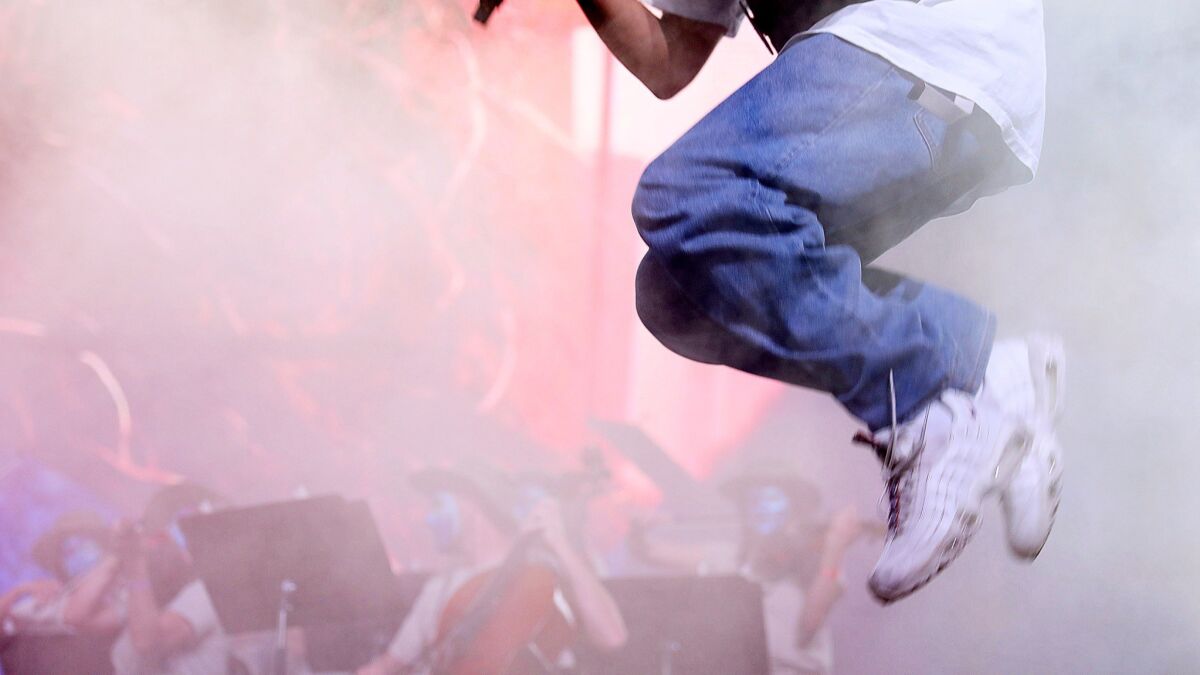 PHOTOS: Week Two, Day 2 - 2018 Coachella Valley Music and Arts Festival »
The dance floor is bathed in red, with beams of blue lasers shooting through the haze. "I don't need to rap. I don't need to sing," Craig boasts of Detroit's seminal instrumental beat music as the track rolls. All he needs is the rhythm — in this case, voluminous quadraphonic sound set in four corners of an active room. Judging by the masterful popping and wiggling on the dance floor, the joint-loosening frequencies seem able to rubberize human bones.
11:28 p.m. The Weeknd goes on two minutes early! The crowd's pulse seems to rise as the beats-per-minute slow to a crawl. Let the romance begin.
SATURDAY, APRIL 21
4:20 p.m. Late start, muscles aching from the expanded Coachella footprint — and loosening the skeleton on the dance floor. Yesterday this reporter clocked 17,254 miles on his Fitbit. (Not really.) It's Record Store Day, which is the 4/20 for vinyl stoners. Best score: A 12-inch of an extended David Bowie demo of "Let's Dance."
4:35 p.m. On the Coachella stage, Nile Rodgers is mourning the loss of his friend and collaborator Avicii. Later calling him his "little brother," Rodgers seems genuinely shaken by the loss. He and his band Chic then move into a groove-heavy take on — symmetry alert! — Bowie's "Let's Dance."
6:22 p.m. On the Mojave stage, the rap collective Brockhampton, formed online, leap into reality. The dozen-odd members bounced to their beats — while wearing personalized flak jackets. After shouting out Prince and M.I.A., they moved into "Gold" and the crowded tent rapped along. "Rock the boat like a one-eyed pirate/ Rick James, I get glitter on my eyelids."
On Friday, rapper Vince Staples wore a flak jacket too. Sadly, it's not clear if this is a commentary on being a black man in America or the reality of being a performer in 2018.
6:32 p.m. Spotted: a fashion-forward Brockhampton fan with a super-trippy fanny pack — it glows when light hits it a certain way. Amazing.
7:44 p.m. On the Outdoor stage, Talking Heads founder David Byrne is moving through an infectious set of dance-rock classics. He and his band of percussionists drive through his new song "I Dance Like This": "We dance like this/ Because it feels so damn good/ If we could dance better/ Well, you know that we would." As he does so, a young couple headed elsewhere pass. "That's the best show I've ever seen," he says excitedly. Dude, you're leaving halfway through the set.
PHOTOS: Week Two, Day 3 - 2018 Coachella Valley Music and Arts Festival »
9:00 p.m. At the Sonora stage, the L.A. psychedelic punk band Oh Sees are once again illustrating why they're the best live rock band in America.
Featuring a pair of drummers sitting between a bassist and main Oh See John Dwyer, the quartet is stirring the crowd into a frenzy. Elbows and bodies are swirling in the pit. Near the back, a new fan says to another: "Two drummers! I didn't know you could do that! That's amazing!" Yes it is!
9:47 p.m. Before launching into its hit "Forever," the sibling group Haim is taking a break while bassist Este Haim speaks to the crowd about an anniversary that changed her life.
Ten years ago today, she says, she saw Prince on the Coachella main stage. He capped an astounding set of performances by Kraftwerk and Portishead. Noting the miraculous reality of standing on that same stage a decade later, she thanks their fans and moves into the music.
11:18 p.m. After a late start that left at least one journalist-fan nervous that he'd have to do actual work tonight, BEYONCÉ!
11:53 p.m. Beyoncé is on a riser during "Drunk in Love" when she utters the word that has become a Dada-esque rallying cry for a generation: "Surfboard! Surfboard."
After moving into a sample from Nina Simone's "Lilac Wine" — "I made wine from the lilac tree/ Put my heart in its recipe/ It makes me see what I want to see/ And be what I want to be" — Beyoncé returns to her main point at exactly 11:55 p.m.: "Surfboard. Surfboard. Graining on that wood, graining, graining on that wood." Need we say more?
SUNDAY, APRIL 22, 2018
3:14 p.m. Walking in the dusty lot on the way to Day 3, a guy tries to impress his girlfriend as two workers on a speedy motor cart start to zip away from the VIP parking. "Hold up! Give us a ride on the back? Please?" the guy shouts. It's nearly 100 degrees already. Turning his head to answer, the driver replies, "Sure, if you can catch us" as they speed away. Replies the guy: "I run track, man. I'll catch you." The workers blow dust. Our hero does not run. We'll never know if he runs track.
3:28 p.m. On the Coachella stage under a sweat-inducing sun, indie pop band LANY, named after America's best city and its lesser East Coast peer, is singing a song about a fading love. "We met last summer," sings Paul Klein. In the sky, the pilot of the single-engine plane has returned for Day 3, reminding would-be lovers to use its new "Bare Skin" product. It's already Sunday. Hopefully, he's not too late.
3:44 p.m. Near the massive center market, an older man walks along, his dusty fanny pack helping him remain organized. They're actually the perfect tool for remaining hands-free — and without the hassle of a backpack.
Over there, another in gold, wrapped around the waistline of a statuesque woman. Over there, a third, then a fourth. They're everywhere. Ladies and gentlemen, fanny packs are officially tired.
3:47 p.m. On the Outdoor stage, the sun seems to be assaulting the British band Nothing but Thieves. Letting loose with the expletives, lead singer Conor Mason yells at the crowd. "It is so ... hot. How do you guys do this? … Even the microphone is hot. The [stuff] bands do for their fans."
5:12 p.m. Outside the Mojave stage as the first trace of dusk arrives, three young women headed the other direction hear the opening riffs of Los Angeles punk band FIDLAR's breakout anthem "West Coast." Singer Zac Carper wails as the riffs race, and the trio of fans grab hands and run toward the tent.
"Checked out, I'm waiting for the weekend/Coked up, It's alright I'm leaving/But I don't ever wanna go," Carper sings. "Skip school, I'm already failing/Told mom and dad that I'm bailing/Now we're driving up the coast."
At the end of the song, Carper makes an announcement directed at the sweaty scrum of pumped-up men in the mosh pit. Using an unprintable word for male genitalia, he declares that for the next song, they'll enforce their women-only "No … on the dance floor" policy: A man-free mosh pit. The crowd cheers as women push into the space in front of the stage. Carper then warns the huffing apes: "You dudes best not try to gentrify."
5:48 p.m. During Sunday's most anticipated set, the rapper Cardi B is standing on the Coachella stage surrounded by a few dozen skilled female dancers. Owning the stage with undeniable charisma and confidence, the noticeably pregnant artist moves among her choreographed counterparts with an assured ease, swinging gently as if to rock to sleep the embryo within her.
Explaining in "Money Bag" that "I do the Maybach on Monday, Ferrari Friday," she raps about her deliciousness with sublime self-assuredness: "I said 'Bae, it's a snack,' he said it's a entrée — with them pretty-ass twins, you look like Beyoncé."
PHOTOS: Week Two, Day 3 - 2018 Coachella Valley Music and Arts Festival »
6:50 p.m. In the Sonora tent, the synth-wave singer and songwriter John Maus has been stomping across the stage and gesticulating as if he's arguing before a cartoon court. He's in the middle of his song "And the Rain," and as a drummer thumps out a simple beat, Maus bellows into his echo-effected microphone the commandingly simple lyrics: "Somebody tell me the truth! Somebody just tell me the truth! Somebody tell me the truth!"
Grimacing as if in the middle of an existential breakdown, he repeatedly bangs his fist against his head, places his microphone against his heart and screams as if he were auditioning for Wes Craven. It's so loud that his roar resonates through his body and into the mic on his chest: "And the rain came down! Down, down, down!"
8:26 p.m. At the other end of the psychic universe, the Parisian sibling group Ibeyi is introducing its song "No Man Is Big Enough for My Arms." Featuring the sampled voice of Michelle Obama, the song homes in on a theme that has echoed on stages across the weekend. "The measure of any society is how it treats its women and girls," Obama says as the French-Cuban team of Lisa-Kaindé Diaz and Naomi Diaz worked beats, synths and samplers.
9:35 p.m. In the Soma tent, which has absolutely killed it all weekend, the Welsh deep house DJ Jamie Jones is making the dancers quake.
The good news for dance fans is the volume of house and techno music that has consumed the dance tents. Since Goldenvoice seems to have licensed the entire subgenre of dubstep to the sponsored liquor and tech tents, which seemed to be the only plots where the wobbly rumble of the bass drops were allowed, groovers in the tent were a unified force behind house and techno: all ages, ethnicities, genders and attitudes represented.
Jones drops a sample of Brixton dance team Basement Jaxx's 2001 classic "Where's Your Head At," and within moments at least one dancer's mind races back in time to when this track was popping on release, into the dungeon of a St. Louis warehouse. On the dance floor, time travel is not only possible. It's regular occurrence.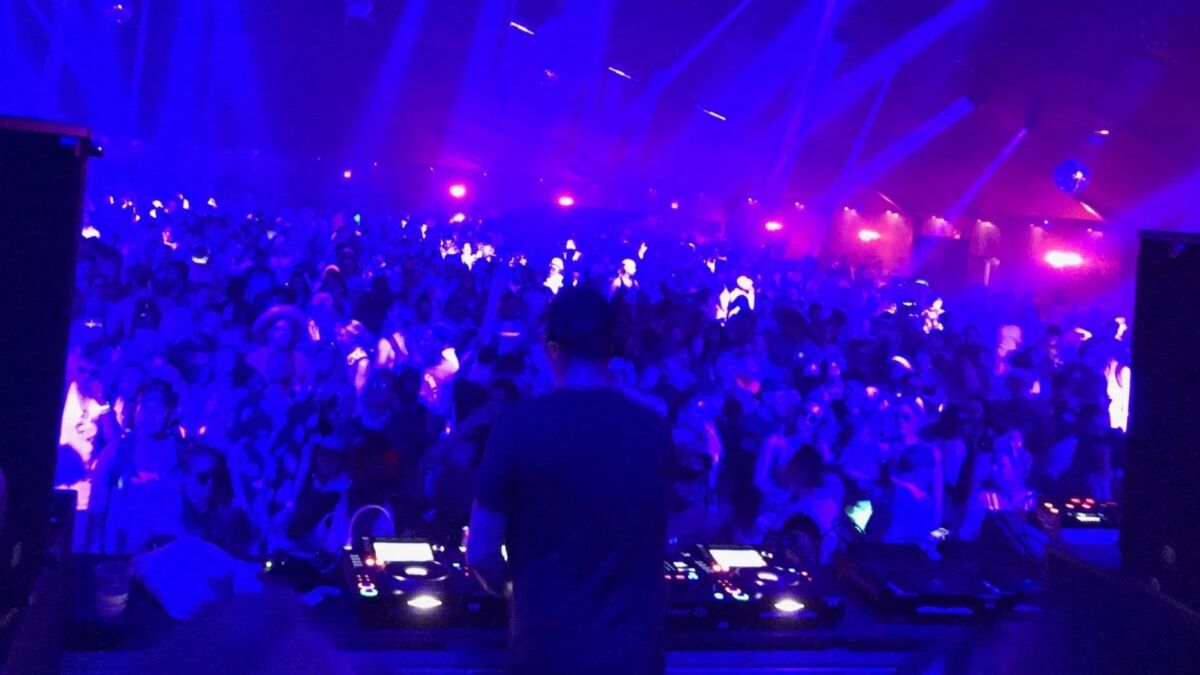 10:35 p.m. Somewhere out there in the gritty, washed out and noticeably pungent world that's not the Soma tent, Eminem has likely hit the stage about now — and Migos is probably owning the Sahara stage. But Jones has just bumped through a remarkable house set, the room is as crowded as it's been all weekend and the German minimal techno DJ Michael Mayer is opening his set with a sibilant cluster of synths and dots of midrange melody.
Standing behind Mayer and his mixing board — one of the many benefits of having a fancy pass — you can see a few thousand blue-tinted heads strobe in and out of vision, bouncing and swaying within Mayer's mystical repetitions.
Eminem is beckoning — but his philosophy is way too centered on anger on such a lovely night. There's a lot of darkness that warrants indignation out there, and unfortunately it's not going anywhere.
But who needs negation right this second? In the Soma tent, as strobes flash, lasers cut through fog and the mirror-ball shark spins above, thousands of humans are locked in a universal Yes.
---
UPDATES:
12:00 p.m. (April 23): Updated to add Sunday afternoon performers.
Get our L.A. Goes Out newsletter, with the week's best events, to help you explore and experience our city.
You may occasionally receive promotional content from the Los Angeles Times.