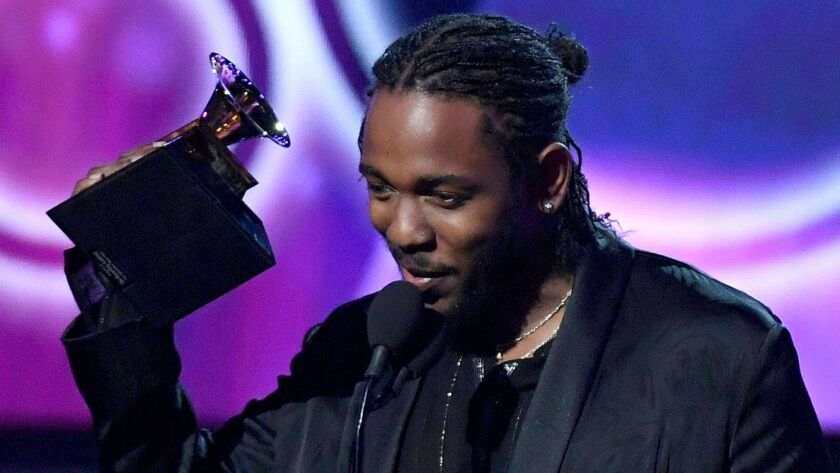 Pop Music Critic
The idea of a victory lap had already been firmly established by the time Kendrick Lamar rolled onstage Thursday night at the Forum in a race car surrounded by flapping checkered flags.
A hometown stop on what's proudly billed as the Championship Tour, the gig brought together Compton-born Lamar and members of his Top Dawg Entertainment crew — including SZA, Schoolboy Q and Jay Rock — for back-to-back performances meant to celebrate their achievements in the year or so since Lamar released his chart-topping "Damn" album in April 2017.
Banners framed the stage listing the various awards and nominations they've received. An advertisement appeared between acts to hype Lamar's new Nike sneaker.
Then there was the phrase that flashed on a giant video screen behind the rapper, who sometimes calls himself Kung Fu Kenny, as he opened his set with the blistering "DNA."
"Pulitzer Kenny," the screen read, a reference to the Pulitzer Prize for music he won last month — the first time that award has been given to a hip-hop artist.
Needless to say, this show was a safe space for self-promotion.
And given the label's accomplishments, why shouldn't it have been?
One of the more remarkable aspects of Top Dawg's success is that it hasn't come at the expense of creative ambition or individuality.
For all the hard-knocking beats and radio-friendly hooks he deploys, Lamar on "Damn" has deep and complicated things to say about race, family and spirituality; its strangeness has worn off through our constant exposure to hits like "Humble" and "Love," but it's still there, waiting to be re-admired, in a moment like Lamar's rendition Thursday of "DNA," with its rush of "power, poison, pain and joy."
The same goes for SZA's "Ctrl," which earned several nominations at this year's Grammy Awards. The R&B singer's high visibility in recent months — including at Coachella and in "All the Stars," a splashy pop single from the "Black Panther" soundtrack that Lamar oversaw — can lead you to forget how idiosyncratic her melodies and vocal phrasing are.
That SZA has become a star thanks to songs as personal and off-kilter as "Drew Barrymore" — and as frank as "Doves in the Wind," which she introduced at the Forum by asking, "Who wants to talk about vagina?" — justifies the congratulations the Top Dawg folks were showering on themselves here.
Yet the concert, which is set to play the Forum again on Friday, also felt like an opportunity to share that triumph with Top Dawg's audience.
"L.A., this is your home team," Lamar told the crowd near the end of his set after he took a kind of roll call, asking how many in the house were from Inglewood, Compton, Watts or South Los Angeles.
The response to Lamar's comment demonstrated how much pride his fans have taken in his ascent, which in turn seemed to push Lamar to new levels of emotional intensity as he ran through "Damn" cuts such as "Element" and "Love" (for the latter he brought out the song's featured vocalist, Zacari) as well as oldies like "Money Trees" and "Alright."
It was a fiery display that came in stark contrast to a dull and lifeless performance Lamar gave in February amid the corporate logos that decorate the central plaza at downtown's L.A. Live complex.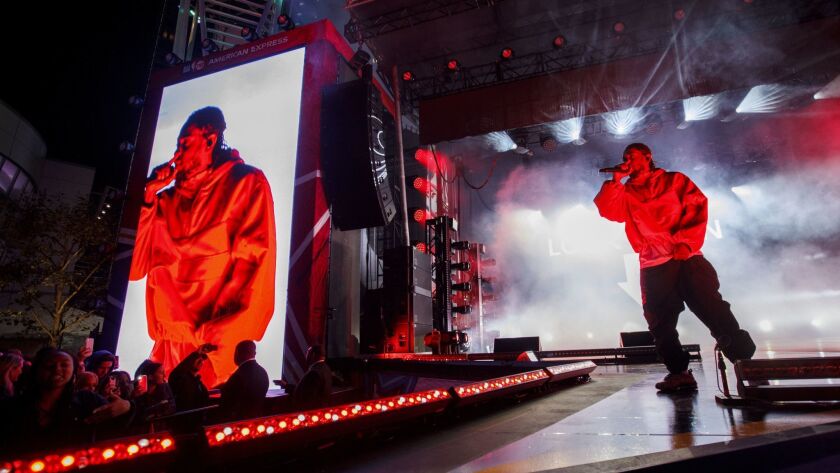 That gig, sponsored by the NBA and open only to American Express cardholders, showed one downside to the type of success that Lamar has achieved — the temptation, that is, to spread oneself too thin, and in areas where one's talent is valued less than one's renown.
For all the trophy-polishing done on Thursday, the Championship Tour felt like an important corrective for Lamar and his friends.
It reminded everyone why they matter.
ALSO
Hip-hop game-changers Kendrick Lamar and Jay-Z: An East Coast-West Coast contest
A king shares his crown as Kendrick Lamar brings 'Damn' to Coachella
Kendrick Lamar just won a Pulitzer Prize. Here are five songs that show why
Kendrick Lamar's work has long alluded to other Pulitzer Prize winners
Kung Fu Kenny, King Kunta, K-Dot. Whatever you call him, Kendrick Lamar is a Pulitzer Prize winner
A photographic look at the rise of Pulitzer winner Kendrick Lamar
How Grammy-nominated hip-hop storyteller Kendrick Lamar describes hometown Compton
Kendrick Lamar is an essential voice for Los Angeles and beyond
Kendrick Lamar was a superstar in life size at Staples Center
Kendrick Lamar owes himself more than lifeless corporate gigs
Thousands arrive in Compton to give Kendrick Lamar a hero's welcome
The Age of Hip-Hop: From the streets to cultural dominance
Twitter: @mikaelwood
---