Newsletter: Bring on the heat
Is anyone else feeling the heat this weekend? Yes, I'm talking about the weather, but also the World Cup! In between watching and discussing the matches, there should be plenty of opportunity to both cook and eat outdoors this weekend. In this week's section, we've got stories to help you do both.
Test Kitchen Director Noelle Carter has recipes for ceviche, decadent layer cakes (obviously a good idea any time of year), summer desserts such as sweet cherry pie and apricot almond galette, and five Bloody Mary recipes for those tomatoes you might be trying to get rid of. There are worse ideas than whipping up a batch of Bloody Mary drinks for tomorrow's Spain vs. Russia game. And I firmly believe that the games are more fun with cocktails that correspond to team colors.
Noelle also checks in with a barbecue expert who offers tips and recipes for grilling. He's really into grilling vegetables and desserts. But don't worry, he's got a recipe for bacon-wrapped breakfast burgers too.
Whatever you decide to do this weekend (and whichever team you decide to root for), eat well!
LIVE FIRE COOKING
Noelle has a chat with barbecue expert Steven Raichlen, whom she dubs the "Julia Child of BBQ." Raichlen discusses his take on the future of live fire cooking, and some tips and recipes for your summer cookout. Included is a recipe for the breakfast burger, above, wrapped in bacon and topped with a fried egg, of course.
ALTERNATIVE SIPS
If you're a wine lover or collector, chances are you're a fan of Burgundy. But as Patrick Comiskey writes this week, demand for the region's best wines and some unfortunate weather events have pushed prices through the roof. Patrick has some suggestions for some less popular, but delicious, unique varietals from the region.
TACOS AND ICE CREAM
In this week's food and drink news column, I have details on the Baja Market L.A. food and wine festival in downtown L.A. In other news, chef Liz Johnson has left Freedman's L.A.; Banh Oui gets a permanent bricks-and-mortar and there's a new ice cream window at République. Yes, chefs and owners Walter and Margarita Manzke are making ice cream!
BEST FEMALE CHEF? NO THANKS
Food writer Hillary Eaton was in Bilboa, Spain, during the World's 50 Best Restaurants awards last week. She caught up with chef Clare Smyth, winner of the controversial Best Female Chef award. In her story this week, Hillary discusses Smyth's thoughts on the award, and what the chef thinks we should all be focusing on: more female representation in the kitchen.
EXCELLENT EGGPLANT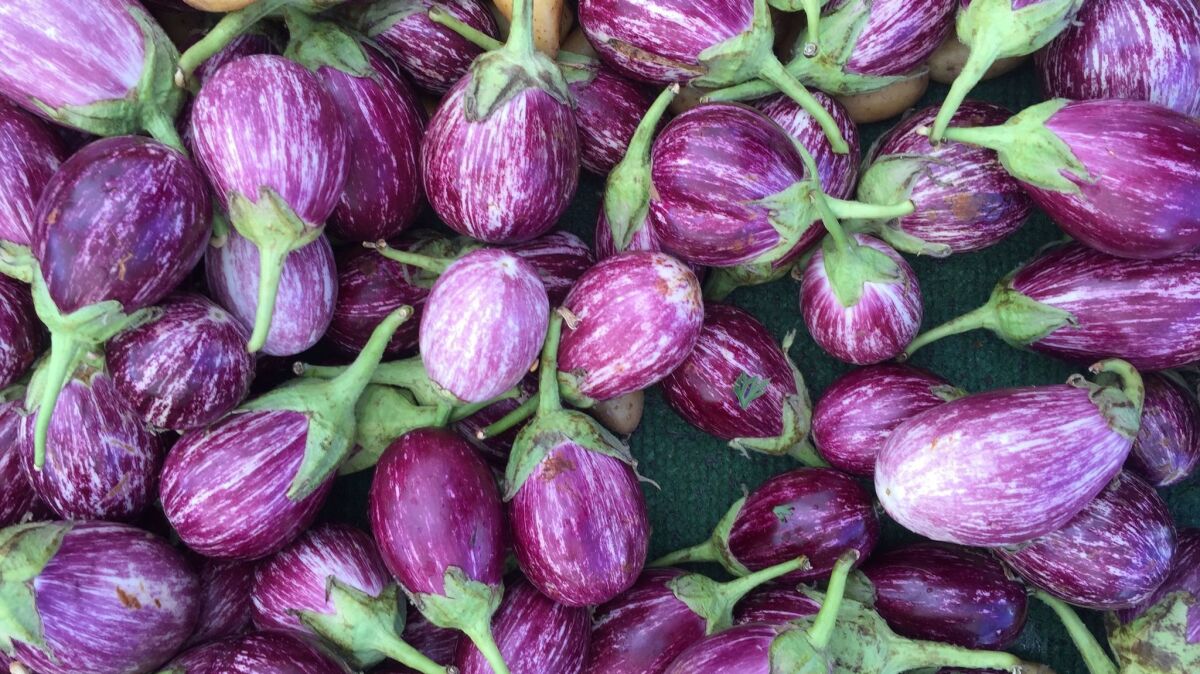 Did you know that eggplant is actually a tropical fruit? Noelle finds plenty of varieties at the market, including Thai and Sicilian, slender Japanese eggplant and the colorful striped Calliope shown above. She suggests finding firm, young fruit (the older fruit can be bitter) and as for what to do with them, try slowly roasting eggplant cubes and tossing them with feta cheese. Or grilling sliced eggplant with wedges of garlic and fresh herbs. Noelle has plenty of recipes in her Market Report column.
The Taste(s): Food Bowl may be over, but our events calendar is ongoing. Next up is our annual Labor Day festival, the Taste, held over the course of that holiday weekend at Paramount. And this year we're having two Tastes, not one, with the second happening in October in Costa Mesa. For more info and early tickets, go to extras.latimes.com/taste.
Jonathan Gold's 101 Best Restaurants, the authoritative annual guide to local dining, is online for subscribers featuring his 2017 Best Restaurants. If you don't have a copy of the booklet, you can order one online here.
Check us out on Instagram at @latimesfood.
And don't forget the thousands of recipes in our California Cookbook recipe database.
Feedback? We'd love to hear from you. Email us at food@latimes.com.
Get our L.A. Goes Out newsletter, with the week's best events, to help you explore and experience our city.
You may occasionally receive promotional content from the Los Angeles Times.