Newsletter: 6 great pizza places in Los Angeles
Restaurant Critic
Is Los Angeles a pizza town? Forgive my zeal as a fresh convert, but Los Angeles is an everything town; search with any effort, it seems to me, and you'll find most of the world's cuisines rendered at least competently in a restaurant somewhere in this vast metro area.
But yes, Los Angeles has some excellent pizza — pies made to the specifications of its pizzaiolos' imaginations, shaped by Italy's pizza traditions but not beholden to them. Pizza is top of mind for me this week: On Thursday, The Times published my review of the first U.S. franchise location of L'Antica Pizzeria da Michele, the Naples restaurant made famous by "Eat Pray Love." I'm not a fan of this Hollywood spinoff. It's the kind of place, in its empty prettiness, I would not have even bothered to review except that it trades off of a very famous name and customers may show up thinking they're going to have an approximation of the Naples experience. That just isn't the case.
But I really love outstanding pizza, so I ran around for a couple of weeks, taking fresh looks at many of the city's acclaimed pizzerias. Here are six that impressed me anew. I'm always on the lookout for fantastic pizza of any kind; if you have suggestions, please send them my way at bill.addison@latimes.com.
Pizzana
Daniele Uditi was raised in Naples and in Caserta, Italy, among a family of bakers; in Los Angeles, he mines the sweet spot between tradition and innovation. His Neo-Margherita is as much of a philosophy as it is delicious sustenance: bready, tangy crust; San Marzano tomatoes cooked down to their essence, covered with fior di latte mozzarella and given a one-two punch of herbaceousness and crunch with basil-infused bread crumbs. Other pizza-topping combinations riff off of pasta sauces: As in its noodle form, the cacio e pepe is hard to resist. Brentwood houses the first Pizzana; a new location recently opened in West Hollywood and matches the original's awesomeness. 11712 San Vicente Blvd., Los Angeles, (310) 481-7108, also at 60 N. Robertson Blvd., West Hollywood, (310) 657-4662, pizzana.com.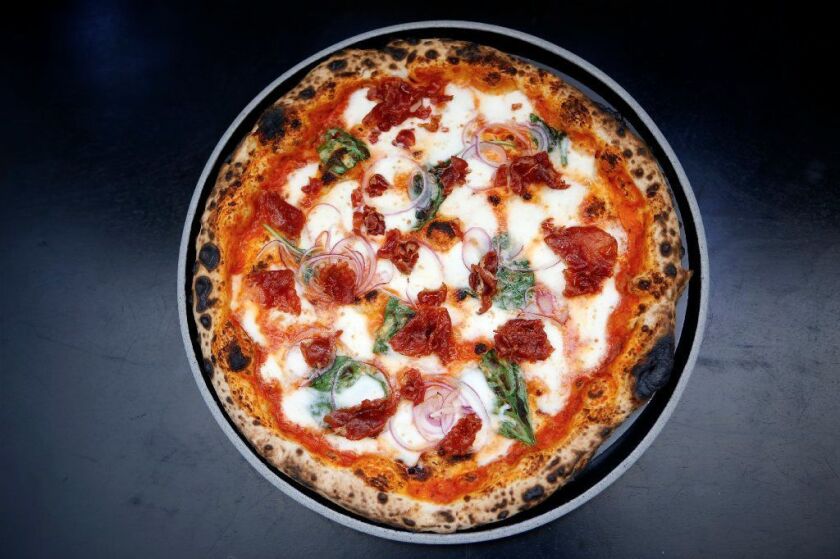 Pizzeria Mozza
Nancy Silverton's pie covered in splayed squash blossoms and tomato with slowly melting blobs of burrata codified a discernible style of Southern California pizza: a thing of beauty (it was a cover model for magazines pre-Instagram) that registers as healthful and decadent at once. The menu lists plenty of other worthy dishes, pizza and otherwise, but for anyone who wants to understand modern Los Angeles dining, and the role Silverton has played in shaping it, the oft-imitated squash blossom-burrata game-changer is important to devour.
Also, I do admire Triple Beam, the Roman-style pizzeria in Highland Park that Silverton runs with protégé Matt Molina, and Silverton recently announced she's opening Pizzette in Culver City this fall. But if I'm naming her one essential contribution to L.A. pizza culture, Mozza is it. 641 N. Highland Ave., Los Angeles, (323) 297-0101, also at 800 West Coast Highway, Newport Beach, (949) 945-1126, pizzeriamozza.com.
Ronan
Like other food-obsessed Angelenos, I too miss the pizzas at Sotto, Steve Samson's Pico-Robertson restaurant that closed abruptly in January. Daniel Cutler was Sotto's chef de cuisine for a while, and the pizzas at Ronan, where he is chef and co-owner, enter the lineage of Los Angeles greats. Composed pizzas assert plenty of assured creativity and wordplay: How 'Nduja Want It? balances the soft, smeary sausage with Gorgonzola and a falsetto note of fermented celery; Sweet Cheeks mitigates the funk of guanciale with dulcet ricotta forte and spicy honey. Calzones are a whole separate subject, but his wild homage to Philippe the Original's French dip sandwich in calzone form deserves a shoutout. 7315 Melrose Ave., Los Angeles, (323) 917-5100, ronanla.com.
Cosa Buona
In 2017, Alimento's Zach Pollack (also an alum of Sotto) took over a space in Echo Park where Pizza Buona had resided for decades. It sits on an angled bend of Sunset Boulevard and Alvarado Street. The location is apt, since the pizzeria positions itself at several crossroads: between old-line neighborhood joint and affluent date-night destination, between Italian American comfort and Los Angeles glamour, between pizza orthodoxy and modernism. The pies are blistered and the crust is pleasantly sturdy; I'd never turn away a Margherita but this is also the only place in town I'm excited to eat a riff on the Hawaiian. And I'll do it after I hog most of the smoked mozzarella sticks. 2100 W. Sunset Blvd., Los Angeles, 213-908-5211, cosabuona.com.
La Morra Pizzeria
While Zach Swemle and Marlee Blodgett slowly inch toward opening a bricks and mortar restaurant, they regularly decamp on Wednesday nights at Los Feliz wine bar Tabula Rasa. Walk through the bar and order your pizzas in the back parking lot; the flames and embers inside the tiled oven that Swemle built himself (and hauls on a trailer) ignite the night sky. He layers on ingredients with restraint: a bianco with pickled peppers, oregano, shallots and dollops of silky ricotta; the kind of puffed Margherita with a soft center you can manage by hand but also eat with knife and fork. It can be hard to find a seat inside, but persevere: These beauties are made to be eaten straight from the oven. Wednesdays at Tabula Rasa, 5125 Hollywood Blvd., Los Angeles, lamorrapizzeria.com.
Apollonia's Pizzeria
The fashion in national pizza circles over the last several years has been a rectangular pie, popular in Detroit and in factions of Chicago's pizza culture, fortified by a border of heat-blasted cheese that turns lacy and bendy-crisp. It's glorious. Owner Justin De Leon nails the genre at his Mid-Wilshire restaurant. He sells slices zinged with pepperoni or gilded with burrata, but bring a group for a whole cheese pie straight from the oven: Drizzled with herb oil and girded by its cheesy edges, this new classic needs no embellishment. 5176 Wilshire Blvd., Los Angeles, (323) 937-2823, apolloniaspizzeria.com.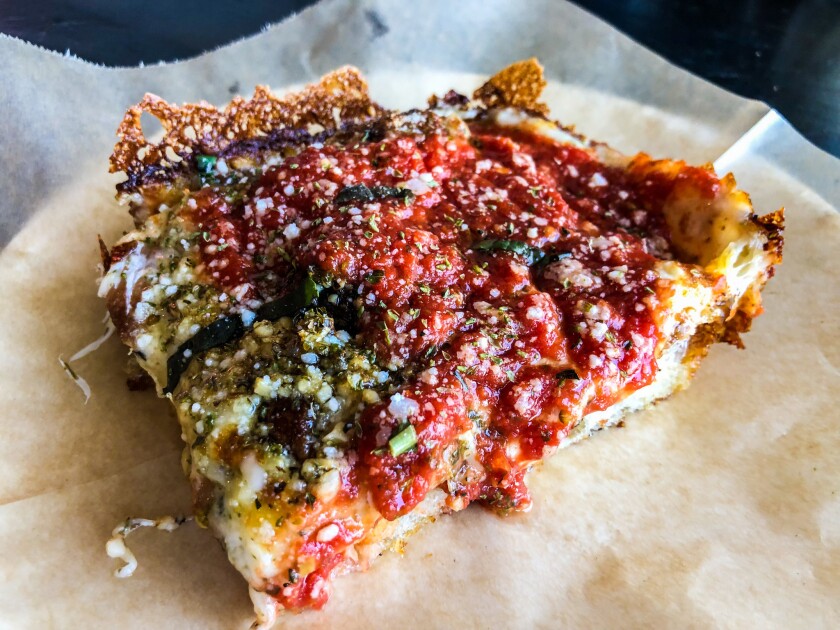 TOP STORIES
From the Editors
After a long and distinguished run, Counter Intelligence, our weekly newsletter that rounded up the best of our Food section, has entered a new chapter. It's now called Tasting Notes and features Times restaurant critics Bill Addison and Patricia Escárcega. Read more here.
---
Get our weekly Tasting Notes newsletter for reviews, news and more.
You may occasionally receive promotional content from the Los Angeles Times.